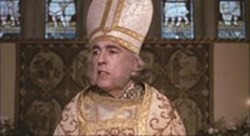 Gospel coalition blogger Kevin DeYoung says preachers should turn to movie clips for their sermon illustrations – er, for illustrations on how NOT to preach, that is.
He starts with some Steve Martin silliness from Three Amigos, then Ben Stein's droning ways in Ferris Bueller's Day Off, followed by (bad) examples from The Karate Kid, Star Wars, and The Princess Bride.
Funny stuff – and instructional. Pastors, take note!