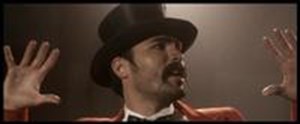 Eduardo Verastegui, the Hispanic actor who turned his life around and starred in the 2007 gem Bella, now has another starring role – albeit in a short film that will likely never make its way into theaters.
Verastegui plays a ringmaster in The Butterfly Circus, one of ten finalists in The Doorpost Film Project, an annual competition of short films whose purpose is "to encourage truth-seeking visionaries by honoring their creativity as filmmakers, serving them in the context of building community and sharing their discoveries with the world so that others may have hope."
Also starring in the film are Doug Jones, who has played fantastical characters in Pan's Labyrinth, Hellboy, and Fantastic Four: Rise of the Silver Surfer, and will also be playing a yet unannounced role in the upcoming Hobbit movies. And making his film debut is Nick Vujicic, a real-life evangelist who has no arms or legs.

It's a pretty cool thing, this Doorpost deal. I served as a judge for the final films a couple years ago, and was very impressed with what I saw. I have only seen a couple of this year's finalists so far, and haven't yet been wowed, but hope to be as I watch more in the coming days.
I'm not serving as an official judge this time around, but I am "judging" the films as a viewer – and so can you. All you have to do is log in to the site, watch all 10 films, and you too can play a role in deciding which film will win the $100,000 grand prize. But hurry – online viewing and voting ends on Sept. 16, and the awards banquet will be held Sept. 19 in Nashville.