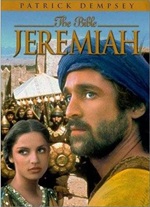 Long before he was Dr. Derek "McDreamy" Shepherd on Grey's Anatomy, Patrick Dempsey was McProphet – Jeremiah, to be precise, in a 1998 TV movie by that title.
Sony Pictures Home Entertainment has informed CT that it has acquired and will release – to DVD on May 18 – Jeremiah and Solomon, two installments in their Bible Stories series. SPHE describes Jeremiah as the "story of the prophet who abandons his family and the woman he loves, in order to relay God's message in Jerusalem." The film also stars Klaus Maria Brandauer as King Nebuchadnezzar.

The studio describes Solomon, made for TV in 1977, as the story of the man who is "crowned King of Israel and rules the land with love, peace and respect. While visiting the city, Solomon (Ben Cross) meets the beautiful Queen of Sheba (Vivica A. Fox) and falls in love. When she returns to her homeland, Solomon falls into a deep depression, departing from his once idyllic world of peace and luxury while his kingdom threatens to collapse." No mention of his legendary wisdom, building the temple, or that he was the son of David?
Jeremiah runs 90 minutes, Solomon 172. Both will be available for pre-order on April 15 at a suggested retail price of $14.94.