In what the ministry is describing as unrelated moves, Prison Fellowship's chief president/CEO and COO announced their resignations yesterday.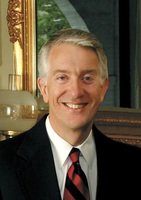 Mark Earley, former attorney general for Virginia and gubernatorial candidate, has led the organization since 2002. He will stay in the position to assist the board in finding a replacement, said the ministry, which Charles Colson founded in 1976.
"We are grateful for Mark's leadership and his commitment to the ministry of Prison Fellowship. He has played an integral part in reducing recidivism, building safer communities, and restoring families through the transforming power of Jesus Christ," Prison Fellowship Board Chairman Michael Timmis said in a written statement. "Through his preaching and teaching, Mark modeled and demonstrated his deep, personal relationship with Jesus Christ."
Meanwhile, retired Navy Rear Admiral Curtis Kemp also announced his resignation as chief operating officer of Prison Fellowship Ministries, a position he has held since 2007.
The resignations "were both personal and individual circumstances," Prison Fellowship spokeswoman Kimberly Alleyne told CT by phone. "They were not related." In a later e-mail, Alleyne said the ministry is not putting out a statement on Kemp's resignation. "At this time we are focused solely on ensuring the continued advancement of our mission," she said.