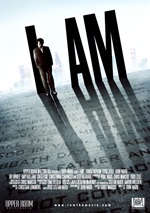 In any given week, only the biggest of the big blockbusters release to more than 3,000 movie screens across the U.S., but a new film from Mariners Church in Irvine, California, hopes to hit that number – and more – when it releases I Am on October 10.
According to the film's official website, the movie "offers an insight into the true nature of our God, and fights the damaging stereotypes of His character through a gritty, non-linear drama with a plot weaving around average people violating the Ten Commandments – one by one. We see that these commandments were not edicts from a jealous God, but a love letter to humanity – a warning to those who don't understand the massive consequences of even the smallest sins upon ourselves and the world around us."
Mariners is offering the film for free screenings to churches on October 10 before releasing it on DVD through 20th Century Fox at a later date. Mariners says the film is meant to "start a conversation. It's a movie that doesn't do the talking, but instead tries to compel others to want to talk after they've seen it. What better place to HOST conversations about God than at church?"
Learn more about the film at their Facebook site, and see the trailer below: