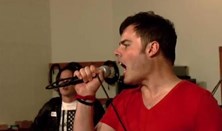 It should come as no surprise that Marc Martel, lead singer of the Christian rock band downhere, has won a contest to play the part of the late Freddie Mercury in the 2012 Queen Extravaganza Tour, a grand production celebrating the music of Queen and the classic band's 40th anniversary. A second vocalist, Jennifer Espinoza of San Antonio, Texas, was also chosen, as were two guitarists, a drummer, and a bass player.
"What an amazing and unexpected opportunity to come our way," said Martel, whose audition video earned him an MTV O Award and an appearance on The Ellen Degeneres Show. "Having gotten to know the other contest winners a bit, I'm confident we have what it takes to gel as a unit and give our best to do justice to some of the best rock music ever recorded. I am so thankful for for the chance to do this. Gonna be fun!"
Queen, one of the most influential rock groups of all time, has sold more than 300 million albums, recorded over 18 No. 1 singles, and have hundreds of millions of fans around the world.
Martel's audition video (embedded below) of the song "Somebody to Love," which has been viewed more than 5 million times, has wowed Queen fans for months. His voice is so spot-on, you'd think Mercury himself was singing.
The winners of the audition were just announced at a news conference this afternoon in Montreal. More details, including comments from Martel, to come soon.
Queen founder and drummer Roger Taylor has overseen the audition process, which concluded Monday with a final round of live auditions in Los Angeles. Taylor, who will produce and direct the Extravaganza tour, says it "will not be a traditional tribute show" but "a heart-stopping event. It's going to be spectacular. It's going to be very visual. There are going to be some shocks and some tremendous surprises. It will be a rock celebration in the royal tradition."
At Thursday's press conference announcing the winners, Taylor said that the talent "went way beyond my expectations. It was an incredibly difficult decision to choose the final line-up. I wish I could've kept them all, but in the end, I'm very happy with this group of exceptional musicians."
Martel is pictured above singing at the audition in L.A., and here's a video of Martel at the same gig. And here's Martel's astonishing audition video, which posted in late September: