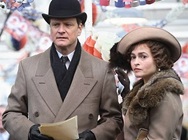 According to The Los Angeles Times, Harvey Weinstein, producer and distributor for The King's Speech, is considering making a few edits to the film to knock it down from an R rating to PG-13 or even PG.
The story notes that Weinstein "aims to rope in more movie-going commoners who normally wouldn't go near a historical drama about a British king. The plans involve a potentially risky decision: re-editing the movie to excise coarse language and secure a lower rating that will open The King's Speech to a broader audience."
Weinstein apparently noted the success of the movie in Great Britain, where a 12-and-over rating has helped it to top the box office chart for the last three weekends. "The British numbers are huge because the rating lets families see the movie together," said Weinstein. "Tom and I are trying to find a unique way to do this that keeps his vision of the movie."
The film was rated R because of a brief string of f-bombs spoken by King George VI (played by Colin Firth) during a speech therapy session with Lionel Logue (Geoffrey Rush). It's played mostly for humor in the film, and is for the most part inoffensive.