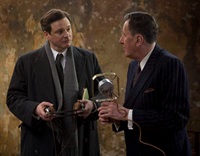 The King's Speech is the No. 1 choice in Heartland's Truly Moving Pictures Awards, it was announced. Secretariat and Waiting for Superman were named No. 2 and No. 3, respectively.
"This top ten list represents the best of our Truly Moving Picture Award-winning films from 2010," said Jeffrey Sparks, President and CEO of Heartland Truly Moving Pictures. "We feel it is important to highlight these standout films and the positive impact they have on audiences."
To see the entire list, click here.