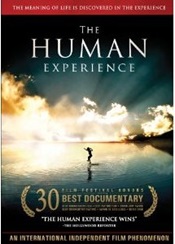 Jeffrey Azize grew up in what he describes as an abusive home, so as a young man, he decided to travel the world in search of goodness—and perhaps find a bit of the love he missed out on as a child. In the documentary The Human Experience, which releases to DVD today, Jeffrey and his older brother Cliff embark on three distinct adventures in their quest—first living for a week with New York City's homeless, then visiting disabled orphans in Peru, and finally traveling to Ghana to meet people who are dying of AIDS (including an infant) and to visit a leper colony.
Along the way, they interview a number of experts on culture, beliefs, and "the human experience," and while the brothers never say much about their own spiritual convictions, there's a fair amount of Christian commentary throughout. Among their interviewees are Makoto Fujimura, a Christian artist, speaker, and founder of the International Arts Movement, and William B. Hurlbut M.D, a physician and Stanford prof who serves on the President's Council on Bioethics. When asked about the nature of human suffering, Hurlbut brought up the Crucifixion as the example of the ultimate suffering.
In the end, the Azize brothers discovered what they had hoped to find—hope and goodness amidst pain and suffering, all over the world. It's worth a watch.
Check out the trailer below: