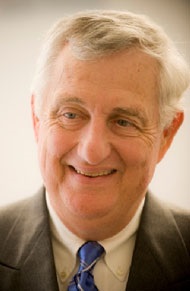 Palm Beach Atlantic University President Lu Hardin resigned suddenly on Friday and pled guilty on Monday to wire fraud and money laundering charges rooted in his previous job as president of the University of Central Arkansas.
Hardin had headed the Florida-based interdenominational Christian school for only two years. For much of that time, his name has been a recurring feature of investigations into questionable financial dealings that took place during his time at UCA.
This particular case involves a $300,000 deferred-compensation bonus Hardin received in 2008, which the U.S. Attorney's office says he obtained using a forged letter in order to pay off a debt (gambling debt, says a friend). His sentence will be determined in 30-60 days, according to the Palm Beach Sun-Sentinel.
PBA is already working to turn the page on Hardin's time at the school. The Board of Trustees appointed an interim president, VP of Development Bill Fleming, and will launch a nationwide search for a new full-time leader.
Bernie Cueto, PBA's campus pastor, says that today's installation of interim president Fleming was the beginning of the university's moving-on process. "We had a nice ceremony in the chapel this morning," Cueto said, "where several of us prayed, and you felt the warmth in the room, almost serving as a balm to the abrupt change from last Friday."
Cueto believes the interim president was a good choice for bolstering the school's confidence.
"The previous president…was only here about 20 months," Cueto says. "So having someone that's been here since 1992, that knows the university, knows all the departments, knows our story, knows what we're about—it was really nice for people. "
Since PBA has been on spring break all this week, Cueto says it's difficult to discern how the student body feels about the change, but he says that President Hardin "really wasn't a fixture on campus," probably because of the short time he was able to spend at the school. "I can't imagine it being an issue...with the majority of students."
"PBA's never depended on one person, or one group of trustees, or the laurels of one man. It's always been a team effort, depending on God and the Holy Spirit," Cueto says. "Most people, although they were disappointed, it's been a reminder of the fallenness of man, and we move forward."
update 3/11/2011 Anna Zetterberg, managing editor of the PBA Beacon student newspaper, says that the resignation came as a surprise on an afternoon when a lot of students were already heading off for break.
"The response I've gotten from students is mixed," Zetterberg says. "Some feel that the incident shouldn't be blown out of proportions because he paid back the money. Others feel let down and confused. I'm very disappointed overall."
Zetterberg says she was relieved to find out that the issues leading to his resignation hadn't stemmed from Hardin's time at PBA. "At the same time, it does affect us," she says, "and really, it affects Christian universities everywhere because people can very easily associate the actions of our leader with the integrity of the entire institution."
"The most common thing I am hearing people say," she adds, "is just that they are praying for Hardin and for the situation. Regardless of what was done, it's a tough situation for him, his family, the university, and people are just praying a lot about it."
While Zetterberg does wonder why PBA hired Hardin in the first place—"maybe they didn't know the severity of the situation, I don't know"—she doesn't entirely regret the time he spent there.
"I do feel that Hardin was truly and sincerely passionate about PBA, its quality of education and its future," Zetterberg says. "In his short time at PBA, I felt like he really invested himself in our university, and for that, I am grateful."