Editor's note: Love Begins, a prequel to the Love Comes Softly film series, releases to DVD today. We asked CT editorial resident Morgan Feddes for her thoughts on the movie.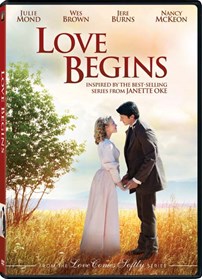 Set in the American West, Love Begins is a stereotypical romantic film that describes how Clark Davis, one of the main characters in Janette Oke's Love Comes Softly series, first meets Ellen Barlow. Ellen and her sister Cassie are trying to keep their family farm going after their father's death the previous winter. They're in need of a hired hand, but all the able-bodied young men have been hit with gold fever and have headed off to California, including Ellen's childhood sweetheart.
Clark is a wanderer in both body and soul who's passing through town on the way to California himself. When he gets involved in a fight at the local restaurant, he's forced to stick around until he can pay off the damages. The sheriff convinces Ellen to hire Clark on as a way to pay his debt and give the Barlow farm some much-needed assistance. Clark gets along easily with Cassie, but his initial relationship with Ellen is much rockier.
The film, which originally aired as part of the Hallmark Channel's "Love Saga," has a number of weaknesses. Though this particular prequel isn't based off a specific book, fans of the Love Comes Softly series—and most anyone who's read more than a handful of romance novels—will be able to predict how the plot progresses. On top of that, the most interesting, tension-filled points of the plot happen in the last twenty minutes, making for a slow second act. The actors show signs of skill, but the weak dialogue hampers their performances. And though there are elements of faith woven in throughout, the subtle moments often prove to be stronger than outright mentions of God and church, which feel trite and forced.
Still, even with its weaknesses, Love Begins has a certain charm to it. Its Old West setting is largely responsible, I suspect (being a personal fan of westerns), but the quiet love story that unfolds, while predictable, is still enjoyable, particularly to fans of the Christian romance genre.
Love Begins is available for purchase at ChristianBook.com, and the trailer can be seen here: