Machine Gun Preacher – the based-on-a-true-story of Sam Childers, a drug-dealing, gun-toting biker who found God and became an alleged mercenary saving African orphans – has crashed and burned at the U.S. box office.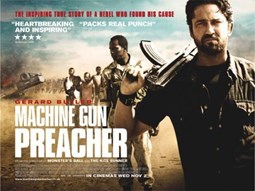 With a reported $30 million budget, the movie, directed by Marc Forster and starring A-listers Gerard Butler and Michelle Monaghan, was a box office bust, earning only $420,000. At its peak, the film showed in 93 theaters nationwide in its third weekend – a relatively small release – but audiences simply were not turning out. Had they been filling up those theaters, the film surely would've expanded to wider release. Such decisions are purely financial – if it's making good money in limited release, films almost always end up going wider. If it's not, it generally gets pulled after a short run – which was the case for MGP, which was pulled from theaters on October 18, barely over three weeks after opening.
The film is now opening in the U.K. and other overseas locations; time will tell how it fares in the foreign market.
Why was it such a failure in the U.S.? Bad marketing? Weak promotion? Lack of advertising budget? Spoiled Americans who just don't care about what's happening in Africa? Christians won't see R-rated movies? The subject matter?
Probably a combination of all of the above. We asked a few colleagues – critics and industry writers – what they thought. One surmised that fans want to see Butler in action movies, not in a drama – though this film was quite dramatic. Another thought that Christians are simply turned off by the notion of a Christian carrying a gun. Another said it simply never was in wide enough release to attract a big audience.
We also asked one of the film's producers if she had any theories, but received no response.
We don't think our investigative story – exposing several of the problems with Childers, his claims, and his orphanage in South Sudan – had much, if anything, to do with the movie bombing, because readership wasn't very high on that piece, and none of the major wire services picked it up.
Whatever the reason, even though the film itself appears to be packing heat, when it comes to the box office, it's shooting mostly blanks.