Among today's many Supreme Court actions, the justices opted not to hear Sylvia Spencer et al v. World Vision, a case that had potentially significant implications for religious organizations' hiring practices.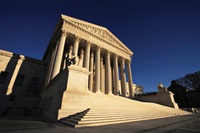 The Supreme Court's denial of certiorari lets stand an August 2010 decision by the Ninth Circuit Court of Appeals in favor of World Vision and against three employees who were fired after the organization concluded that they did not believe that Jesus Christ is fully God.
"Today's action by the U.S. Supreme Court represents a major victory for the freedom of all religious organizations to hire employees who share the same faith–whether Muslim, Buddhist, Jewish, Christian, or any other religion," World Vision U.S. president Richard Stearns said in a press release. "I am pleased, relieved and gratified with the court's action. After four years of litigation, we at World Vision U.S. may now put this matter behind us, and continue our policy of hiring Christians."
The denial brings an end to the World Vision lawsuit, but the issue of religious-based hiring will be one of the key issues before the Supreme Court this year. One of the key questions in Hosanna-Tabor Evangelical Lutheran Church and School v. EEOC, which the court will consider on Wednesday, is whether an elementary school teacher can be considered a ministerial employee.
The question in the World Vision case was slightly different: at issue was less the "ministerial exemption" of the 1964 Civil Rights Act than a 1972 amendment to the act said churches and religious corporations and associations could use faith-based criteria in hiring. In the World Vision case, all sides agreed that the nature of the firings were religious, but the fired employees argued that World Vision was not truly religious since its work was humanitarian rather than religious, and not significantly different from groups like the Red Cross.
In the Hosanna-Tabor case, all the sides agree that the Missouri Synod Lutheran Church school is religious, but disagree on whether the employee, who was dismissed for issues related to her narcolepsy, was a ministerial employee. The congregation that runs the school argues that she was, noting that her duties included leading prayer, devotions, and religious studies.
In its World Vision decision, the 9th Circuit Court ruled that an organization is religious if it has a self-identified religious purpose, acts consistently with those purposes, and promotes itself publicly as religious. But the court did not rule on whether World Vision's humanitarian work is religious. "Making that determination, the court said, "runs counter to the core of the constitutional guarantee against religious establishment."