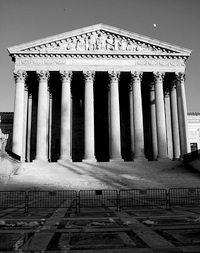 Update (May 6): According to Religion Clause, a Kentucky court has rejected Sunrise Children's Services' most recent attempt to continue arguing its case after the state agreed to a settlement in March. Sunrise argued that the settlement terms "[impose] obligations on it without giving it the opportunity to litigate the merits further. The court however rejected this argument, saying that new obligations are not imposed on Sunrise."
Peter Smith at the Courier-Journal offers more details on why the Baptist foster agency fears stigma from the settlement.
––-
Update (Mar. 21, 2013): Associated Baptist Press reports that the state of Kentucky finally has settled a 13-year-old lawsuit with the Americans United for Separation of Church and State and the ACLU, agreeing to "change its child-care system to ensure that faith-based groups that contract with the state do not pressure children in their care to participate in religious services."
According to the ACLU, "Child-care agencies that contract with the state [now] will be forbidden to discriminate in any manner against any child based on the child's views about religion or to pressure children to participate in religious worship or instruction."
However, Sunrise Children's Services is refusing to participate in the settlement, notes Peter Smith at the Courier-Journal.
Associated Baptist Press provides more information.
––-
A long-running lawsuit seeking to cut off state funding for Sunrise Children's Services (formerly Kentucky Baptist Homes for Children) – first for firing a gay employee, and second for promoting religion to children using taxpayer money – has been permitted to continue after 12 years of twists and turns.
At issue: Whether taxpayers can challenge the state funding of faith-based social services, even though the U.S. Supreme Court has ruled that taxpayers cannot challenge the federal funding of such groups.
Alicia Pedreira, a family specialist for the children's home, was fired in 1998 after a photo of herself and her partner was exhibited at the Kentucky State Fair. The Baptist agency prohibits employees from having "homosexual lifestyles." Pedreira complained of discrimination and sued, but federal judge Charles R. Simpson III ruled in 2001 that government-funded charities can fire homosexuals.
However, Simpson allowed a second claim – that the agency uses taxpayer money to push religious beliefs on children – to proceed. Simpson then dismissed the case in 2008 using the U.S. Supreme Court's 2007 decision in Hein v. Freedom From Religion Foundation that taxpayers cannot contest religious-based activities that receive federal funding. However, part of the ruling was overturned by the Sixth Circuit Court of Appeals in 2009.
The Supreme Court recently declined a request by the Baptist agency to review the case, so Simpson ruled on July 5 that the case can proceed.
Sunrise president Bill Smithwick said the decision is "nothing new," according to Baptist Press. However, much is at stake, since an estimated 70 percent of Sunrise's $24 million budget comes from state funds.