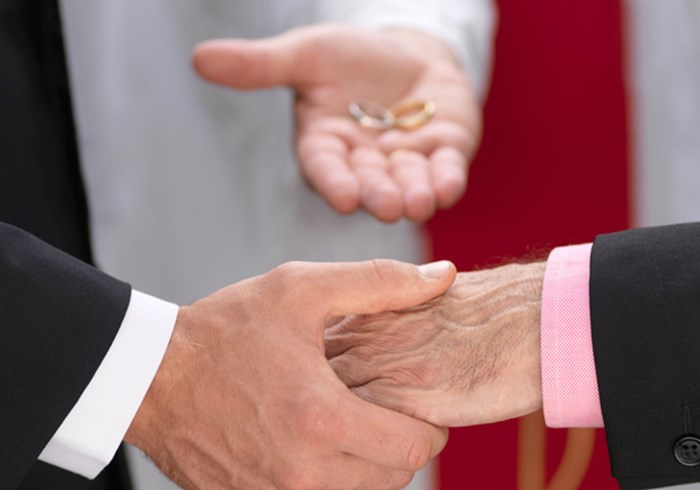 The Episcopal Church approved church-wide blessings of same-sex unions, stopping short of approving rites for same-sex marriage but approving liturgy for official rites for same-sex couples. Bishops can begin using "The Witnessing and Blessing of a Lifelong Covenant" on December 2, when same-sex couples can exchange vows and rings. Each bishop will decide whether to allow the rite within each local diocese, and a conscience clause bars penalties for bishops who oppose the rite.
Tuesday's debate lasted for about 90 minutes. Proponents offered stories of gay friends who would benefit from the rites, while opponents suggested the denomination was contradicting its own doctrine.
Some predicted that General Convention would not be able to legally authorize the trial rite because it would require a supermajority vote in the House of Bishops. Denominational leaders changed the wording in the resolution from "trial rite" to "provisional" rite, where a simple majority vote was needed.
Leaders in the denomination avoided attempts to change the definition of marriage as it would take significant efforts to change the Book of Common Prayer, which describes marriage as between a man and a woman.
"The debate over marriage is over technicalities, when we can call a spade a spade. If it walks like a duck, talks like a duck, it's a duck," said Charles Holt, an evangelical rector at St. Peter's Episcopal Church and School in Lake Mary, Florida. Holt spoke against the proposal in Tuesday's debate.
Holt described evangelicals who oppose same-sex rites but want to remain in the denomination like a similar kind of marriage.
"We want to have the spirit of Martin Luther, who wanted to reform the church from within," he told CT, noting that Luther was eventually disciplined out of the Catholic Church. "We're called to be faithful to the unfaithful and called to love those who would delight in our departure."
The potential impact of Tuesday's votes on membership and other factors is unclear.
"It's significant, but I don't think it's a surprise," said Samuel Candler, dean of the Cathedral of St. Philip in Atlanta and an evangelical who favored the proposal. "Even with this vote, most of the people who wanted to leave have already left."
Tuesday's formal vote is one of a number of domino effects related to same-sex relationships, creating years of division in the denomination and in the wider communion. The 1.9-million-member church has lost about 16 percent of its members over the past decade since it elected its first partnered gay bishop.
The schism has set off a number of lawsuits nationwide over property. Most recently, The Falls Church, which disaffiliated with the Episcopal Church in 2006 and joined the Anglican Church in North America, lost its building in May to its former denomination.
The final vote on gay blessings by laypeople and clergy members was 171 to 50. On Monday, the denomination's House of Bishops voted in favor 111 to 41, with 3 abstentions.
On Monday, the Episcopal Church approved new anti-discrimination language for transgendered clergy candidates and church members. Some Episcopal dioceses already ordain transgendered people or elect them to positions of parish leadership.
By adding "gender identity and expression" to its nondiscrimination canons, those who are transgendered shall not "be denied rights, status, or access to an equal place in the life, worship, and governance of this church."
Last week, the Episcopal Church ordered the sale of its New York headquarters, which currently costs an estimated $11 million a year. The denomination's budget for 2013–2015 will be $111.516 million.
Three years ago, the Episcopal Church lifted a temporary ban on electing gay bishops and granted permission to priests to bless gay couples if their bishops allowed it.
Other mainline denominations have also voted recently on same-sex relationships. At their respective general conventions, the United Methodist Church and the Presbyterian Church (USA) upheld their denomination's position that marriage is between a man and a woman.