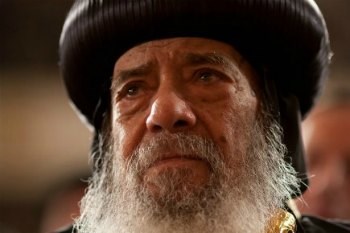 Egyptian Christians are mourning the passing of 88-year-old Coptic Orthodox Pope and Patriarch Shenouda III (August 3, 1923—March 17, 2012). He died in Cairo today after a lengthy illness. He had both back and kidney problems, according to local news reports.
Pope Shenouda was extremely popular among millions of everyday Christians. A charismatic reformer and an advocate of Christian rights and interests in a predominantly Muslim country, many considered him to be just like a father.
Egyptian Muslims liked him for his critical stance towards Israel, but both Christian and Muslim intellectuals were critical of his mixing politics with religion. No doubt he was the most influential Christian leader in twentieth-century Egypt. He was co-founder and editor-in-chief of the Sunday School Magazine in 1947, was consecrated as monk in 1954, became Bishop of Education in 1962, and Pope in 1971.
This is an article preview. The rest of this article appears in full on CT's main site.
Image: Chuck Kennedy, White House photo