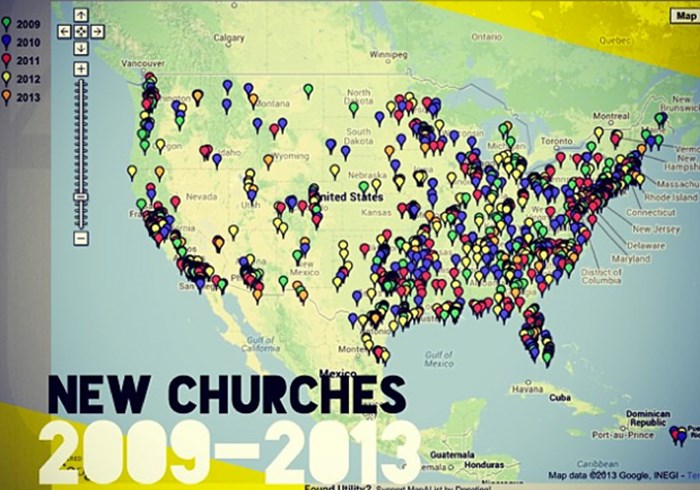 Image: Assemblies of God / Instagram
One of America's largest Pentecostal denominations may be losing one of its defining characteristics—even as it continues to grow and diversify at an enviable rate.
As Assemblies of God (AG) leaders meet this week in Orlando for their biennial conference, recently released statistics paint a healthy portrait.
The AG's U.S. division grew more than twice as fast as the American population in 2012 (1.8 percent vs. 0.7 percent), gaining almost 54,000 adherents to now number nearly 3.1 million worshipers at more than 12,700 churches (up 127 from 2011). (Worldwide, the AG gained nearly 1 million adherents in 2012 to surpass 66 million.)
It is also increasingly diverse: Today, only 59% of U.S. adherents are white.
Such growth makes the AG increasingly distinct from other major Americans denominations—including the Episcopal Church, Evangelical Lutheran Church in America, Presbyterian Church (U.S.A.), and United Methodist Church—that continue to face steady declines.
But the AG is becoming less distinct in another way: more and more adherents seem to be "holding their tongues."
CT previously reported how AG leaders have asked whether the denomination's distinctive teaching on speaking in tongues is being lost amid outreach efforts. AG churches believe "the baptism in the Holy Spirit with the initial physical evidence of speaking in other tongues is the promise of the Father to every Christian who desires the experience."
However, while water baptisms rose by 3.9% to a near-record high of more than 131,700 last year, spirit baptisms decreased 2.9% to less than 82,000—the lowest total since 1995.
The number of spirit baptisms has gradually fallen since peaking in 1997 at 101,700. (Water baptisms have always outnumbered spirit baptisms since the AG first released statistics in 1979.)
CT regularly reports on the Assemblies of God, including the denomination's alternative to the Boy Scouts, recent debate over Wycliffe Bible Translators' "Son of God" translation policies, and all you need to know about the AG.