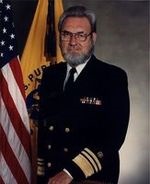 C. Everett Koop, the Christian physician and former U.S. Surgeon General who brought abortion to the forefront of evangelical social action, died today at 96.
Together with theologian Francis Schaeffer (they met when Koop operated on Schaeffer's daughter), Koop—a pioneering pediatric surgeon—exposed the issues of abortion and euthanasia in a series of films and books in the early 1980s. Their arguments began the movement against abortion that continues within American evangelicalism today.
(Editor's note: Philip Yancey wrote a 1989 CT cover story on Koop's embattled career spent attempting to "fight disease, not people.")
A graduate of Dartmouth College, Cornell Medical College, and the University of Pennsylvania, Koop established the first neonatal surgical intensive care unit and was the first surgeon to separate twins conjoined at the heart, according to the National Institutes of Health (NIH).
"Operating on newborns with life-threatening birth defects, spending nights at the bedside of a sick or dying child, and consoling bereaved parents gained Koop acclaim as a pioneering surgeon and empathic healer, and led him to reexamine his Christian faith and the ethical implications of medical procedures, above all abortion and euthanasia," his NIH biography said.
During Koop's seven years in office, NBC News reports:
Koop changed the previously low-profile position of surgeon general into a bully pulpit for seven years during the Ronald Reagan and George H. W. Bush administrations.

Yet, as an evangelical Christian, he surprised conservatives when he endorsed condoms and sex education—in order stop the spread of AIDS, which blossomed into a national epidemic on his watch.

He also embarked on a mission to end smoking in the United States by 2000. A former pipe smoker, he said cigarettes were as addictive as heroin and cocaine.
Koop continued to speak out on abortion as recently as 2009, when he wrote and hand-delivered a letter to Congress to voice his opposition to proposed federal funding for the procedure.
In addition to Yancey's cover story on Koop's career, CT featured his thoughts on death and dying in an essay Koop wrote called "The End Is Not the End." CT's first interview with Koop was in 1973 when he and five other evangelical scholars discussed technology and bioethics.