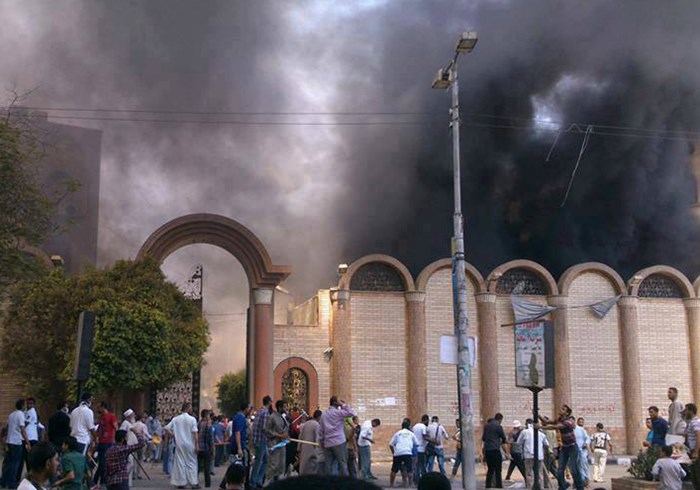 Image: Courtesy of Morning Star News / Watani
Update (Aug. 19): As the death toll in Egypt approaches 1,000, a senior advisor to the nation's top Islamic leader, the Grand Mufti, explains the 'most reliable narrative' of events and decries violence on both sides.
The New York Timesnotes how "the steady drumbeat of sectarian incidents since Mr. Mubarak's downfall appears to have been eclipsed by the explosion of anti-Christian attacks over the last three days."
The NYT highlights two efforts to document reprisal attacks on Christian targets, currently estimated to be 37 churches and 14 schools. USA Today offers an interactive map of such attacks in nine provinces.
Meanwhile, as previously noted, the Egyptian military has pledged to rebuild damaged Christian buildings.
-----
Update (Aug. 16): CT's Cairo correspondent reports why Egyptian Christian leaders support the controversial evictions, despite the death toll. Meanwhile, major media outlets continue to report on the aftermath, including that Egypt's military has pledged to rebuild burned churches. Al Jazeera reports that Egyptian Christians "face unprecedented attacks."
SAT 7 CEO and founder Terence Ascott offers an analysis of why evangelical leaders in Egypt disagree with how the evictions have been covered in Western media:
Many of us involved in Christian ministry in Egypt are appalled at the misunderstandings about the situation in Egypt being propagated by even normally balanced international media like the BBC, and the way it has, in general, portrayed the Muslim Brotherhood as the victims of injustice.

So, on behalf of myself, Ramez Atallah (General Secretary for The Bible Society of Egypt), Pastor Fayez Ishaq (part of the leadership team at Kasr El Dubarrah Evangelical Church), other ministry leaders in Egypt and the leadership of Middle East Concern, please allow me to paint a bigger picture of what has been going on the past year or so...
-----
Update (Aug. 15): Egyptian health officials have raised the death toll from yesterday's military evictions of Muslim Brotherhood protest camps to 525 dead and 3,500 injured. Reuters notes:
The latest crackdown was the third mass killing of Islamist demonstrators since Mursi was deposed six weeks ago, but the scale of the bloodshed took many by surprise and signaled that the military was determined to tighten its grip on the country.
Meanwhile, at least 27 churches have been attacked and two Christians killed in retaliation, reports Morning Star News (MSN). Houses, monasteries, orphanages, schools and businesses belonging to Copts were attacked in nine provinces "causing panic, losses and destruction for no reason and no crimes they committed except being Christians," the Maspero Youth Union, a Coptic activist group, toldUSA Today.
"Most Egyptians expected the violence," wrote Ramez Atallah, general director of the Bible Society of Egypt, which experienced its first attacks in nearly 130 years of operation. "Nevertheless, it is heartbreaking to watch on TV this bloodshed between fellow-Egyptians unfolding before our eyes."
"The removals may have been necessary," wrote Christian Solidarity Worldwide's communications director, Daniel Sinclair. "However, the manner in which they were executed and the excessive loss of lives will only serve to polarise Egyptian society even further."
According to MSN:
Prior to the attack on the camp, leaders in the Muslim Brotherhood warned that if it were broken up, Christians would be attacked.

Immediately before and after Morsi's ouster, his supporters had repeatedly blamed the Christian minority for the protests that led to his removal from office. In sermons across the country, numerous imams called for Christians to be attacked, according to human rights activists.

...

The attacks were scattered across the country, from The Church of Mar-Girgis, which was attacked in Arish in the northeast Sinai Peninsula, to a handful of churches in Giza outside of Cairo, to churches and religious facilities in Upper Egypt. Most of the attacks happened in Minya Governorate, with the city of Assuit following close behind. The attacks happened across theological lines; it appears no denomination was spared.
-----
Update (Aug. 14): Anti-Christian violence swept Egypt today after the military forcefully dispersed camps of protesters, killing more than 150 Muslim Brotherhood members and their supporters in the bloodiest day yet of Egypt's revolution. World Watch Monitor (WWM) reports how Islamist protesters "took out their anger Wednesday on government and [dozens of] Christian buildings and homes."
The Bible Society of Egypt reports that 15 churches and three Christian schools have been attacked, while two of its bookshops in Assiut and Minia, the largest cities in southern Egypt, were set on fire and completely destroyed. "Fortunately we were closed today, fearing such an attack, so none of our staff were injured," wrote the society's director, Ramez Atallah, in an email dispatch. He went on to note, "It is important to underline that—while some Christian properties have been the victim of this violence—they are by no means the only ones targeted. This is an attack against the State by a violent minority in an attempt to destabilize the Nation."
Tensions in Egypt, which today declared a month-long state of emergency, have continued to flare six weeks after the uprising that resulted in president Mohamed Morsi's removal. Attacks by Islamist protestors recently forced Coptic Orthodox Pope Tawadros II to back out of speaking engagments and prompted 16 human-rights groups to voice their concern.
-----
Update (July 11):The New York Times reports that a new wave of violence all across Egypt is targeting Coptic Christians, whom some blame for President Mohamed Morsi's resignation last week.
According to the Times, "Since Mr. Morsi's ouster on July 3, the activists say, a priest has been shot dead in the street, Islamists have painted black X's on Christian shops to mark them for arson and angry mobs have attacked churches and besieged Christians in their homes. Four Christians were reported slaughtered with knives and machetes in one village last week."
Christians have also fled Rafah and other villages in the Sinai Peninsula, according to Morning Star News.
Earlier this week, CT reported that most Copts remained ecstatic about removing Morsi from office, even amid escalating violence.
-----
(This story was originally published on July 11 as Following Recovery of 'Stolen Revolution,' Celebration Shifts to Danger for Egypt's Christians)
In a stunning turn of events on Wednesday, Egypt's military removed President Mohamed Morsi from office and took him into custody.
This occurred 48 hours after the Egyptian military issued to the president an ultimatum to broker a new agreement with his political opponents or be removed from power. After deposing the president, the military suspended the Constitution and installed an interim government. New elections are expected later this year.
For weeks, millions of everyday Egyptians have signed a petition calling for Morsi to step down. They demanded a new election to elect a president to address Egypt's weakened economy and political paralysis. Starting Sunday, June 30, Egyptians began protests across the nation.
This effort received a major boost when on Tuesday, July 2, Tawadros II, pope of Egypt's 9 million Coptic Orthodox, tweeted in Arabic:
"It's wonderful to see the Egyptian people—through the idea of Tamarod and its youth—taking back their stolen revolution in a peaceful way." Tamarod is the name of the grassroots rebel movement that organized the petition.
Their petition says in part:
"Since the arrival of Mohamed Morsi to power, the average citizen still has the feeling that nothing has been achieved so far from the revolution goals which were life in dignity, freedom, social justice and national independence. Morsi was a total failure in achieving every single goal, no security has been reestablished and no social security realized, thus and gave clear proof that he is not fit for the governance of such a country as Egypt."
Public Call for Peaceful Protest
For Christians and their leaders in Egypt, the big question has been whether to support the rebel movement or to stand publicly with the democratically elected government despite recent declines in religious freedom.
Atef Gendy, president of the well-known Evangelical Theological Seminary, in the Abbassia section of Cairo, released this statement on June 30:
"In the past, previous regimes pushed the Church to give them support, by controlling Christians and calling them not to oppose standing regimes. In the long run, this minimized the effective role of Christians, separating them from the rest of society and depriving them of the liberty to act independently as full, mature citizens according to their faith and conscience. Now we have learned our lesson and refuse to be a tool in the hand of any regime.

"We believe that Christians are full citizens, who have the complete right to express themselves peacefully in the way they like. Nevertheless, we call Christians and Muslims as they demonstrate to avoid all sorts of violence or destruction. We also see that religious institutions cannot dispense with their moral and prophetic responsibility in exposing mistakes and corruption. The simple requirements of the Egyptians for which they revolted over 2 years ago and are now rebelling, are fair, legal, and logical. They deserve the support of everyone and of all civil and social institutions including the religious ones.

"How can partners and friends help us?" Please pray earnestly that the Lord may protect our nation during this very critical time. As we have seen, each of the different expected scenarios includes elements of risk that can divide and damage the country for years. Please pray for special wisdom and unity for church leaders to be able to actively participate in this critical moment of change and transformation, standing bravely against corruption and injustice without being trapped in being politically used by any party. Please do what you can to stand against unwise and inappropriate polices which Western governments sometimes adopt as they support political powers that have a dark history of violence and terrorism. These short sighted polices, will damage the countries of the Middle East and soon afterwards will be a thorn in the flesh to the rest of the world."
In coming months, Christian leaders anticipate a more influential role in the promised elections. During the past year, Christians in Egypt have uniformly spoken out in favor of a system that affirms equal rights for all religious groups. They alleged the Morsi regime wrongly favored fundamentalist Islam to the detriment of Christians and other religious minorities.