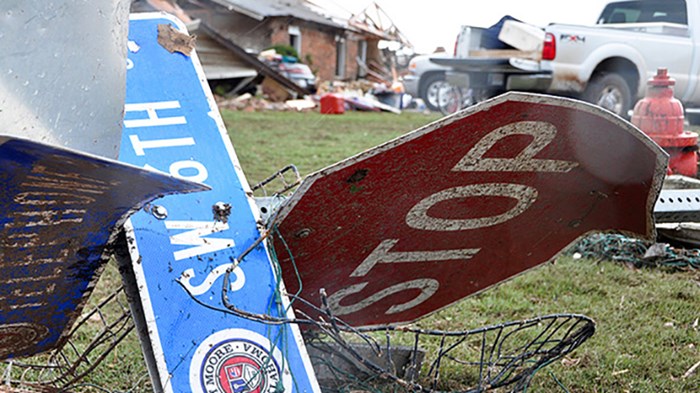 Image: Dvids / Flickr
At the edge of the disaster zone—just across the street from the decimated Moore Medical Center—teens and adults in cowboy hats cook smoked sausages outside the Central Church of Christ.
This group of volunteers drove 430 miles from Denver City, Texas, southwest of Lubbock, to prepare meals for victims after last Monday's EF5 tornado destroyed 1,200 homes and killed 24 people, including 10 children.
Inside the church, worshipers—many wearing bright orange "Disaster Assistance" T-shirts—at the Sunday service maneuver around ceiling-high stacks of emergency food and supply boxes delivered on a tractor-trailer by Nashville, Tennessee-based Churches of Christ Disaster Relief Effort Inc.
The church's marquee sign along Interstate 35 normally grabs drivers' attention with catchy Bible verses and witty sayings.
But now it declares simply: "Disaster Relief Center."
Even as President Barack Obama consoles victims and promises the government's ...
1