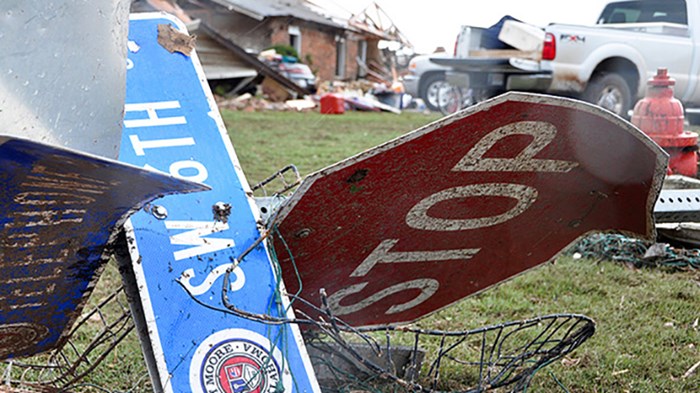 Image: Dvids / Flickr
At the edge of the disaster zone—just across the street from the decimated Moore Medical Center—teens and adults in cowboy hats cook smoked sausages outside the Central Church of Christ.
This group of volunteers drove 430 miles from Denver City, Texas, southwest of Lubbock, to prepare meals for victims after last Monday's EF5 tornado destroyed 1,200 homes and killed 24 people, including 10 children.
Inside the church, worshipers—many wearing bright orange "Disaster Assistance" T-shirts—at the Sunday service maneuver around ceiling-high stacks of emergency food and supply boxes delivered on a tractor-trailer by Nashville, Tennessee-based Churches of Christ Disaster Relief Effort Inc.
The church's marquee sign along Interstate 35 normally grabs drivers' attention with catchy Bible verses and witty sayings.
But now it declares simply: "Disaster Relief Center."
Even as President Barack Obama consoles victims and promises the government's assistance "every step of the way," the so-called "faith-based FEMA" is already out in force—from Mennonite Disaster Service chainsaw crews to Samaritan's Purse debris cleanup teams to Presbyterian Disaster Assistance pastoral counselors.
In a visit Sunday to this devastated Oklahoma City suburb, Obama said the Federal Emergency Management Agency has registered more than 4,200 people for direct assistance and approved more than $3.4 million in direct aid.
"Obviously, there's a lot more to come," the president said. "But it's not just a government response. We've seen incredible outpourings of support from churches, from community groups who are helping folks begin to recover."
Within 90 minutes of the tornado striking, Sam Porter, disaster relief director for the Baptist General Convention of Oklahoma, pulled into the parking lot of the First Baptist Church of Moore.
"What took you so long?" a First Baptist staff member asked with a smile.
Porter—who has responded to disasters ranging from the 1999 Oklahoma tornadoes to the Sept. 11 terrorist attacks to Hurricane Katrina—blamed traffic and heavy rain for delaying his drive from the other side of Oklahoma City.
The Oklahoma pastor came to set up a feeding unit that can prepare up to 30,000 meals a day—for distribution by the Red Cross and Salvation Army through a cooperative agreement.
Southern Baptists' immediate dispatching of trained volunteers for cooking, cleanup and counseling services drew mention by NBC News anchor Brian Williams, who predicted Tuesday that churches will be "a huge part of the recovery."
"As you and I have seen in so many different places in this country, if you're waiting for the government, you're going to be in for an awful long wait," NBC reporter Harry Smith told Williams in a video that quickly went viral. "The Baptist men, they're going to get it done tomorrow."
In fact, the Southern Baptists work closely with FEMA and are an active member of the National Voluntary Organizations Active in Disaster (National VOAD)—an umbrella group for more than 50 denominational relief agencies and secular charities.
National VOAD works to avoid duplication of services by FEMA and faith-based groups—a collaboration that has caused few church-state concerns because no money changes hands, said Robert Tuttle, a George Washington University professor of law and religion.
"I'd say it's among the least controversial areas of government-religion interaction," said Tuttle, who has studied how the government integrates faith-based groups during disaster response.
Denominations typically have local churches in disaster areas, which gives them an immediate head start on FEMA, said James McGowan, National VOAD's associate executive director for partnerships.
"The faith community is already on the ground, so it's a little bit easier for them to get going," McGowan said. "FEMA presence takes a little bit longer."
In the case of the Moore tornado, FEMA is responding "very, very quickly," Porter said.
But it's still a government agency, and that means jumping through hoops to get anything done, he suggested.
"We have no red tape attached," Porter said of faith-based groups. "We respond with passion and the love of God in our hearts. I didn't have to ask permission from anybody to set up. All I had to have was a place at the church, and they knew I was coming."
VOAD formed more than 40 years ago after Hurricane Camille, a Category 5 storm that hit the Gulf Coast in 1969. Up until then, numerous government agencies and religious and secular nonprofits all acted independently of one another, resulting in haphazard help to victims, McGowan said.
By coordinating efforts, individual religious groups have developed specialities, such as Adventist Community Services leading in warehousing and logistics and the Baptists preparing meals while the Red Cross and Salvation Army distribute them, he said.
"Each of the agencies have their little niches, and they do very well," McGowan said. "It maximizes their donor gifts and allows them to be more efficient."
One thing they all excel at: Recruiting volunteers. At the Central Church of Christ, Mike Baumgartner, founder of a grassroots ministry called Disaster Assistance CoC, said he's built up an extensive social media network while responding to eight disasters—including hurricanes, wildfires and tornadoes—in the last 14 months.
"Fifteen thousand e-mail addresses and 5,000 Facebook friends gets the word out pretty quickly," he said.