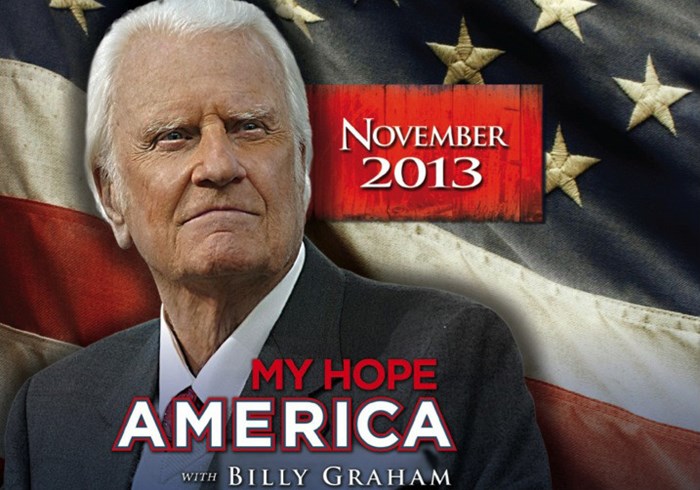 Image: Courtesy of BGEA
Billy Graham will celebrate his 95th birthday this Thursday in appropriate fashion, launching his largest-ever and likely last crusade.
More than 28,000 churches have pledged their involvement in "My Hope America with Billy Graham," an event which pivots from the evangelist's famous stadium-filling events to living rooms nationwide.
Based on Matthew 9:9-10, "My Hope" encourages Christians to invite non-Christian friends into their homes to watch a TV program featuring Graham. The video will feature clips of past sermons as well as a new message Graham has prepared—possibly his last.
However, this is not the first time the Billy Graham Evangelistic Association (BGEA) has held the "My Hope" campaign. In fact, America is one of the last places to host the program.
The televised campaign—instituted through churches—has reached 57 countries since 2002, with more than 298,000 churches participating and more than 4.4 million Christians serving as "My Hope" hosts. The result: more than 10 million people have become Christians, claims the BGEA.
In Spain, the campaign launched in 2011 with more than 1,000 churches training approximately 8,500 individuals. In Zambia, the numbers were much higher: approximately 60,000 people in almost 6,000 churches participated in the "living room" crusade.
Among many examples the BGEA recounts from other countries, "My Hope" was so successful in Haiti that more churches had to be built to accommodate the number of new Christians. The BGEA registered more than 120,000 decisions for Christ in Haiti.
Puerto Rico and the Dominican Republic were two of the last hosts in Latin America, where "My Hope" was first launched (in Costa Rica, Honduras, Nicaragua, and El Salvador). The BGEA has recorded more than three million "My Hope" decisions in 17 Latin American nations.
The largest and most complicated country to benefit from the "My Hope" program: India, where more than four million people responded to the initial "My Hope" program aired in 14 different languages.
"My Hope" concerned many Christians in Russia in 2004 because of a possible ban on evangelism. But the project continued, with showings in churches, prisons, hospitals, and other venues. The previous year, Russia's "There is Hope" project required a different setup to account for the country's 11 different time zones and large population (145 million people).
In Malawi, the country known as the "Warm Heart of Africa," meetings often took place outdoors, using battery-powered projector units. Along the Amazon River in Brazil, where most villages did not have a Christian church or TVs to watch the broadcast version of "My Hope," one missionary distributed DVDs and constructed churches along the way.
Among the many American responses to the campaign, Hawaiian pastors say the island's hospitable and relational culture is a good fit for such an evangelism approach. A North Carolina college ministry showed the "My Hope" video to 1,000 students on Halloween night, while others are promoting the crusade through skate park ministry and throw-back tent revivals. At the Dakota County Jail in Minnesota, the program has led to inmate conversions.
A national broadcast of Billy Graham's message to America will air on November 7.