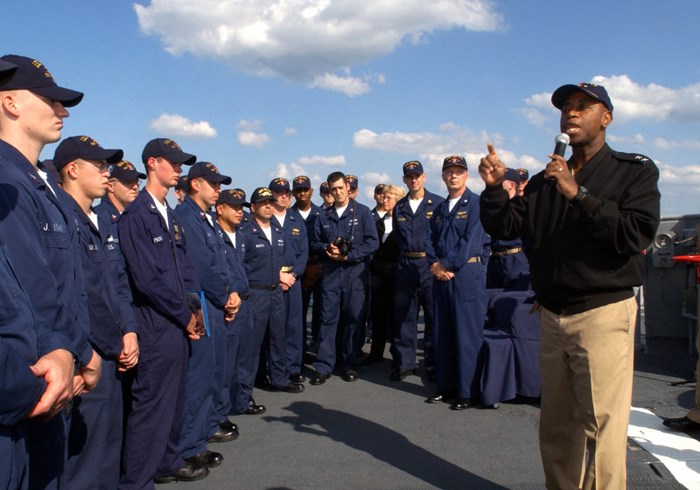 Image: U.S. Navy/Wikimedia
Update (Oct. 9): Today's prayer by U.S. Senate chaplain Barry Black is drawing attention for its Isaiah "cover our shame" reference. From the transcript:
LET US PRAY. O GOD, IN WHOSE PRESENCE OUR SOULS TAKE DELIGHT, TO WHOM IN AFFLICTION WE CALL, FORGIVE US FOR CONTINUING TO SOW TO THE WIND EVEN WHEN HEARING THE SOUNDS OF THE APPROACHING WHIRLWIND. LORD, WHEN OUR FEDERAL SHUTDOWN DELAYS PAYMENTS OF DEATH BENEFITS TO THE FAMILIES OF CHILDREN DYING ON FAR-AWAY BATTLEFIELDS, IT'S TIME FOR OUR LAWMAKERS TO SAY ENOUGH IS ENOUGH. COVER OUR SHAME WITH THE ROBE OF YOUR RIGHTEOUSNESS. FORGIVE US, REFORM US, AND MAKE US WHOLE. WE PRAY IN YOUR MERCIFUL NAME. AMEN.
-----
Among interesting pastoral rebukes from the pulpit of late, add the U.S. Senate to the list.
The New York Timesreports how Senate chaplain Barry Black has been delivering strong words regarding the government shutdown during his minute-long invocation every morning, calling on God to "save us from this ...
1