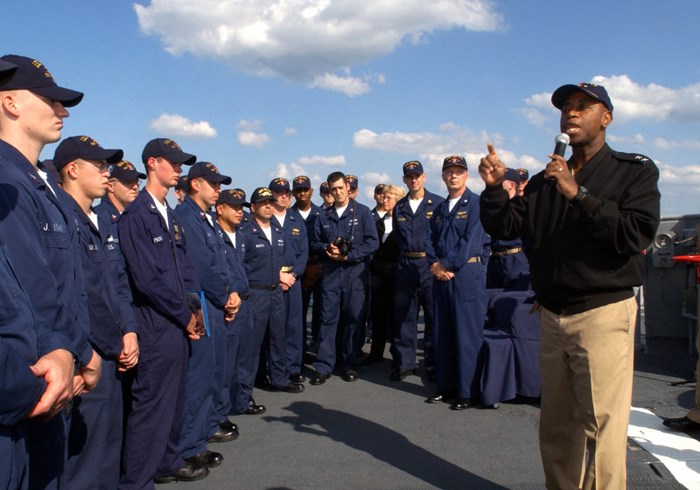 Image: U.S. Navy/Wikimedia
Update (Oct. 9): Today's prayer by U.S. Senate chaplain Barry Black is drawing attention for its Isaiah "cover our shame" reference. From the transcript:
LET US PRAY. O GOD, IN WHOSE PRESENCE OUR SOULS TAKE DELIGHT, TO WHOM IN AFFLICTION WE CALL, FORGIVE US FOR CONTINUING TO SOW TO THE WIND EVEN WHEN HEARING THE SOUNDS OF THE APPROACHING WHIRLWIND. LORD, WHEN OUR FEDERAL SHUTDOWN DELAYS PAYMENTS OF DEATH BENEFITS TO THE FAMILIES OF CHILDREN DYING ON FAR-AWAY BATTLEFIELDS, IT'S TIME FOR OUR LAWMAKERS TO SAY ENOUGH IS ENOUGH. COVER OUR SHAME WITH THE ROBE OF YOUR RIGHTEOUSNESS. FORGIVE US, REFORM US, AND MAKE US WHOLE. WE PRAY IN YOUR MERCIFUL NAME. AMEN.
-----
Among interesting pastoral rebukes from the pulpit of late, add the U.S. Senate to the list.
The New York Timesreports how Senate chaplain Barry Black has been delivering strong words regarding the government shutdown during his minute-long invocation every morning, calling on God to "save us from this madness." One example:
"We acknowledge our transgressions, our shortcomings, our smugness, our selfishness and our pride. Deliver us from the hypocrisy of attempting to sound reasonable while being unreasonable."
Black, whom CT interviewed upon his appointment in 2003 as the first African American and first Seventh-day Adventist to serve in the position, is not getting paid during the shutdown. And he is not the only chaplain still performing services on a voluntary basis.
After a brief skirmish, the House of Representatives voted 400-1 to allow military religious programs led by contracted civilians to continue during the shutdown, reportsMilitary Times. The Senate has not yet taken up the resolution.
Meanwhile, the shutdown has thwarted another type of sacred ceremonies: weddings in national parks. The Washington Post reported 24 weddings scheduled in October at the National Mall are in jeopardy, if they haven't already been cancelled. According to ABC News, hundreds of couples will not be allowed to perform ceremonies at their scheduled national park venues.
In 2003, CT asked Black, "What difference do you think you can make in an institution in which partisanship is so rife?" His response:
I think true religion unifies. This is an opportunity for a pastor to be a force for unity. The nature of the Senate, with the procedure of debating issues, tends to do some polarizing. But when you have enough opportunities for people on both sides of the aisle to sit down and get to know one another in a nonpartisan setting, you move people toward unity.