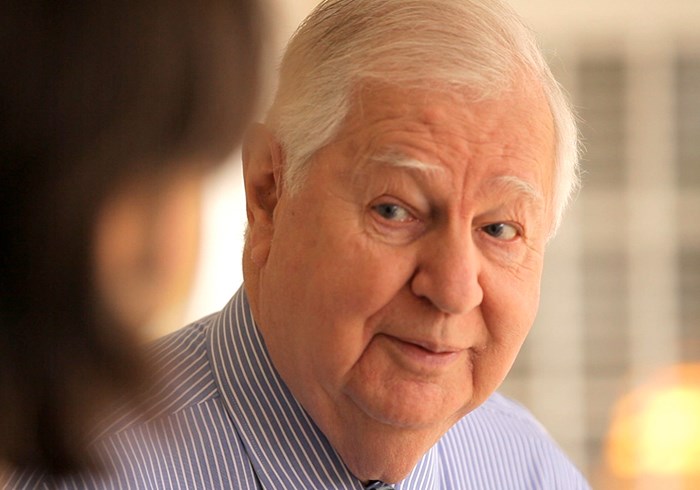 Image: Courtesy of Lifeway
Update (Sept. 23): Henry Blackaby will undergo heart surgery tomorrow after disappearing for 29 hours last week.
His son, Richard Blackaby, tweeted an update: "Quadruple bypass surgery on Tuesday. 70-100% blockages. Possible earlier heart attack. He has been empowered by God!"
According to the Blackaby Ministries website, the 78-year-old minister was on his way to pick up his wife Thursday night when he suffered a heart attack and became disoriented while driving. Without a cell phone or his diabetes medicine, he had no way to contact anyone, until a detective group tracked his credit card spending. Police found him in Tifton, Ga., 150 miles from his home, according to Baptist Press.
The ministry website said, "He is currently in a hospital undergoing extensive tests. He seems to be in good spirits and lucid. We appreciate your prayers."
An earlier tweet from Richard said, "Surgery not today. Probably Tuesday, possibly Monday. At least 4 blockages. He's in good spirits, joking with staff!"
-----
Update (Sept. 20): Henry Blackaby was found by police Friday evening after going missing for more than 24 hours.
"Henry Blackaby update: He has been found! Doctors are checking him to see if he is OK, but he is safe. THANK YOU for your prayers!," his son Richard Blackaby tweeted around 9 p.m.
On Saturday, Richard said his father—who is 78 and has diabetes—had a heart attack while driving, which left him disoriented as he continued to drive around the area.
"The Blackaby family would like everyone to know that Henry has been found and is safe. His health concerns are being addressed and we will keep everyone posted with the news," states his ministry's website. "We wish to express to everyone our appreciation and gratitude for the prayers and concern over the last 29 hours. Henry has taught us that we can experience God in the good and the bad times. We thank God that we have experienced his grace, peace, and faithfulness in these times."
On Friday, Richard wrote that hundreds of volunteers joined police in their search for his father. Henry's debit card was used in a city about an hour and half south of their home in the Atlanta area, he said.
-----
Henry Blackaby, founder and president emeritus of Blackaby Ministries International, has been missing since yesterday afternoon.
His son, Richard Blackaby, tweeted this morning, "Please pray. Henry Blackaby has been missing since 4 p.m. Thursday. He is in black Lincoln without his diabetic medicine in Atlanta area."
Currently, police continue the search for the 78-year-old Blackaby. They traced him within six miles of his home, where his credit card was used. Richard tweeted again this morning, saying, "Henry Blackaby update: As of 12:30 Henry is still missing. Believed in the Atlanta area. Is Type 2 diabetic. No insulin. Please pray."
CT was unable to reach Blackaby Ministries for further comment.
Blackaby, a longtime Southern Baptist pastor and leader of the North American Mission Board, is best known as the author of Experiencing God, a discipleship workbook that became one of the bestselling Christian books of the 1990s and early 2000s. He lives in Rex, Georgia, along with his wife, Marilynn. His five children also serve in ministry alongside their father. Richard Blackaby is the current president of Blackaby Ministries.