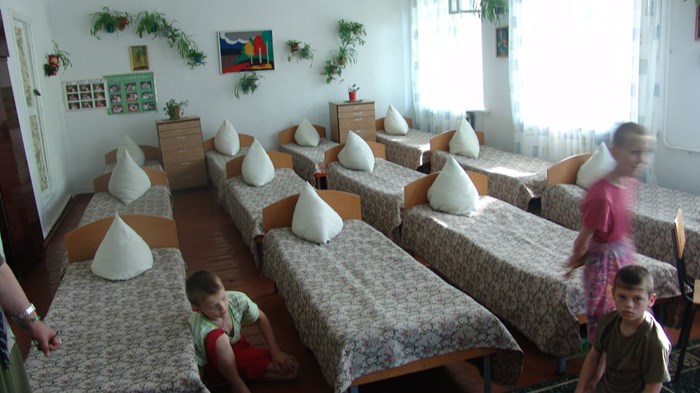 Image: Courtesy of New Life Ministries
[Updated with stats and evacuation plan from Ukraine Without Orphans.]
Last year, Ukraine replaced Russia as the third-largest source of international adoptions by American families. Russia had ranked No. 3 or higher since 1999 (see charts below), but recently banned U.S. adoptions, leaving many orphans in limbo.
But now, Russia's controversial annexation of Crimea from Ukraine has stalled all U.S. adoptions from the disputed Black Sea peninsula. Crimea contains more than 30 orphanages with approximately 3,500 children, according to a 2013 government report. In 2012, nearly 150 orphans were adopted, including 48 by foreigners.
The ban, which Russia delayed enforcing until 2014, is now effective in Crimea, according to multiple sources. The U.S. embassy in Kiev is working to iron out details of the change with the Ukrainian government, and "many parents are understandably concerned about the status of their adoptions," according to Parents for Ethical Adoption Reform.
"American citizens can not adopt children from Crimea any more, and even those adoptions which were taking place probably won't be completed," Ruslan Maliuta of the Alliance for Ukraine Without Orphans (AUWO) told CT. "We heard about at least four cases like this."
The AUWO, which unites 130 organizations and 10,000 churches throughout Ukraine, has developed a Emergency Response Plan in order to evacuate children from southeastern Ukraine if the political crisis worsens.
"We all hope and pray that it won't be needed," Maliuta told CT, "but we feel that our responsibility is to be prepared since many factors indicate that there still is a high probability of a war."
"Hundreds of Ukrainian orphans were in the midst of the adoption process," Tom Davis, CEO of Launch Hope, wrote for On Faith. "They had their eyes and hearts set on a new family, but thanks to the Russia invasion, those hopes were dashed to pieces—adoptions are on hold." Davis says a "nationally known leader who has worked with orphans for over 20 years" told him, "There are 4,350 children trapped in Crimea we can do nothing about."
Ukraine's political turmoil also put orphans at greater risk of exploitation through trafficking rings, according to Amy Richey, who works with the global aid arm of the Evangelical Free Church of America. "Our concern is that one of the highest-risk groups for human trafficking has just been escalated to a whole new level," she told Mission Network News (MNN).
There are 810,000 children in Ukraine who have lost one or both parents, which is the U.N. definition of an orphan, according to the United Nations Children's Fund. Approximately 30,000 of those children live in 350 orphanages in the southeastern region of Ukraine, which includes Crimea, according to the Ukrainian government. Around 5,000 children in the region are in foster care, said Jedd Medefind, president of the Christian Alliance for Orphans.
"Orphans are the most vulnerable beings on earth in almost any situation, and that danger is amplified greatly in times of crises," Medefind told CT. "Without the protection and care that parents uniquely provide, children living amidst chaos fall prey to virtually every evil, from disease and starvation to human trafficking."
There were 438 U.S. adoptions from Ukraine last year, which made Ukraine the third most common country for international adoptions to the U.S., according to the U.S. State Department. There were only 250 adoptions from Russia last year.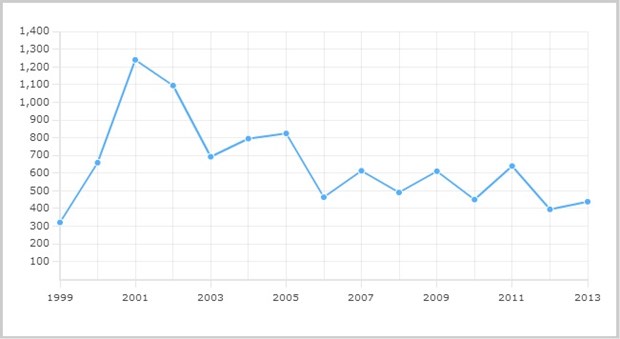 Image: U.S. State Department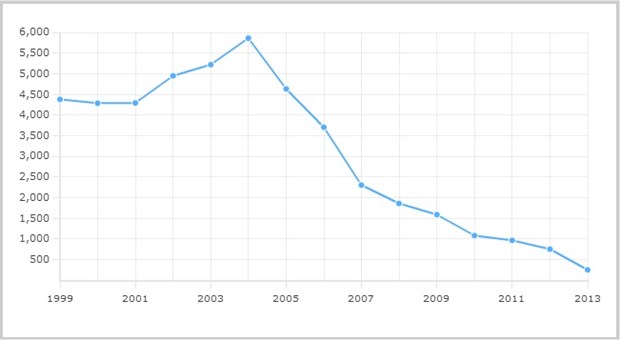 Image: U.S. State Department
Political unrest has unsettled Ukraine since last November, when President Viktor Yanukovych opted for a deal that strengthened the country's ties with Russia instead of the European Union. Protests spread through the country and several people died; the country's prime minister resigned in late January. Russian troops invaded Crimea, a primarily Russian-population Ukrainian republic, and formally annexed it to Russia in late March. The United Nations on March 28 voted to continue treating Crimea as part of Ukraine, not Russia.
During the height of the takeover, Russian troops stored weapons and barracked in the 22 orphanages on the Crimean peninsula, according to MNN. Crimean orphans are particularly at risk from sexual abuse, said Katie Jay, an adoption advocate who blogs at Children Deserve Families.
Russia also threatened to ban adoptions by Irish parents after the Irish parliament called for a blacklist of corrupt senior Russian officials.
CT previously reported on Russia's adoption ban and did an in-depth look at its effect on American families. Fewer than 20 percent of Russians would consider adopting, citing low income, lack of government support, and poor housing conditions, according to recent poll results.