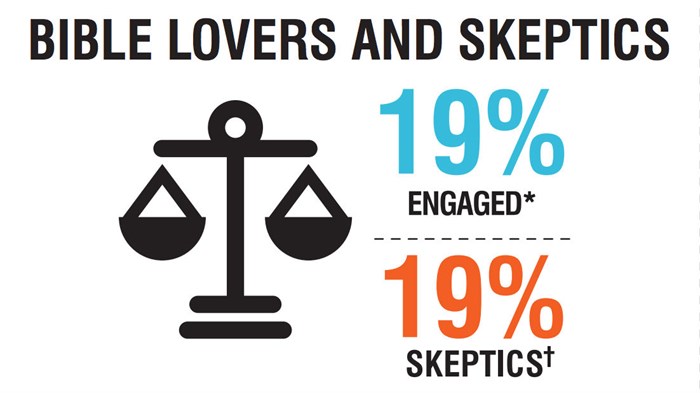 Image: American Bible Society - Barna Group
Update (Apr. 10): After releasing their 2014 report, ABS and Barna decided to soften the language used to describe Americans who are least engaged with the Bible.
The groups have "renamed the category formerly known as 'Bible Antagonists' as 'Bible Skeptics,' and now define the category as people who "selected the most negative or non-sacred view of the Bible from five options, saying they believe the Bible is just another book of teachings written by men, containing stories and advice."
"The change reflects a recognition that 'antagonistic' may too strongly pigeon-hole those who have not yet embraced the Bible," Geoffrey Morin, chief communications officer, told CT. "The new categorization, 'Bible Skeptics,' is both more accurate and more hopeful."
The new infographic below reflects the change.
-----
[Original headline: "Do Bible Haters Now Equal Bible Lovers? American Bible Society Thinks So"]
The number of Americans who read Scripture at least four times a week and believe that it is the inspired word of God has fallen to just under 1 in 5, according to new research from the American Bible Society (ABS).
The same percentage of Americans (19 percent) are now "antagonistic" toward the Bible, reading it less than once per month and believing it is a book of teachings written by men that contain stories and advice.
Thus, the "percentage of Scripture haters now equals Scripture lovers," notes the [original] press release for the 2014 edition of ABS's annual State of the Bible report, conducted by Barna Group. The main reason: millennials. (Full infographic below.)
ABS previously proclaimed in 2013 that the Bible had gained 6 million new antagonists. This year, it writes:
Since 2011, antagonism toward the Bible has risen from 10 percent to 19 percent of those surveyed. During the same period, the percentage considered "Bible-friendly" dropped from 45 percent to 37 percent, while "Bible-engaged" remained steady. The percentage of those considered neutral toward the Bible, 26 percent in 2014, has remained statistically unchanged.
While 46 percent of adults say they now read the Bible once a year or less, 15 percent report reading it daily and 13 percent read several times a week, compared with 9 percent who read once a week and 9 percent who read once a month. Bible readers, on average, read it for 35 minutes at a time.
Most people believe that the Bible is the inspired word of God with no errors (30 percent) while another 23 percent believe it should be taken as the literal word of God. Fifteen percent believe that while inspired, the Bible has some historical or factual errors, and 10 percent believe that while Scripture can teach us about God, it wasn't inspired by him.
That leaves 18 percent "express strong skepticism," believing that the stories and advice were written solely by men.
While the percentage of adults who read the Bible hasn't changed statistically over the past three years, Barna did ask those who increased or decreased their reading about their motivation.
Adults who increased their Bible reading did so as part of their faith journey (53 percent) or because something difficult in their life caused them to search in the Bible for answers (41 percent). Being able to download the Good Book onto a tablet or smartphone prompted 26 percent of those who increased their Bible reading, while a significant life change influenced others (17 percent).
Being too busy was the number one reason Bible readers decreased their reading time in the past year (40 percent), while 17 percent pointed to a significant life change, 15 percent became atheist or agnostic, and 10 percent went through a difficulty that caused them to doubt their faith (13 percent).
The 2014 report also adds to the evidence that the most popular and fastest growing Bible translation is not the bestselling New International Version. Slightly more than 1 in 3 Bible readers told Barna they prefer to read the King James Version.
Barna defines the attitudes of Americans toward the Bible as follows:
Bible engaged are those who believe the Bible is the actual or inspired Word of God with some factual errors, and who read the Bible daily or at least four times per week; Bible friendly are those who believe the Bible is the actual or inspired Word of God with some factual errors, and who read it fewer than four times per week; Bible neutral are those who believe the Bible is the inspired Word of God with some factual errors, or believe it is not inspired by God but rather written by writers based on their understanding of the ways of God, and who read the Bible at least once per week; Bible antagonists believe the Bible is another book of teachings written by man with stories and advice, and read the Bible fewer than one time per month.
CT's coverage of previous reports includes the Bible's influence on presidential elections in 2012, as well as the 6 million new antagonists noted in 2013.
ABS and Barna also partner on picking America's most Bible-minded cities. CT examined how ABS's assessment (sorry, Colorado Springs) compares to other rankings.
Previous stories on ABS include how the organization recently hired a veteran Bible translator, Roy Peterson, as its president, after it fired Lausanne's Doug Birdsall. ABS's effort to create a .bible domain for websites was one of Gleanings most-read posts of 2013.
Here is the ABS/Barna revised infographic:

Image: American Bible Society - Barna Group