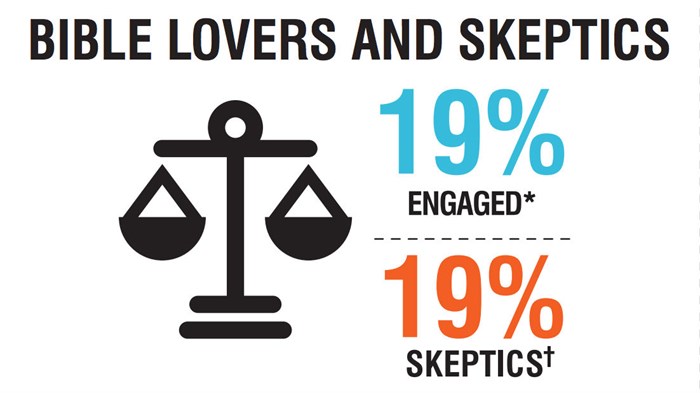 Image: American Bible Society - Barna Group
Update (Apr. 10): After releasing their 2014 report, ABS and Barna decided to soften the language used to describe Americans who are least engaged with the Bible.
The groups have "renamed the category formerly known as 'Bible Antagonists' as 'Bible Skeptics,' and now define the category as people who "selected the most negative or non-sacred view of the Bible from five options, saying they believe the Bible is just another book of teachings written by men, containing stories and advice."
"The change reflects a recognition that 'antagonistic' may too strongly pigeon-hole those who have not yet embraced the Bible," Geoffrey Morin, chief communications officer, told CT. "The new categorization, 'Bible Skeptics,' is both more accurate and more hopeful."
The new infographic below reflects the change.
-----
[Original headline: "Do Bible Haters Now Equal Bible Lovers? American Bible Society Thinks So"]
The ...
1