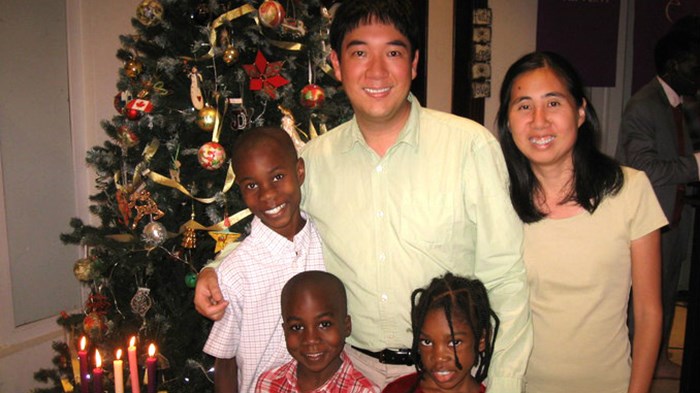 Image: Courtesy of Free Matt and Grace
Update (Dec. 3): Matt and Grace Huang are on a plane home to Los Angeles, after finally having their travel ban lifted.
-----
An American couple living in Qatar, convicted of the death of their adopted daughter, and sentenced to three years in prison, have finally been acquitted of murder. But they are still banned from leaving the Gulf state.
"This has been an emotional trial for me and my family," said Matthew Huang in a statement he read outside the courtroom Sunday alongside his wife, Grace. "Grace and I want to go home and be reunited with our sons. We have been unable to grieve our daughter's death. But we want to thank the judge for today's decision."
Abdul Rahman al-Sharafi, an appeals court judge, threw out a guilty verdict and three-year prison sentence for the Huangs, who were convicted last April. Among other advocacy efforts, more than 180,000 people signed a Change.org petition for their release. Updates are being chronicled on Facebook and Twitter.
CT previously reported how Qatari officials accused the couple of starving their daughter, Gloria, who died suddenly in January 2013, in order to harvest her organs. Police were skeptical that American Christians would adopt children who are not "good-looking" or lack the same "hereditary traits."
"I believe that authorities in Qatar suspected foul play because we are Asian and we adopted three children from Africa who are black," Matthew told Katie Couric in October.
The couple's defense: Gloria's history of malnutrition from her home country of Ghana had given her an eating disorder.
Following the judge's dismissal of charges against the Huangs, their attorneys and US ambassador Dana Shell Smith were informed that an earlier travel ban remained in effect, reports The New York Times.
Secretary of State John Kerry also lobbied the Qatari foreign minister, Khalid bin Mohammed al-Attiya, over the phone on the Huangs' behalf on Sunday, reports the Washington Post, among other media coverage.
"The 22 long months of court proceedings following their daughter's tragic death have compounded the tragedy for the Huang family, and it is time now, as the Appeals Court stated, to let the Huangs return home," said Kerry in a statement. "We are deeply concerned about new delays that have prevented their departure."
The couple's two other adopted children have been living with their grandmother in Washington state since October. The children use Skype to connect with their parents, who home school them five hours a day. The couple has also lost their California home, selling it to offset legal costs and other expenses.
CT regularly reports on Qatar and adoption among Christian families, including how author Kathryn Joyce accused Christian adoptive parents of creating "horror stories." Qatar ranked No. 19 on the 2014 World Watch List for countries where religious persecution is most severe.