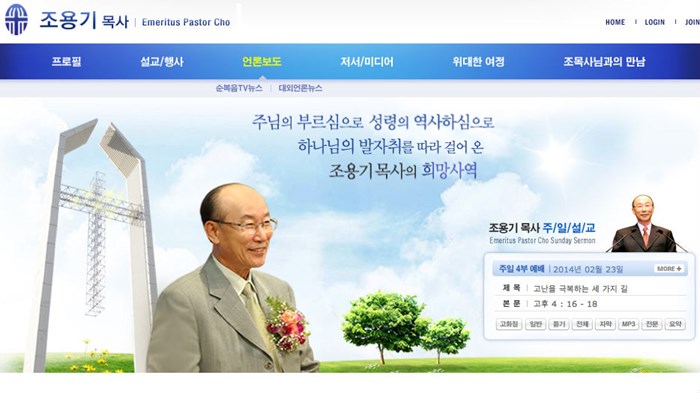 Image: FGTV.com
Update (Feb. 26): Several pastors spoke up after David Yonggi Cho's sentencing to defend his character and values.
First, Cho apologized to his church congregation when elders accused him of embezzling, and refused to blame the crime on his son in court, Taiwanese pastor Mao-Song Chang toldThe Gospel Herald, which describes itself as "the world's largest pan-denominational Chinese Christian news provider."
Cho also has a simple lifestyle and spends much of his resources on social welfare, Bob Rodgers Sr., pastor of Louisville's Evangel World Prayer Center and a personal friend of Cho, explained to Charisma. He attributes the scandal to Cho's "prodigal" son.
On Sunday, Cho told his Yoido congregation that his conviction was the hardest day of his 50 years of ministry, and said, "God forbid, if God calls me back today, I will still be able to go to the Kingdom of God," reportsThe Gospel Herald, which notes other details of the 78-year-old's Sunday sermon.
-----
The founding pastor of the world's largest Pentecostal congregation has been sentenced to three years in prison for embezzling 13 billion won (US$12 million) in church funds.
David Yonggi Cho, 78, founded Yoido Full Gospel Church, an Assemblies of God-affiliated denomination that has grown to more than 1 million members. Last year, CT noted how the pastor emeritus faced indictment for an alleged stock scheme with his son.
Last Thursday, the Seoul pastor was convicted of embezzlement as part of a scheme in which he arranged for the church to buy stock from his son Cho Hee-jun at more than three times the market price.
Hee-jun was sentenced to three years in prison for colluding with his father. Hee-jun, 49, previously served as chairman of the Yeongsan Christian Cultural Center.
Church administrators warned David Cho against purchasing the stock at an inflated price, but the pastor said he had to help his son out of a tight spot, according to Cho Hee-jun's arraignment document. Cho was also convicted of evading 3.5 billion won (US$3.2 million) in taxes, according to Yonhap News Agency.
Church elders have also accused the pastor of embezzling additional funds.
The Seoul Central District Court, which handed down its sentence Thursday, ordered Cho to pay a 5 billion won (US$4.7 million) fine. Cho's prison sentence was suspended five years; Hee-jun was jailed immediately.
Cho first came under investigation in 2011, when church elders accused him of embezzling $20 million. Cho also has been criticized for privatizing church assets. CT previously reported on the investigation of Cho, and noted in 2006 that Yoido Full Gospel had selected Lee Young-hoon to replace Cho as head pastor.