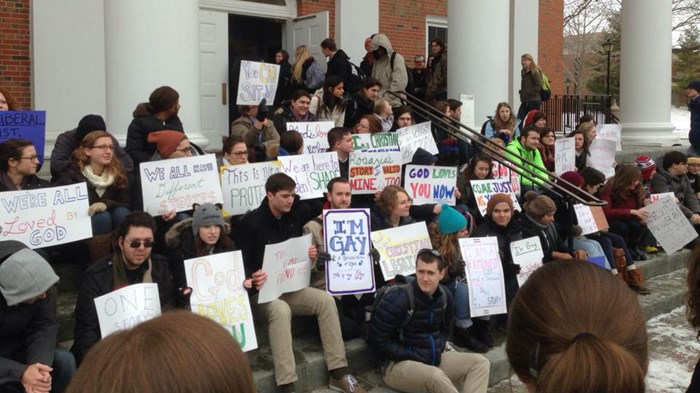 Image: Philip Fillion
A recent student demonstration over a Wheaton College chapel speaker's testimony on her religious and sexual conversion is the latest marker in the long-running debate over the way evangelical colleges approach sexual identity.
The protest focused on the personal testimony [listen/watch here] of a former leftist lesbian professor whose train-wreck conversion [CT's No. 2 most-read article of 2013] led her to become a pastor's wife and Christian author.
Students Justin Massey and Jordan-Ashley Barney organized "More Than a Single Story," the January 31 demonstration where Wheaton students sat on the steps of Edman Chapel and held signs that said "We're all loved by God," "This is not a protest," and "I'm gay and a beloved child of God," reportsThe Wheaton Record.
Massey and Barney were concerned that Rosaria Champagne Butterfield's testimony could negatively affect Wheaton students by making them think conversion to heterosexuality ...
1