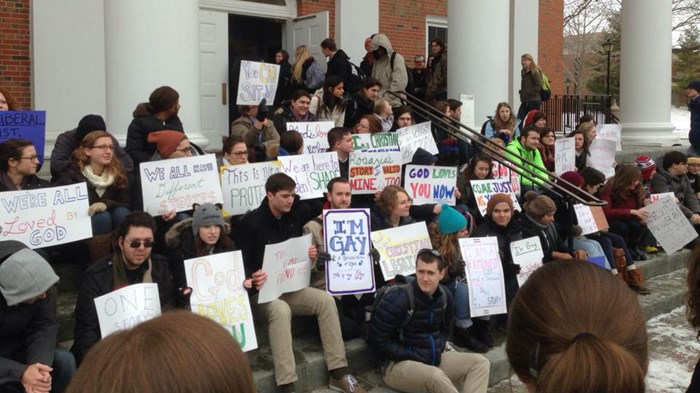 Image: Philip Fillion
A recent student demonstration over a Wheaton College chapel speaker's testimony on her religious and sexual conversion is the latest marker in the long-running debate over the way evangelical colleges approach sexual identity.
The protest focused on the personal testimony [listen/watch here] of a former leftist lesbian professor whose train-wreck conversion [CT's No. 2 most-read article of 2013] led her to become a pastor's wife and Christian author.
Students Justin Massey and Jordan-Ashley Barney organized "More Than a Single Story," the January 31 demonstration where Wheaton students sat on the steps of Edman Chapel and held signs that said "We're all loved by God," "This is not a protest," and "I'm gay and a beloved child of God," reportsThe Wheaton Record.
Massey and Barney were concerned that Rosaria Champagne Butterfield's testimony could negatively affect Wheaton students by making them think conversion to heterosexuality was the only answer. "We feared that if no conversation was added to the single message of the speaker that students who are not very well informed were going to walk into chapel, hear the message, and have misconceptions confirmed or that students who are LGBT would be told that this story is the absolute way that things happen," Massey told the student newspaper.
Students who protested were later invited to a "talk-back" session with Butterfield and a handful of college administrators. The Record also interviewed Butterfield regarding her interaction with the demonstrators. She said:
They had a number of suggestions for me on how I could, in many ways, improve my presentation. I was very thankful for them. We talked about whether sexual orientation is fixed or fluid and we disagreed on that. It was intense. We also talked about some issues on campus that desperately and immediately need to be rectified, and while I can't go into what those issues were, I really hope that the students felt my advocacy for them. So, we probably covered more in an hour and forty-five minutes than I would normally cover in a year.
"I am glad that students have felt the freedom to express their concerns about the manner in which we discuss issues of sexuality on campus and in chapel," Wheaton chaplain Steve Kellough told the Record. "These are things that matter. It is especially important for us in an evangelical Christian college to challenge one another to think Christianly, to think biblically, to think compassionately, and to be willing to think counter-culturally."
Wheaton President Philip Ryken openly responded to the demonstration by upholding the college's Community Covenant and its stance on LGBT issues.
"While we are not insulated from cultural conflicts over ideas, including our own students' search to understand how the truth of Scripture shapes each Christian's life, our educational model does not require us either to silence critical exploration of complex issues or to accede uncritically to cultural pressures," he wrote. In his estimation, Butterfield's testimony was "well-received by the student body."
Butterfield issued her own response to the demonstrators, writing at The Gospel Coalition that "homosexuality is a sin, but so is homophobia." She also critiqued "three unbiblical points of view Christian communities harbor when they address the issue of Christianity and homosexuality"—the "Freudian position," the "revisionist heresy," and the "reparative therapy heresy." Regarding the last, she writes:
This position contends a primary goal of Christianity is to resolve homosexuality through heterosexuality, thus failing to see that repentance and victory over sin are God's gifts and failing to remember that sons and daughters of the King can be full members of Christ's body and still struggle with sexual temptation. This heresy is a modern version of the prosperity gospel. Name it. Claim it. Pray the gay away.
CT reported in 2009 how evangelicals have increasingly moved away from reparative therapy. Recently, Alan Chambers controversially closed Exodus International and apologized to gays and lesbians for the ex-gay ministry's nearly four decades of work.
The chapel event and protest prompted a wave of blogosphere discussion on the attitudes of Christian college administrators and students toward sexual orientation and identity questions.
In recent years, evangelical colleges including Wheaton, Biola, and Seattle Pacific University have seen a growing range of responses to LGBT issues, prompted in part by visits such as SoulForce's Equality Ride.
CT reported on the increasing LGBT litmus test at CCCU schools in 2009, when a Calvin College trustee ban on "advocacy of homosexual practice and same-sex marriage" stirred up faculty. Recently, one CCCU school starting permitting professors in same-sex relationships—at least for six months during a "listening period."
Both supportive and critical theologians and bloggers saw Butterfield's testimony at Wheaton and the student demonstration as a bellwether for the broader debate.
The demonstration highlights Wheaton's willingness to wrestle with controversial ideas and shows that evangelical Christendom is on track, wrote Eric Teetsel, director of the Manhattan Declaration and a Wheaton alumnus, alongside R.J. Moeller.
By contrast, theologian and author Doug Wilson criticized what he saw as the Wheaton administration's lack of discipline in allowing the demonstration to occur, saying that "basic Christian morality is being surrendered by the effete evangelical elites."
Rachel Held Evans, blogger and author of Evolving in Monkey Town, supported the student protest as representing a needed conversation. "I'm with you in spirit — praying for you and cheering you on as you tell your stories," she wrote.
Meanwhile, Denny Burk, professor of Biblical Studies at Boyce College, said the protest highlights general confusion about sexuality among young evangelicals. "Students are eager to see if they might relieve the pressure by combining their Christian faith with acceptance of homosexuality," he wrote.
CT has covered a myriad of issues surrounding homosexuality, including the growing number of support groups for gay undergrads at Christian colleges, the decreasing number of Americans who believe homosexuality is a sin, how evangelical opinions on same-sex marriage have shifted, and how evangelical churches talk about homosexuality.