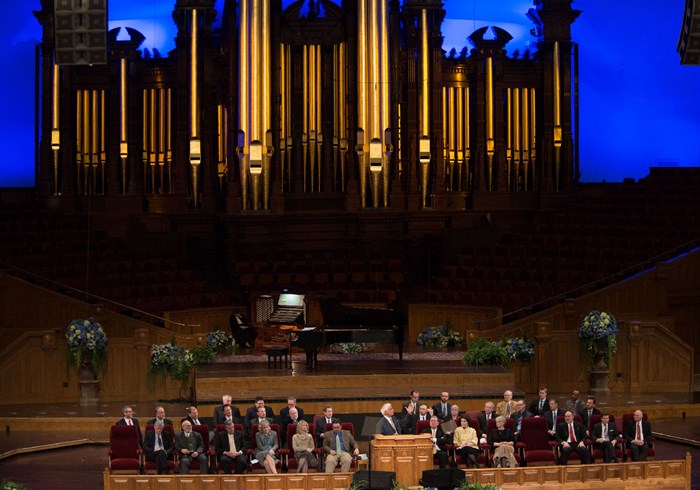 Image: Ben Ian May (courtesy of RZIM)
Update (Jan. 20): Ravi Zacharias, who in 2004 was the first evangelical Christian to speak at the Mormon Tabernacle since D. L. Moody in 1899, expressed thanks this past weekend for his second invitation (videos available here). "I am truly honored and privileged to stand behind this pulpit and I do not take it lightly," he said, according to his ministry's press release.
The release also cites Mormon leader Jeffrey R. Holland, a member of the Quorum of the Twelve Apostles:
Holland explained that "no joint ecumenical statement of any kind is being attempted here" and acknowledged that "there are doctrinal differences," but emphasized that "We are witnessing a diminution of religious expression that is unprecedented in Western culture and certainly in American culture" and "the very least we can do is know and understand each other better than we do."
-----
The "most improbable dialogue" between evangelicals and Mormons continues to grow since CT first examined the trend.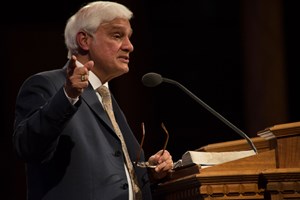 This weekend, Ravi Zacharias will speak at the Mormon Tabernacle in Salt Lake City, accompanied by Fernando Ortega, as well as Brigham Young University. The high-profile events were arranged by Standing Together.
However, this is not the famed apologist's first time visiting the hub of the Church of Jesus Christ of Latter-day Saints. He made history in 2004 for being the first evangelical to deliver a sermon at the Tabernacle since D. L. Moody in 1899.
Zacharias wrote on his website (which will live stream both events):
The gospel for which we stand is what we will present and represent. It is an extraordinary privilege the organizers have given to me, and I am grateful for these open doors.

These are not the kinds of settings we get popular for, but these are the kinds of settings where we are called to go. As apologists we take the message to places we deem the most important, in order to not only explain the gospel but also to defend it. We may not agree with the theology of many places we go, yet we go where we think the need is the greatest.
Zacharias shared on Facebook:
When asked about my goals for visiting with the LDS community here, I said that I hope in our discussions we come to a Biblical understanding of who Jesus is. I always want to leave the door open for dialogue and show everyone the love of Christ, and I hope that through the process of interaction, we will arrive at the truth.

I'm grateful for the courage that the LDS church leadership has demonstrated in inviting someone like me, and I'm very honored by their kindness!
However, Zacharias is only the latest of a series of evangelical leaders appearing before the LDS community. Southern Baptist leaders Richard Land and Albert Mohler, Assemblies of God leader George O. Wood, and former Fuller Seminary president Richard Mouw all made the trek to Utah in recent months—continuing a notable trend from recent years.
Religion News Service (RNS) assessed the "détente" between Mormons and evangelicals:
For more than a decade, Mormon and evangelical scholars have discussed their differences and similarities, and even written books together. But leaders of the two faiths appear to have reached a new juncture, with some on both sides seeing benefits in more public engagement.
In September, Land stressed the importance of an evangelical and LDS alliance in an interview with the Deseret News: "When it comes to religious freedom, we all hang together or we all hang separately. We are common targets in this. The secularists are out to circumscribe our constitutional rights."
Wood addressed 400 BYU students in a lecture about his Pentecostal faith, according to RNS.
Similarly, in an October talk at BYU, Mohler said, "I am not here because I believe we are going to heaven together, but I do believe we may go to jail together." Although he stressed his friendship and engagement with members of the LDS church, he also highlighted his theological differences, Baptist Press reported.
When Mouw visited Utah to speak at the Orem LDS Institute of Religion in November, he asserted that Mormons and evangelical Christians "say the same things" about Jesus, and both "hear God's call to justice and righteousness," reported the Deseret News.
CT interviewed Mouw about why evangelicals need to be quick to listen to Mormons, and Mouw shared his opinion on whether it is wrong to vote for a Mormon president. CT also explored whether or not the Billy Graham Evangelistic Association should have removed Mormons from its list of cults.
CT has previously covered the increasing engagement between Mormons and evangelicals, including how a Mormon Tabernacle revival service was the latest sign of openness to evangelicals, as well as how a Pentecostal pastor taught his congregation in Provo to love Mormons. CT's testimony on how Lynn Wilder escaped the Mormon Temple was one of the top 10 articles of 2013.
(Photos by Ben Ian May - Courtesy of RZIM)