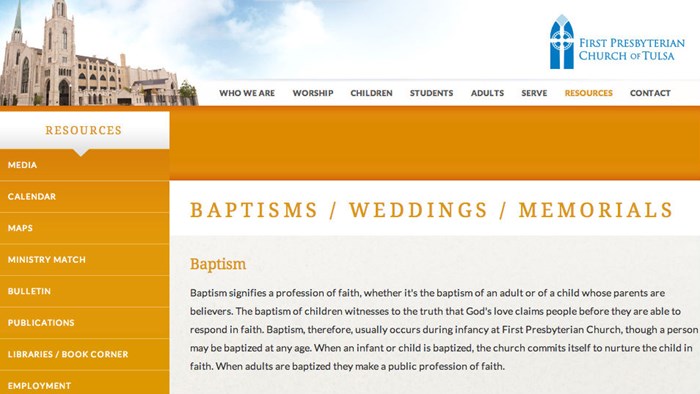 Image: Screenshot of First Presbyterian Church of Tulsa website
A Muslim convert to Christianity has sued his Oklahoma church and its pastor for negligence after the church announced his baptism online. He alleges that the announcement caused disastrous consequences on his trip back home to Syria, where he was tortured and almost executed by Muslim extremists.
The convert seeks $75,000 or more in punitive damages to discourage other churches from announcing the Christian conversions of other former Muslims.
Lawsuits only tell one side of the story. But according to the June 9 filing, the man was privately baptized in December 2012, a few weeks before making a regular trip to Damascus. He had repeatedly asked for the baptism to be done privately for his safety, and he alleges that he secured a promise from First Presbyterian Church of Tulsa to keep the baptism private. But a few days after arriving in Syria, the Oklahoma church allegedly published an announcement on its website that he had been baptized.
Soon after the news of his baptism went ...
1