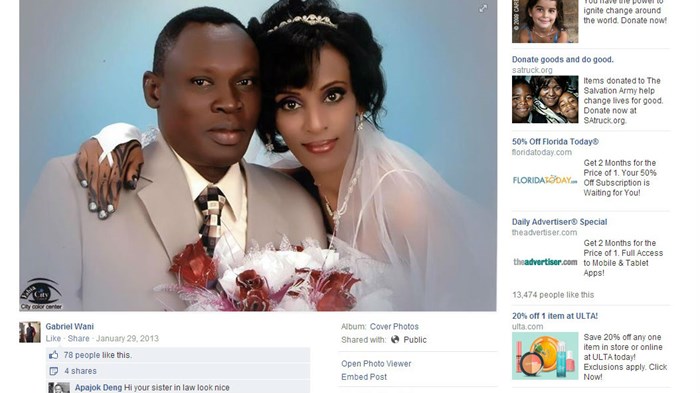 Image: FACEBOOK SCREENSHOT - GABRIEL WANI
Update (July 22): Ibrahim's family has filed another lawsuit against her, this time attempting to annul her marriage. Reuters reports the lawsuit is yet another attempt to keep Ibrahim from leaving Sudan.
If the lawsuit is successful, Wani would no longer be considered the father of his two children, according to World Watch Monitor.
Sudanese officials have assured the U.S. State Department that Ibrahim and her family are safe, and World Watch Monitor reports that she and her children are approved to enter the U.S. when they leave Sudan.
-----
Update (July 17): Meriam Ibrahim could now be free to leave Sudan after her family dropped the lawsuit they filed against her to prove she was the daughter of a Muslim, reports Reuters. Abdel Rahman Malek, the family's lawyer, did not give a reason for dropping the case a day before its first scheduled court hearing.
Ibrahim has been staying at the U.S. Embassy, along with her family.
-----
Update (July 10): Following a grueling ...
1