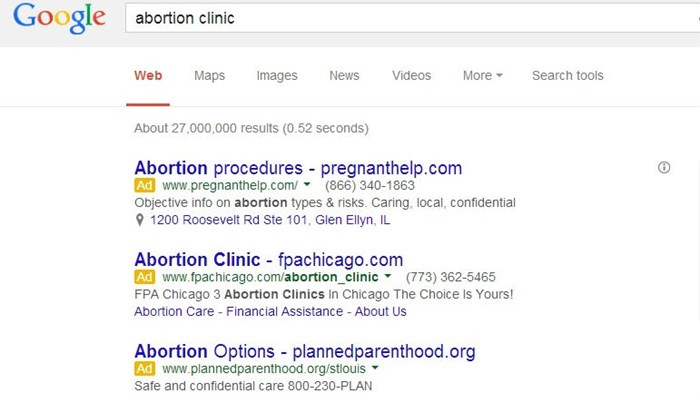 Image: Google screenshot
Update (May 13): NARAL Pro-Choice America now claims it has successfully urged Yahoo to remove deceptive crisis pregnancy center ads, along with Google. This time, a Yahoo representative confirmed the company had taken down crisis pregnancy center ads they deemed deceptive.
In a statement given to The Hill and CNET, Yahoo said:
We have found at least some of the ads to be out of compliance with our policies, and we are taking them down. We're in the process of reviewing the other ads and will take similar action if any are found to not be in compliance with our policies.
WORLD reports more details.
Meanwhile, CareNet Pregnancy Services of DuPage, a pro-life pregnancy center with more than 1,100 affiliates across the country, has declared that Google has not taken its ads down, and applauded the search engine for its vigilance in maintaining the honesty of CPCs.
"CareNet's ads have not been rejected by Google; they are both informative and accurate," said ...
1