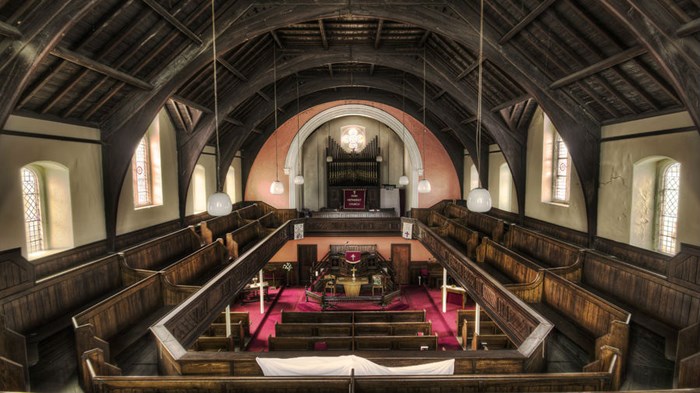 Image: Jimmy McIntyre/Flickr
Whether evangelical or mainline, white or black, Catholic or unaffiliated, a new survey finds that many Americans have one thing in common: We exaggerate our church attendance.
But the degree depends on denomination.
White evangelicals are twice as likely to admit they rarely go to church if asked online (17 percent) vs. over the phone by a live human being (9 percent). Black Protestants display a similar split (24 percent online vs. 14 percent by phone).
But the greater exaggerators (based on differences of 17 to 18 percentage points): white mainline Protestants, Catholics, and the unaffiliated. (See full findings below.)
Americans inflate their responses to religious questions in telephone surveys compared to online surveys, according to Public Religion Research Institute (PRRI). In its latest study, "I Know What You Did Last Sunday," PRRI found that 36 percent of all telephone respondents said they attend a religious service weekly, while 30 percent said they "seldom or never" attend a religious service. But among online respondents, only 31 percent say they attend weekly, while 43 percent admit seldom or never.
The split was even more noticeable among the religiously unaffiliated. About 73 percent told a human surveyor that they seldom or never attend religious services, compared with 91 percent who said the same thing online.
Why are Americans who don't believe in God embarrassed to admit they don't go to church very often? The study's conclusion: Americans still think society expects them to be religious, and the social pressure is strong enough to affect even those who don't believe.
About 31 percent of religiously unaffiliated Americans told a telephone interviewer that they didn't believe in God, compared with 43 who said the same thing online. And just under 50 percent told a telephone interviewer that religion isn't important, a number that jumped to 73 percent when they were answering online.
The New York Timesoffers a nice chart of the main findings. Religion News Service notes how the study updates 1990s research on inflated church attendance.
According to Robert P. Jones, CEO of PRRI:
The existence of religious participation inflation demonstrates that church attendance remains a strong social norm in the U.S. The impact of these—what social scientists call "social desirability bias"—is that respondents talking to live interviewers on the telephone are less willing to admit lower levels of participation in an activity deemed to be socially good. Respondents completing the survey privately online are less apt to feel this pressure.
The overreporting of church attendance is also true for those who are religiously affiliated.
Among white evangelicals, 65 percent of telephone respondents said they attended church weekly or more, while 60 percent of online respondents said the same. Among black Protestants, 54 percent of telephone respondents were weekly church attendees, while only 40 percent said the same online. The trend continued for white mainline Protestants: 29 percent of telephone respondents, compared to 21 percent of online respondents.
The fact that religious observance remains a desired attribute in American society is one of the reasons reported church attendance has remained relatively stable over the years, PRRI found. Americans who attend church weekly or more has only dropped from 39 percent in 2003 to 37 percent in 2013.
"Even among Americans who claim no religious affiliation, the social pressure to report at least nominal religious engagement is still quite strong," said Daniel Cox, director of research at PRRI. "Very few people are willing to admit that they never attend religious services, even though many of us don't."
Similarly, a Gallup report last year found that 39 percent of Americans said they attended church in the last week. Since 1950, self-reported church attendance has swung between 37 percent and 49 percent, the report said.
CT has previously explored how children's sports and football season may cause declining church attendance, as well as why many people didn't go to church on Back to Church Sunday.
Here are PRRI's results: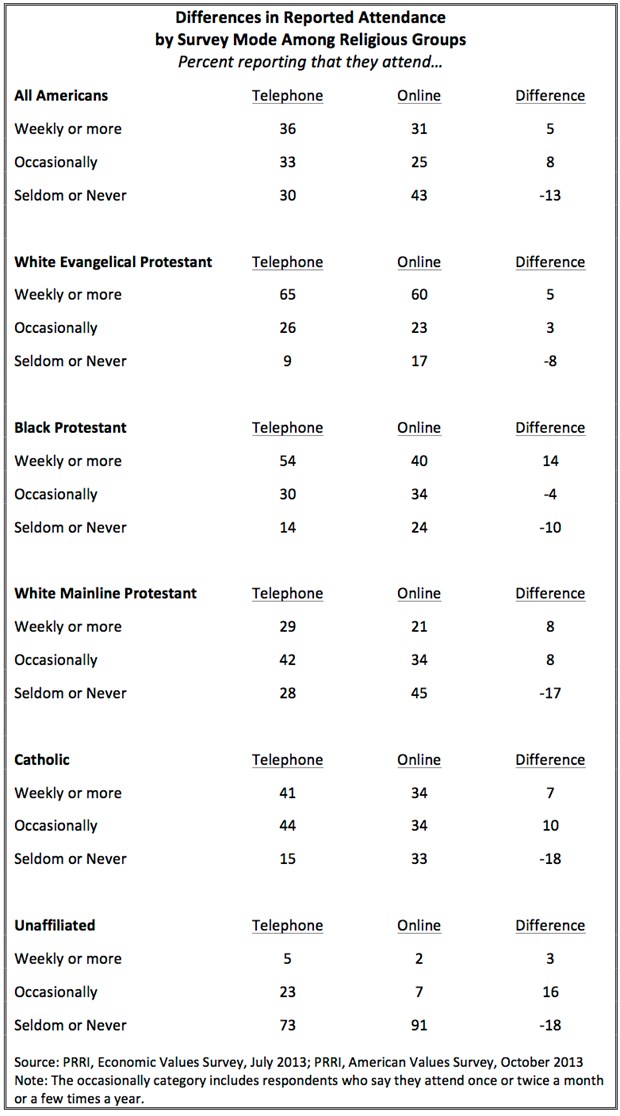 Image: Public Religion Research Institute
[Photo courtesy of Jimmy McIntyre - Flickr]