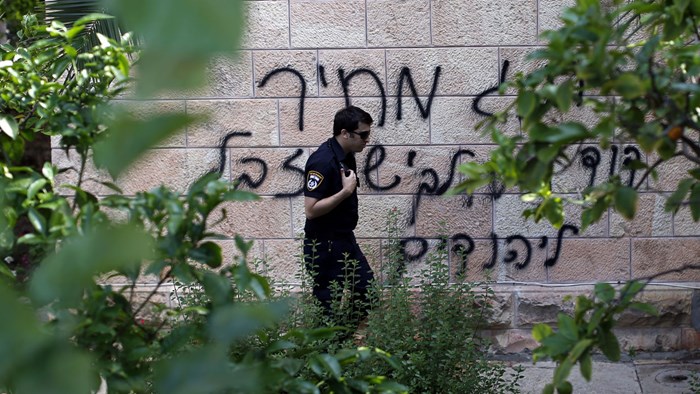 Image: Tomas Coex / Getty Images
Just weeks before Pope Francis makes his first pilgrimage to the Holy Land in late May, Christians in Israel are grappling with an upsurge in threats and attacks on churches by Jewish extremists.
Last week, an assailant defaced the Notre Dame of Jerusalem Center, the local headquarters of the Roman Catholic Church, scribbling graffiti in Hebrew reading, "Death to Arabs and Christians and to everyone who hates Israel." This followed a letter received by a top Catholic official that threatened to kill him and other Catholic clergy in Israel.
Vandals also damaged a Romanian Orthodox Church in Jerusalem, spray-painting it with the words: "price tag," "Jesus is garbage," and "King David for the Jews." It was another of a wave of both anti-Christian and anti-Arab graffiti and vandalism that has swept through Israel in recent weeks.
The attacks are largely believed to be carried by Jewish extremists who are now almost daily defacing Christian and Muslim property and places of worship inside Israel and areas controlled by Palestinian authorities. The extremists say their graffiti and vandalism is the "price tag" for the government trying to restrain West Bank Jewish settlers.
On Sunday, the Latin Patriarch of Jerusalem Fouad Twal, the Vatican's most senior cleric in Israel, said, "The unrestrained acts of vandalism poison the atmosphere, the atmosphere of coexistence and the atmosphere of collaboration, especially in these two weeks prior to the visit of Pope Francis."
The patriarch called the price-tag assaults acts of "terror." He accused the authorities of not doing enough to bring the perpetrators to justice, saying, "The actions are drawing only condemnation by Israeli leaders but few arrests."
"This wave of extremist actions of terror is surely of grave concern to all reasonable persons," Twal said. The Jordanian-born patriarch added, "The government of Israel must be concerned, because it is very bad for the State of Israel's image abroad. It is also a blight on the democracy that Israel ascribes to itself."
"Everyone knows the Israeli police set up special units to track attacks like these. In light of the fact that the great majority of vandalism acts do not lead to trials, we must ask if the government is willing to get down to the root of the problem," he said.
Twal did, however, praise Israeli Justice Minister Tzipi Livni for holding an emergency meeting last week with the country's top security officials to try to tackle the growing problem. Israel's Haaretz newspaper reported that Israeli security services fear that Jewish radicals might carry out a major hate crime against Christians or their institutions to garner media attention during the pope's pilgrimage.
An earlier statement by the Latin Patriarchate of Jerusalem said, "The bishops are very concerned about the lack of security and lack of responsiveness from the [Israeli] political sector, and fear an escalation of violence." It added that there has been "no gesture of solidarity or condemnation" from Israel's political establishment. "We feel neither safe nor protected."
Death Threatened
At the start of May, Bishop Boulos Marcuzzo, Latin Patriarchal Vicar General in Israel, received a message from a suspected Jewish extremist threatening to kill the Catholic leader, his priests, and other Christians who refused to leave Israel by May 5, 2014. (This message for unknown reasons excluded Protestants and Anglicans.)
The message accused Christians of "defiling Israel by only breathing its holy air" and tarnishing God's name. Israeli police later arrested a man suspected of issuing the threat to Bishop Marcuzzo.
Palestinian Christians familiar with the incident alleged that the threatening document was written as halacha. Halacha is a comprehensive set of laws, guidelines, and opinions derived from the Hebrew Bible that help some devout Jews to "be holy as I your God am holy." The document describes Christianity as pagan worship and attempts to justify aggression against Christians.
According to sources consulted by CT, the Chief Rabbinate of Israel has condemned as criminal and sinful any price-tag actions and writings. Rabbis and Jewish communities have followed suit.
The Assembly of Catholic Ordinaries in the Holy Land said that the death threat was received around the same time that unidentified perpetrators vandalized a church and broke its cross in Tabgha, along the northwestern shore of the Sea of Galilee. A mosque was also attacked.
At the time of publication, Assembly leaders told CT that it had not yet received an official response from the Israeli government.
"Our past condemnations have fallen on deaf ears or at best empty promises from [Israeli] officials," read the Assembly's statement, issued following vandalism of the church and mosque.
"[Israeli] officials shouldn't give the perpetrators the impression that they're above the law," the statement said. "The time has come to join forces with a view to ending this dangerous phenomenon."
The Assembly told CT that it received a note of support addressed to Bishop Marcuzzo from a private study center for Jewish-Christian relations in Galilee. It read: "We at the Galilee Center for Studies in Jewish-Christian Relations were shocked and saddened to learn of three recent attacks against Christians in the Galilee."
"It is especially disturbing to note that these actions took place precisely as the country was readying itself to commemorate the massacre of six million Jews in the Shoah. The slogan 'never again!' requires Jews to prevent fanaticism, prejudice, and violence from gaining the upper hand, especially in Israel. It is the duty of every Israeli to speak out against this reprehensible behavior against our own citizens and residents."
"Christians are woven deeply into the fabric of the Galilee. We stand in solidarity with our Christian friends and neighbors, students and teachers. Together we must strive to eradicate this xenophobic tendency that exists among us," it added. "We call on the state of Israel to pursue this criminal matter with the utmost seriousness."
Full-Blown Racism?
So far, no one has been successfully prosecuted despite hundreds of arrests made, according to the AFP French news agency and evangelical Christian Arabs, who spoke on condition of anonymity.
They said that some 400 incidents were perpetrated against Christians and Muslims in Israel and the Palestinian Authority areas last year. Israeli police report that most of those arrested are minors—under age 18—complicating the juridical process.
But critics say that because the vandalism is classified as crime rather than terrorism, the bar for police searches and arrests is set high. Evidence can be hard to get because assailants often act alone. It's also believed that police are not permitted to search a home without a court order, and can only detain a suspect for 24 hours without charge. This can add a lot of time pressure to locate evidence.
AFP said that attacks initially targeted Palestinian property in response to Israeli government moves to squelch unauthorized Jewish settlements. The scope has recently grown to what appears to be a full-blown racism against non-Jews.
Some evangelical Arab Christians living in Israel said they believed it was a new development, emerging with price-tag attacks moving from Jerusalem and predominately Palestinian areas up into the Galilee region of northern Israel.
Alex Awad, dean of the Bethlehem Bible College and an Arab Christian, offered this explanation during a CT interview, when Jewish settlers feel their interests are threatened: "They then resort to attacking either Christian or Muslim holy sites. Jewish settlers in the West Bank are becoming stronger and stronger. They are armed." He added, "Certainly they can intimidate the Palestinian population, including the Christian presence in the Holy Land."
The U.S. State Department mentioned price-tag attacks for the first time last month in its 2013 Country Reports on Terrorism. The report appeared to indicate that the Obama administration does not believe Israel is adequately prosecuting perpetrators of such hate crimes. Israel's Attorney General Yehuda Weinstein said he will ask the courts to sharpen penalties against the perpetrators of hate crimes, according to the Israeli daily Haaretz.
Attacks on Jewish Sites
Israel National News or Arutz Sheva 7 reported that anonymous assailants carried out price-tag vandalism earlier this week at the Conservative Moreshet Yisrael synagogue in Jerusalem.
On a sign at the entrance to the synagogue, Jewish stars were scrawled with Nazi swastikas in the center.
Arutz Sheva 7 reported a spokesman for the synagogue saying it was the third case of vandalism in recent days. It said that Attorney Yizhar Hass, director of the Conservative movement, held Jewish rather than Arab leaders responsible.
"The serious graffiti on the Conservative synagogue in the center of Jerusalem . . . again reminds how much hate crimes are a slippery slope. Those who yesterday gave Jewish legal justification, explicit or intimated, to 'price tag' criminals, today give justification to the attack on liberal synagogues," Hass said.
The synagogue's rabbi, Rabbi Adam Frank, reportedly said, "We're no longer on a slippery slope, we're in free fall."
Officials respond
Israel's Public Security Minister Yitzhak Aharonovitch visited several sites in the Galilee area of Yokne'am subjected to price-tag attacks earlier this week and spoke about the troubling development with the town's mayor, the Israeli press reported.
For their part, the Palestinians are demanding that price-tag attacks be designated as acts of terrorism. The Palestinian Authority's Foreign Minister Riyad Maliki said his government has prepared a case against price-tag attackers and has written a letter to the United Nations, the U.S. State Department, and other world organizations, demanding to have the perpetrators put on the list of international terrorist organizations.
Maliki claims Israeli officials already internally refer to price-tag attacks as terrorism. "We have quotes from Israeli officials that already refer to them as terrorist organizations operating out of hatred for Arabs," the letter reportedly read.
Palestinians living in Israel are normally referred to as Arab Israelis. An Arab Israeli member of Israel's parliament or Knesset, Issawi Frej, proposed a bill stating that victims of price-tag attacks against Arabs will be recognized and compensated on the same scale as terror attack victims. But the Knesset's Ministerial Committee for Legislation categorically rejected the bill on Sunday, May 11.
Dale Gavlak is a journalist based in Amman, Jordan.