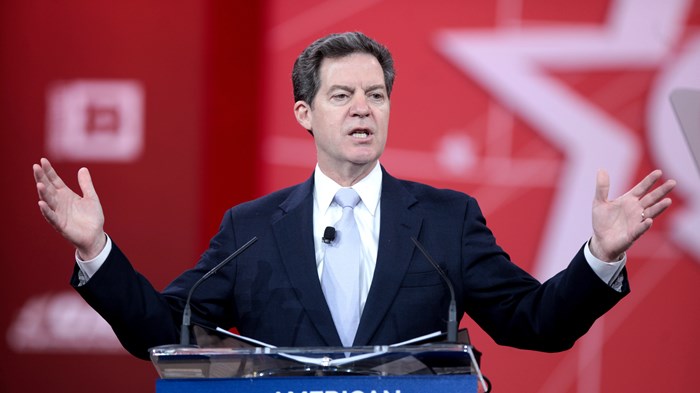 Image: G.Skidmore
Kansas Gov. Sam Brownback this week signed a first-in-the-nation law that prohibits dismembering the body of an unborn child during an abortion.
"Dismemberment abortion kills a baby by tearing her apart limb from limb," said National Right to Life (NRL) Director of State Legislation Mary Spaulding Balch. "Before the first trimester ends, the unborn child has a beating heart, brain waves, and every organ system in place. Dismemberment abortions occur after the baby has reached these milestones."
The intent of the new law is to prohibit late-term abortions in which physicians use "dilation and evacuation." In 2013, according to Kansas government reports, 585 of 7485 abortions used this procedure, typically during the second trimester of pregnancy. Defenders of the procedure say it is a safe and legally permitted means to end a pregnancy.
The Wichita Eagle reported in February that opponents of the law will challenge it in court:
Julie Burkhart, founder of Trust Women, which raised money to open the South Wind Women's Center in Wichita in 2013, called the bill "part of an extreme anti-choice agenda to ban all abortions" and announced plans to challenge the bill in court if it becomes law. "This bill is intended to intimidate, threaten and criminalize doctors. Policymakers should be ashamed that they are putting women's lives at risk because they care more about politics than good health care," Burkhart said. "SB 95 is clearly unconstitutional and, if passed, we will challenge it in court."
Other states are following the lead of Kansas. On Wednesday, the Oklahoma Senate approved a similar ban that the House has already approved. Republican Gov. Mary Fallin is expected to sign the measure into law. "This is a transformative law that has the power to change how the public views the gruesome reality of abortion in the United States," said Carol Tobias, NRL president.
In South Carolina and Missouri, legislators may soon vote on similar legislation. But Charles Camosy, author of Beyond the Abortion Wars and theology professor at Fordham University, told Christianity Today that he does not see a pro-choice backlash on the political horizon.
"I don't think [a new abortion-restricting law] would fuel a potential backlash at all. In part because our current abortion discourse is dominated by the 'abortion is an absolute right' versus the 'all abortions ought to be prosecuted as murder' extremes, we miss the fact that that a large percentage of Americans agree on significantly restricting abortion. Gallup has found that more than 6 in 10 Americans want second trimester abortions--like the dismemberment procedures just banned in Kansas--made broadly illegal.
"Yet, our dysfunctional and polarized abortion politics makes it difficult to pass even a modest 20-week federal ban. The current political and media powers-that-be benefit from such dysfunction and polarization."
The Guttmacher Institute, a research organization that supports abortion rights, said that in the last four years, states have enacted 231 abortion restrictions. In the first three months of 2015, state legislators have introduced 791 provisions concerning sexual and reproductive health and rights, according to Guttmacher research.
"By April 1, 53 abortion restrictions had been approved by a legislative chamber, and nine had been enacted," Guttmacher said on its website. "Many of the new abortion restrictions enacted this year would either limit the use of medication abortion (Arkansas and Idaho) or ban abortion at 20 weeks post-fertilization (West Virginia)."
There are few signs that the faith-based pro-life movement is weakening. But Camosy offered a note of caution. "Christians should resist polarized 'us vs them' attitudes and instead be confident about moving forward and building consensus in pushing for more protections for our prenatal children and their mothers.
"The law has a long way to go to catch up with what the public already believes," Camosy said. "And that opinion will do nothing but become even more skeptical of abortion, especially in the coming years as disproportionately pro-life millennials and Hispanics come into their own in this country.
"We must refuse to choose between protecting and supporting mothers and protecting and supporting their prenatal children. We can and must love them both."
A YouGov.com survey released on April 8 indicated that 66 percent of the Americans who responded to the survey believe that "fetuses in the womb are people" and 52 percent believe "life starts at conception."