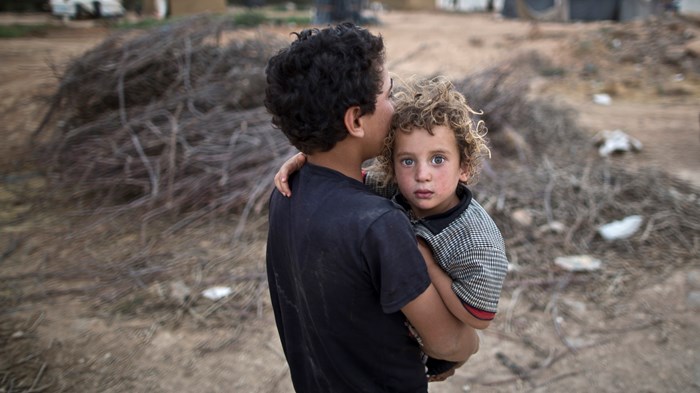 Image: AP
Dozens of Syrian Christian families have been abducted by fighters from ISIS, according to a new report from Reuters.
About 230 people, "some of who were taken from a church," were kidnapped or detained by ISIS when the terrorist group captured the Syrian town of Qaryatain on Friday. Prior to the start of the civil war, about 18,000 people lived in Qaryatain, about 2,000 of them Syriac Catholics and Orthodox Christians, reportsThe Telegraph.
Following the fighting between ISIS and the Syrian army, at least 1,400 families fled the town to safer areas or took shelter in the government-controlled city of Homs, reports the Assyrian Monitor for Human Rights.
In May, two priests who ran monasteries in the area, went missing from the town.
Earlier this year, ISIS launched surprise attacks on 35 villages in northeast Syria and took more than 200 Christians captive. Some captives were released in March. ISIS reportedly demanded a $23 million ransom for the release of 240 Christians, according to World Watch Monitor (WWM).
"This is an amount beyond the capacity of a tiny church and community," an Assyrian Christian leader told WWM. "These captives are poor people who depended on their low income as farmers."
ISIS also published a price list last fall for female captives, who are traded like cattle or "barrels of petrol," according to the Daily Mail. The group reportedly executed 19 girls who refused orders to sleep with ISIS fighters.
About 600,000 Syrian Christians have fled the country since the fighting began in 2011, reports The New York Times, in a recent in-depth piece on the fate of the church in the Middle East.
A number of Westerners, including Christians from the US, have joined militias fighting against ISIS. In June, an American was killed while fighting with the Kurdish People's Protection Units in Syria. Massachusetts native Keith Broomfield told his family that he felt God had called him to defend persecuted Christians.
CT recently examined how American church could play a key role in rescuing, restoring, and returning refugee Middle Eastern Christians. It has also looked at Middle Eastern evangelicals' different strategies for fighting ISIS.