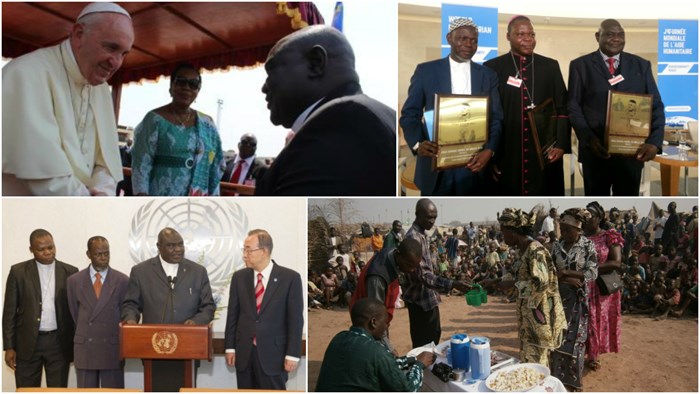 Image: World Watch Monitor
During his first trip to Africa, Pope Francis preached the "ecumenism of blood" at an evangelical seminary in the Central African Republic (CAR).
The landlocked sub-Saharan nation, ravaged by a three-year crisis, is struggling to overcome divisions between Christians and Muslims. The CAR is ranked No. 17 on Open Doors's list of places where it's hardest to be a Christian, and the US Commission on International Religious Freedom added the CAR to its recommended list of countries of particular concern this year.
"For all too long, your people have experienced troubles and violence, resulting in great suffering. This makes the proclamation of the gospel all the more necessary and urgent," Francis said to evangelical leaders gathered at the Bangui Evangelical School of Theology (known as FATEB in French). "God makes no distinctions between those who suffer. I have often called this the ecumenism of blood. All our communities suffer indiscriminately as a result of injustice and the blind hatred unleashed by the devil."
Francis also expressed his compassion for the president of the CAR's Evangelical Alliance, Nicolas Guérékoyamé-Gbangou, who escaped assassination when the capital city, Bangui, saw a renewed wave of violence in September.
"Here I wish to express my closeness and solidarity to Pastor Nicolas, whose home was recently ransacked and set on fire, as was the meeting place of his community," Francis said.
Guérékoyamé-Gbangou has played a key role in the efforts to quell interreligious tension, including helping to create an interreligious platform which includes the president of the Islamic Community in CAR and the Catholic archbishop of Bangui. The three men, known as the "saints of Bangui," have taken an international peace tour and received awards.
In his address to the pope, Guérékoyamé-Gbangou said he was touched by the visit, which comes as the CAR is engaged in a democratic process aimed at putting an end to the political transition. For this reason, he said, the pope's visit is significant and raises the prospect of seeing the country regain normality.
Guérékoyamé-Gbangou previously called for pontifical support to deal with the disarmament of armed groups and the restoration of the national army.
Protestants and Catholics have paid a heavy price in the sectarian conflict, with dozens of pastors killed and an undetermined number of properties, including churches, defaced and ransacked.
In 2013, more than 100 church leaders issued a joint declaration accusing the Muslim Séléka rebel coalition of killing pastors, raping nuns, torturing civilians, burning villages, destroying churches, and looting property. Catholic and Protestant clerics demanded an "immediate deployment" of UN forces to restore peace in the CAR.
But as Séléka's influence waned and the rebels retreated to the north, local Muslims perceived as accomplices of Séléka faced attacks from self-defense militias known as anti-Balaka ("anti-machete"). The confrontation between Séléka and anti-Balaka created a cycle of reprisals in which the CAR's civilian population has been victimized.
Christian leaders condemned both groups and reiterated their opposition to the violence.
The Alliance of Evangelical Churches even pledged to take action against Christians who "distort [Jesus' gospel]" by not pursuing reconciliation, stating:
A true child of God has received and must exercise the ministry of reconciliation as recommended by the New Testament. Therefore, AEC will take actions against those who for personal reasons and other ambitions contrary to the teachings of the Gospel of Peace of Jesus Christ, distort the essence of his existence and throw an infamous discredit on people of God, by identifying themselves as Anti-Balaka militia or Séléka rebels. Our battle is spiritual, not carnal and should be carried out on the knees and not weapons in hand.
In 2014, a group of Protestant and Catholic church leaders representing more than three-quarters of the Central African population released a second Bangui Declaration condemning the violence and inaccurate media reports.
"All anti-Balaka are not Christians and all Christians are not anti-Balaka. It is the same for ex-Seleka and Muslims," the declaration stated. "This amalgam propagated by national and international media has given a religious connotation to a crisis that is in its core political and military."
The day after his visit to the seminary, Francis headed to the Central Mosque in the PK5 Muslim enclave of Bangui, considered a "no-go zone" for non-Christians.
"Christians and Muslims are brothers, and we must say no to vengeance, violence, and hatred," he said.
Francis had the same message for a mostly Christian crowd of 3,700 in a refugee camp at a CAR Catholic parish, saying, "We want peace. There is no peace without forgiveness, without tolerance. Regardless of ethnicity, social status, we are all brothers."