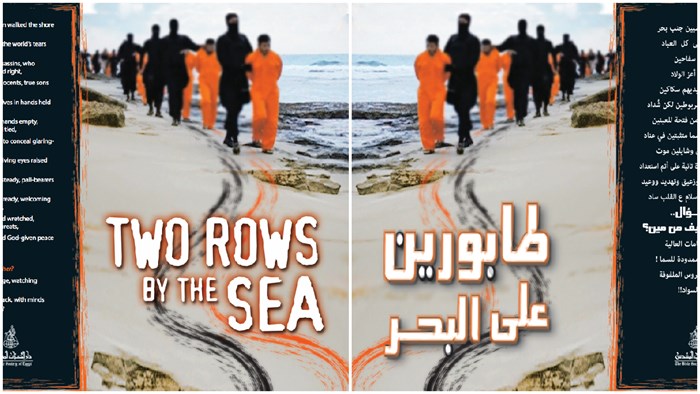 Image: Bible Society of Egypt
Undaunted by the slaughter of 21 Christians in Libya, the director of the Bible Society of Egypt saw a golden gospel opportunity.
"We must have a Scripture tract ready to distribute to the nation as soon as possible," Ramez Atallah told his staff the evening an ISIS-linked group released its gruesome propaganda video. Less than 36 hours later, Two Rows by the Sea was sent to the printer.
One week later, 1.65 million copies have been distributed in the Bible Society's largest campaign ever. It eclipses even the 1 million tracts distributed after the 2012 death of Shenouda, the Coptic "Pope of the Bible." [A full English translation is posted at bottom.]
The tract contains biblical quotations about the promise of blessing amid suffering, alongside a poignant poem in colloquial Arabic:
Who fears the other?
The row in orange, watching paradise open?
Or the row in black, with minds evil and broken?
"The design is meant so that it can be given to any Egyptian without ...
1