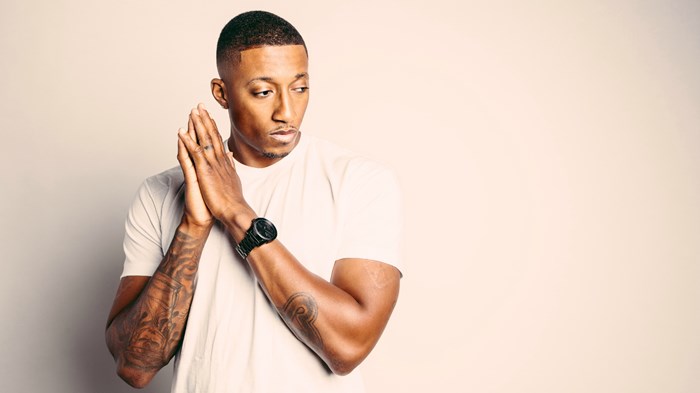 Image: WME Entertainment
Update (Feb. 8): Lecrae's collaboration with For King & Country, "Messengers," won the Grammy Award for Best Contemporary Christian Music Performance/Song. He attended Sunday night's show with a very special date, his mother.
In his acceptance speech (video below), the triple-nominee said, "You can't celebrate gifts without celebrating the giver of all gifts, so I want to celebrate Jesus."
------
Throughout his career, Lecrae has resisted the label of Christian rapper, instead considering himself "a rapper who happens to be Christian." Following his success in 2014, when he dominated the Gospel rankings, the music industry may finally be changing the way they view Lecrae and other Christian hip-hop stars.
After his album Anomaly rose to No. 1 in the country, Atlanta-based Lecrae scored his first Grammy nomination in the rap category. He's up against Eminem, Drake, Childish Gambino, and Kendrick Lamar for best rap performance.
Previously nominated for best rock Gospel album in 2011 and the winner of best Gospel album in 2013, the 35-year-old tweeted that he was honored to be recognized in the rap category for "All I Need Is You," a song about his wife. (Lecrae, who will attend Sunday's award show, is also nominated for best contemporary Christian music performance/song for his song "Messengers," featuring the Christian band For King & Country, and for best Gospel performance/song for his collaboration on Erica Campbell's song "Help.")
Another Christian artist scoring mainstream recognition at the Grammys is R&B singer Mali Music, who joins Beyoncé, Chris Brown, Pharrell Williams, and Jhene Aiko as the nominees for best urban contemporary album.
This year also brings changes to the Billboard chart rankings, inspired in part by Lecrae's popularity. Billboard announced:
2014 is the final year that most Christian rap/hip-hop songs and albums, like Lecrae's releases, will be broadly eligible for Billboard's Gospel charts. After soliciting feedback from the industry throughout the year, Billboard has discontinued categorizing most Christian rap and hip-hop titles for our Gospel Albums, Gospel Digital Songs, Hot Gospel Songs and Gospel Streaming charts.
Last year, Billboard crowned Lecrae with four Gospel accolades: "No. 1 Gospel Artist for the year, the top Hot Gospel Songs Artist, the No. 1 Gospel Albums Artist, and the No. 1 Gospel Digital Songs Artist." Anomaly—released in September—was the album to reach the top spot on both the Gospel and Billboard 200 charts.
Since 1995, artists like Lecrae have qualified for both Christian and Gospel charts, noted Billboard in announcing the change. Now, Christian rap and hip-hop titles will be categorized on the Christian charts, with exceptions made for songs with Gospel style, collaborations, or other factors.
Reach Records, the label founded by Lecrae, supports the change. Others suggest that offering Christian hip-hop artists their own chart would be a better solution to their recent takeover of the Gospel charts.
"'Christian' and 'gospel' are not musical genres, rather labels that let a consumer know that the content in the lyrics are Christian-based," wrote industry expert Chad Horton, co-founder of the Christian site Rapzilla. "Christian hip-hop is its own subgenre, which now often outsells most top-selling gospel and Christian titles because it's finally getting the visibility that it's fought for all of these years."
Lecrae performed twice from his hit album on The Tonight Show with Jimmy Fallon, making him the first Christian rapper to appear on late-night network TV.
Christian fans celebrate Lecrae's willingness to address social issues in his music, including fatherlessness, marriage, immigration, and faith. "Good, Bad, Ugly," a song from his new album, brings up his regret over an early girlfriend having an abortion, which he discussed last month with John Piper.
In CT's cover story on the genre, Southern Baptist leader Russell Moore wrote, "I think Christian hip-hop is more than just the latest attempt to slap a Jesus fish on the bumper of a pop-culture fad. Hip-hop is reminding the church about the reality of sin and grace—and returning the hip-hop community to its prophetic roots."
CT has also spotlighted Lecrae in its feature on influential hip-hop theologians and preachers. Mali Music was listed among CT's "33 Under 33, Continued" last year.
See the video for "All I Need Is You," Lecrae's nomination in the rap category, below: