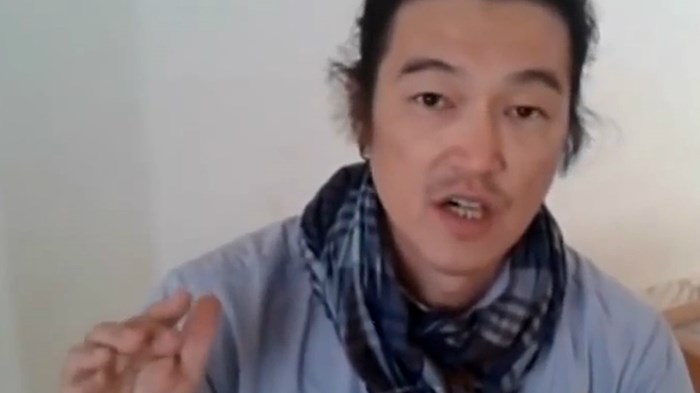 Image: Screen shot
Update (Jan. 31): The Islamic State (ISIS) has released a video showing the beheading of Kenji Goto, a Japanese journalist and a Christian with a wife and two young children. The New York Timesreported Saturday evening:
The video of the killing of the journalist, Kenji Goto, came two days after a deadline set by the extremists expired and the Jordanian government failed to give in to their demands that they exchange a convicted would-be suicide bomber for Mr. Goto's life. Left unclear by the video, which was posted on a Twitter account associated with the Islamic State's media organization, al Furqan, was the fate of a Jordanian pilot, whom the extremists also threatened to kill if Jordan did not release the would-be bomber, Sajida al-Rishawi. Japan had not yet authenticated the video. Jordan did not publicly comment.
Goto's 78-year-old mother, Junko Ishido, told journalists following the news of his death, "It is my only hope that we can carry on with Kenji's mission to save the children from war and poverty." She added, "Kenji has left us on a journey."
Goto's wife, Rinko, said in a statement via the Rory Peck Trust, "My family and I are devastated by the news of Kenji's death. He was not just my loving husband and father to our two beautiful children, but a son, brother and friend to many around the world. . . . I remain extremely proud of my husband who reported the plight of people in conflict areas like Iraq, Somalia, and Syria.
 It was his passion to highlight the effects on ordinary people, especially through the eyes of children, and to inform the rest of us of the tragedies of war." (The Peck Trust supports freelance journalists.)
-----
Last week, Japanese Christians, Muslims, and Buddhists held a vigil in Tokyo to show public support for the release of Kenji Goto Jogo, 47, the Christian journalist whom the Islamic State (IS) took as a hostage in Syria.
On Jan. 20, ISIS threatened to behead Goto and the captured Jordanian fighter pilot, Muath al-Kasaesbeh. (Another hostage, Haruna Yukawa, was beheaded a few days ago.) The terrorist group is demanding release from prison an Iraqi woman convicted in a 2005 terrorist attack in Amman. As of Friday, there was no word of the fate of Kenji and al-Kasaesbeh. A prisoner-hostage swap has been on the table for days. Christians joined the #PrayforKenji and #IamKenji social media campaigns to bring greater public pressure for his release.
Before Goto was taken hostage, some Japanese antiwar activists said his trips to Syria were misguided because they were too dangerous and undermined Japan's pacifism. (In 2013, Algerian militants killed 13 Japanese workers.) The Japanese public has been extremely guarded about any involvement by Japan in the recent Middle East conflict. Article 9 of Japan's constitution forbids Japan from making war on other nations. Only a self-defense force is legal.
But this past summer, Japan's President Shinzo Abe reinterpreted Article 9 to allow Japan to use its self-defense force to aid allies during war—a move the United State supports, but many Japanese resist. Abe was in Cairo recently and announced that Japan would provide $200 million in nonmilitary assistance to nations resisting IS.
Goto, a freelance journalist and producer who became a Christian in 1997, has a reputation for traveling into war zones to cover the human side of violent conflict. "There are criticisms of his action. Before leaving for Syria, Kenji left a video message that he was aware that this attempt was very dangerous and he was taking the full responsibility for his actions," Atsuyoshi Fujiwara, a professor of theology at Seigakuin University and founding pastor at Covenant of Grace Church in Tokyo, told CT.
"Some are critical. Yet mass media are very sympathetic to Kenji—and generally so is public opinion. They say that someone had to do this kind of work. And Kenji was a kind journalist who took a risk to rescue Yukawa."
Japan's Christian minority largely supports the nation's pacifist stance and view Kenji's trips to Syria in that light. "Kenji is a Christian. Christian population in Japan is less than 1 percent of the national population," Fujiwara said. "Not only his church, the United Christian Church of Japan, but also the churches in Japan are praying for him. We think that Kenji was doing important work for peace-making."
But Fujiwara said, "Christians are strongly against the Abe regime as being militarily oriented and nationalistic. When you think about the opinions of Christians in Japan, you can almost assume that they are generally more antinationalistic, more nonviolence-oriented than the public. Christians should be peace-making, yet we need to be wise as serpents and give alternatives to the Abe regime."
CT asked Fujiwara about unity among religious groups against terrorism. He said, "Islamic Center Japan condemned the action of ISIS on Jan. 23, 2015, saying that Muslims had not received religious harassment in Japan and the Japanese were not enemies of Muslims. Unlike Europe and North America, we have not had Protestant-Catholic conflicts in Japan, either. In addition, after the 2011 earthquake, religious organizations learned to work together for the common good when possible."
After ISIS said publicly that Kenji and Yukawa were being held hostage, the parents of both men apologized to Japan's public on television for the trouble they caused. "The initial reaction here in Japan was that these two went and got themselves in trouble by going where they should not have gone and have made a problem for the country," said another Tokyo-based pastor. "The reports from his pastor and others that Goto is a Christian and is motivated by giving children in war zones a voice did a lot to gain at least him favor in the eyes of the public that at least he was not just an adventure seeker."
Kenji's wife, Rinko, recorded a video statement, saying, "My husband is a good and honest man who went to Syria to show the plight of those who suffer."
The Japan Times reported:
As a journalist, Goto is "devoted to reporting what should be reported with a firm conviction," said Hiroshi Tamura, pastor of the Chofu Church of the United Church of Christ in Japan. Tamura had until March 2013 been pastor of the Denenchofu Church of the United Church of Christ, which Goto attended. He said Goto "has a strong sense of justice . . . and he has always been conscious of vulnerable people, including children."
The UCCJ is Japan's largest Protestant body. In 1941, the government forced all Protestant groups into the UCCJ. Today, it has 200,000 members and has a reputation for liberal theology. After the war, Baptists, Anglicans, Lutherans, the Assemblies of God, and a few others dropped out.
Goto's journalism projects have aired on national media and he has published several books, including We Want Peace Not Diamonds: A Confession by Child Soldier Muria.