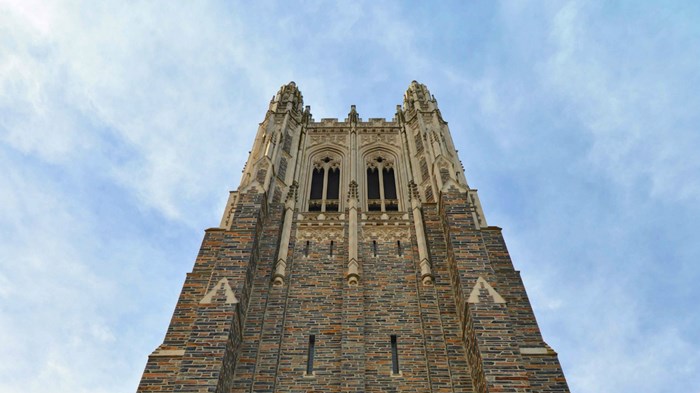 Image: erinibarker/Flickr
Duke University's reversal of today's plan to broadcast the Muslim call to prayer from its historic chapel tower has reinvigorated a debate over shared worship space.
The Durham, North Carolina-based school had authorized Muslim students to recite the three-minute chant from Duke Chapel on Friday, the weekly day of assembly in Islam, but rescinded the decision this week, following criticism and citing a "serious and credible security threat."
Franklin Graham, whose ministries (Samaritan's Purse and the Billy Graham Evangelistic Association) are headquartered in North Carolina, attacked the university's decision and condemned the use of a Christian space by members of another faith.
"It's wrong because it's a different god," Graham said. "Using the bell tower, that signifies worship of Jesus Christ. Using (it) as a minaret is wrong."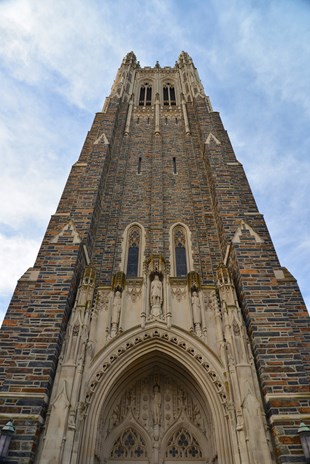 Image: Erin I. Barker / Flickr
Muslim students had gathered for jummah prayers in the chapel's basement for years, according to CNN reports. The chapel's website describes it as "a Christian church of uniquely interdenominational character and purpose," welcoming people of "all faiths and circumstances."
However, the dean of Duke Divinity School, Richard Hays, raised concerns about the use of the chapel for the Muslim call to prayer if it's seen as a Christian church (given its history and iconography), rather than a neutral space on campus.
"There are serious questions...about the wisdom and propriety of allowing Duke chapel to be used for this purpose," he said in a statement. "Despite some common beliefs and traditions, Christianity and Islam stand in significant theological tension with one another."
Durham resident and author Jonathan Wilson-Hartgrove wrote that while he was "glad Duke Chapel hosts a vibrant Christian congregation," he did not see the space as holy ground.
"The Dukes are buried in the crypt, not saints. Robert E. Lee's statue is in the entryway. Muslim prayers would not desecrate ground marked by the blood of Christian martyrs," he wrote. "It would, instead, be an act of hospitality to hallow a messy place."
In recent years, some American churches have considered whether they should share sacred spaces with Muslims or other non-Christian groups, weighing their desire to love their neighbors of other faiths and uphold religious liberty with a need to maintain the distinctiveness of Christian belief and worship. The National Cathedral in Washington hosted its first Muslim prayer service last year.
Curtis Freeman, a research professor at Duke Divinity School, told Baptist News Global that he saw the situation as an issue of religious freedom that "Baptists would want to uphold."
Duke's Islamic studies director Omid Safi wrote, "I so wished that this could be a day to honor and highlight the generosity of Christian friends—including the office of Religious Life at Duke—in opening up the chapel to Muslims for the call to prayer." He argued that Christians are not marginalized at a school that houses a chapel, includes a cross on its emblem, and even designed a portion of its campus in the shape of a cross.
Founded by Methodists, Duke now describes its Christian ties as "historical and symbolic," emphasizing its independence from the United Methodist Church. Southern Baptist Theological Seminary president Al Mohler suggested that the school had become a "symbol of the secularization of the American university."
"It's hard, even for administrators committed to this kind of secularization, to know exactly what they should do..." he said on his podcast on Friday morning, praising Duke's reversal. "How does it handle the religious pluralism that it has not only come to accept but openly celebrate?"
Hays, the divinity dean, brought up the symbolic dissonance of proclaiming that "Muhammad is the Messanger of God," from a chapel whose Christian tradition does not recognize him as such. Additionally, he wrote that:
Any discussion about such a proposal should take careful account the perspective of millions of Christians living in Islamic societies where their faith is prohibited or persecuted. There is no suggestion here that Muslims at Duke are responsible for the behavior of Muslims in the world, or that hospitable treatment of Muslims here should be dependent on the treatment of Christians in the Muslim world. However, it should be understood that Christians in the U.S. will want to show solidarity with fellow Christians in very difficult circumstances, and be sensitive to how our actions here will be experienced by them.
In 2011, the pastor of an evangelical church in Tennessee defended his church's decision to let Muslims use its space.
"Our Muslim brothers and sisters know this about us because we always speak of Jesus and our love for him, and our love for them because of him, every time we are with them. There was no trading of theologies," Heartsong pastor Steve Stone wrote for CT.
Stone's response came after UMC scholar Jason Hood suggested that despite Christians' call to love one another, it was "not self-evident that this duty requires us to provide property for false worship."
"The theological issues at play come down to whether Jesus' love command also requires leaders to avoid causing undue stumbling; or, as Wesley put it, the command to do good works includes avoiding causing or leading others to harm, whether they are believers or unbelievers" Hood wrote for CT.
[Photos courtesy of Erin I. Barker - Flickr]