'Not Forgotten': The Top 50 Countries Where It's Most Difficult to Be a Christian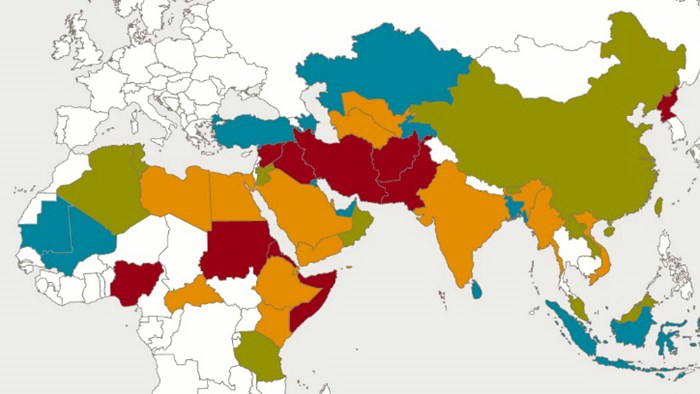 Image: Courtesy of Open Doors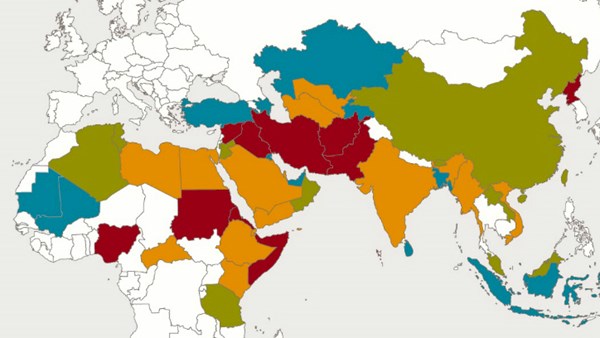 'Not Forgotten': The Top 50 Countries Where It's Most ...
New research reveals one more reason to remember 2014: for the greatest number of religious freedom violations against Christians worldwide in recent memory—even in Christian-majority countries. Of the worst 50 nations, 4 out of 5 share the same primary cause. And, while the number of martyrdoms did double from 2013, the main driver of persecution in 2014 wasn't violence.
Open Doors released today its latest World Watch List (WWL). The annual list ranks the top 50 countries "where Christians face the most persecution," aiming to create "effective anger" on believers' behalf.
"This year, the threshold was higher for a country to make the list, indicating that worldwide levels of persecution have increased," stated Open Doors in announcing its analysis of the "significant trends" in 2014 that drove persecution higher worldwide, "even in places where it has not been reported in the past."
So while countries such as Sri Lanka and the United Arab Emirates (UAE) fell significantly in rank on this year's watch list (Sri Lanka dropped 15 spots to No. 44, and the UAE dropped 14 spots to No. 49), their level of persecution dropped only slightly from last year's list (by four points and two points, respectively, on a 100-point scale). And while three countries—Bahrain, Morocco, and Niger—were removed from the list this year, the level of persecution in each remained virtually the same from 2013 to 2014.
Overall in 2014, pressure on Christians increased in 29 countries, decreased in 11, and remained stable in 7. Three countries—Mexico, Turkey, and Azerbaijan—were added to the watch list this year. [See infographic below.]
Open Doors researchers measure persecution by "the degree of freedom a Christian has to live out his or her faith in five spheres of life (private, family, community, national, and church life)," as well as by tallying acts of violence.
Researchers calculate that 4,344 Christians were "killed for faith-related reasons" in 2014, which is "more than double the 2,123 killed in 2013, and more than triple the 1,201 killed the year before that," reports World Watch Monitor (WWM). (Measuring martyrdoms has drawn debate in recent years, and Open Doors is usually on the conservative end of estimates.) By far the largest number of deaths occurred in Nigeria, where 2,484 Christians were killed; the next deadliest country for Christians was the Central African Republic (CAR), with 1,088 deaths. The remaining three deadliest countries were Syria (271 deaths), Kenya (119 deaths), and North Korea (100 deaths).
In addition, 1,062 churches were "attacked for faith-related reasons" in 2014. The majority of attacks took place in five countries: China (258 churches), Vietnam (116 churches), Nigeria (108 churches), Syria (107 churches), and the Central African Republic (100 churches). Last year's highest-profile incident: a government campaign to "de-Christianize" the skyline of one of China's most Christian cities. (The Pew Research Center also recently tallied the countries with the most government destruction of religious property.)
But it wasn't increased violence that primarily drove persecution to record levels in 2014, but rather increased "cultural marginalization," according to Open Doors. In other words, the "more subtle 'squeeze' dimensions of persecution" which make "daily life ... harder and harder" for Christians. A substantial study by the Pew Research Center found that nearly 75 percent of the world's population now lives in countries with high levels of social hostility involving religion. [CT compared how both groups rank the world's worst persecutors.]
"Even Christian-majority states are experiencing unprecedented levels of exclusion, discrimination, and violence," said David Curry, president and CEO of Open Doors USA. "The 2015 World Watch List reveals that a staggering number of Christians are becoming victims of intolerance and violence because of their faith. They are being forced to be more secretive about their faith."
One of those Christian-majority countries is Kenya, which made the biggest leap on the list—from No. 43 on last year's list to No. 19—even though about 83 percent of Kenyans are Christians. A rash of religious violence over the summer spiked tensions and left 100 dead.
And in Nigeria, where approximately half the population is Christian, murders and kidnappings by the militant group Boko Haram (most notably of 165 Christian schoolgirls) helped the West African nation reach the top 10 for the first time, rising from No. 14 last year to No. 10 this year. (CT noted how Boko Haram's terrorism is changing Nigeria's churches.)
African countries saw the largest increase in persecution in 2014. Along with Kenya in the 2015 report, Mali and the Central African Republic saw the highest increases in persecution in the 2013 and 2014 reports, respectively. This year, Djibouti, Tanzania, Somalia, and Comoros all rose more than seven spots on the list. "Many other countries in this region are boiling below the top 50 also, and may feature in the future," noted Open Doors.
The primary culprit in Africa and worldwide: "Islamic extremism," which was the "main persecution engine" in 40 of the 50 countries on the 2015 watch list, including 18 of the top 20 countries (only 6 of which are in the Middle East).
The No. 2 driver of persecution was "dictatorial paranoia," or "where leaders seek to control religious expression," noted Open Doors. "It is the main persecution engine in 10 countries, including North Korea, and shows up as a secondary persecution engine in 16 more countries."
And while "organized corruption"' is the main driver of persecution in only Colombia and Mexico, it is No. 3 (after "Islamic extremism" and "dictatorial paranoia") "when its status as a secondary engine is taken into account," noted Open Doors. "Christians increasingly have to pay a heavy economic price to remain faithful to Christ."
Overall, persecution increased more rapidly in Sub-Saharan Africa than anywhere else in the world, according to Open Doors. Djibouti moved from No. 46 in 2014 to No. 24 this year—the second-biggest leap after Kenya. Tanzania jumped 16 spots to No. 33, and the island nation of Comoros rose 10 spots to No. 32. Eritrea rose from No. 12 to No. 9, and Sudan—where Meriam Ibrahim was imprisoned and sentenced to death for her faith, but was later released and gained asylum in the United States—rose from No. 11 to No. 6.
The top five rankings remained virtually the same as last year, with North Korea at No. 1, followed by Somalia, Iraq, Syria, and Afghanistan. The "biggest surprise" of the year: Malaysia, especially the fight over Allah Bibles.
Three of the top five countries are in the Middle East, where targeted attacks have emptied many regions of Christians, reports Open Doors. Many fled from the advance of the Islamic State in 2014; in fact, more than 70 percent of Christians have left Iraq since 2003, and more than 700,000 Christians have fled from Syria since 2011, according to Open Doors. Only a remnant remain.
Holding steady for the 13th year as the worst place for Christians to live is North Korea, where Open Doors reports up to 70,000 Christians are held in prison camps for their faith. The country garnered media attention in 2014 with the November release of American missionary Kenneth Bae after two years in prison, the detainment of American Jeffrey Fowles for leaving behind a Bible, and the arrest and release of 75-year-old Australian missionary John Short. (South Korean Baptist missionary Kim Jong-Uk is still imprisoned after receiving a life sentence in June for allegedly working with underground churches.)
Overall in Asia, Open Doors had been "reporting improving conditions for Christians in the Far East in recent years," noted WWM, but "the trend reversed course in 2014, when every country on the list but Laos and Sri Lanka received a higher persecution score. China, India and Malaysia registered the largest increases. Twelve countries from East Asia and the Far East are among the top 50."
Persecution in India, which rose to its highest ranking ever (No. 21), has ramped up since Narendra Modi, a Hindu nationalist and the only politician ever banned from the US for religious freedom violations, was elected as prime minister in May. Modi's silence on the more than 600 attacks on non-Hindus that occurred during his first 100 days in office, as well as conversion efforts like the planned Christmas reconversion of 5,000 Christians and Muslims to Hinduism, have been controversial enough to stymie India's parliament.
"The goal of the World Watch List is to keep Christian persecution on the radar of those enjoying the privileges of freedom," said Curry. "The perpetrators of persecution need to know that the world is watching and stands in opposition to persecution. And for the persecuted, we want them to know that they are not forgotten."
And Open Doors did identify some "good news trends" amid the dark headlines:
"Ancient enmities between Christians in the Middle East are slowly dissolving in the white heat of violence and persecution."
"New co-operative relationships are being forged between Muslim and Christian in the Middle East caldron that could have wonderful long term benefits."
"China is still undecided about how to deal with the church. ... If Christianity can sound, look and be Chinese enough, we might just see the church continuing to be invited to play a fuller role in the building of the new China."
Western governments are engaging with religious communities in working against extremists like never before."
"There is in many government departments (though not all) a new sophistication in realizing that good religion has the best chance of driving out bad religion," wrote Ron Boyd-McMillan, Open Doors' research director. "At the very least, there is a new openness and thirst for the information and wisdom of Christians working in these regions among those who are tasked with ensuring national security. That has not happened before to the extent it has in 2014."
Boyd-McMillan noted: "As Li Tien En, a famous house church Christian in China used to say, 'Persecution is two parts opportunity, one part crisis—God always brings opportunities out of a crisis.' There is a new unity occurring among ancient communities of faith, and we may see again that an exodus is not always bad for the spread of the Gospel."
WWM offers a detailed report on the 2015 World Watch List, as well as a trend analysis, the complete scores of each country, further details on the top 20 countries and the remaining 30, and an examination of religious violence.
CT reported last year's World Watch List (which revealed the methodology behind the rankings for the first time), which found that persecution in 2013 increased in 34 countries, decreased in 5, and remained stable in 14. CT examined the WWL rankings in 2009, 2012, and 2013, including a spotlight on where it's hardest to believe, and charted how Open Doors and Pew Research Center rankings compare.
CT also noted how the State Department and USCIRF disagree on which countries deserves censure for mistreating religious minorities. The State Department's list of "countries of particular concern" includes: Burma, China, Eritrea, Iran, North Korea, Saudi Arabia, Sudan, and Uzbekistan. In April 2014, USCIRF recommended the addition of Egypt, Iraq, Nigeria, Pakistan, Syria, Tajikistan, Turkmenistan, and Vietnam.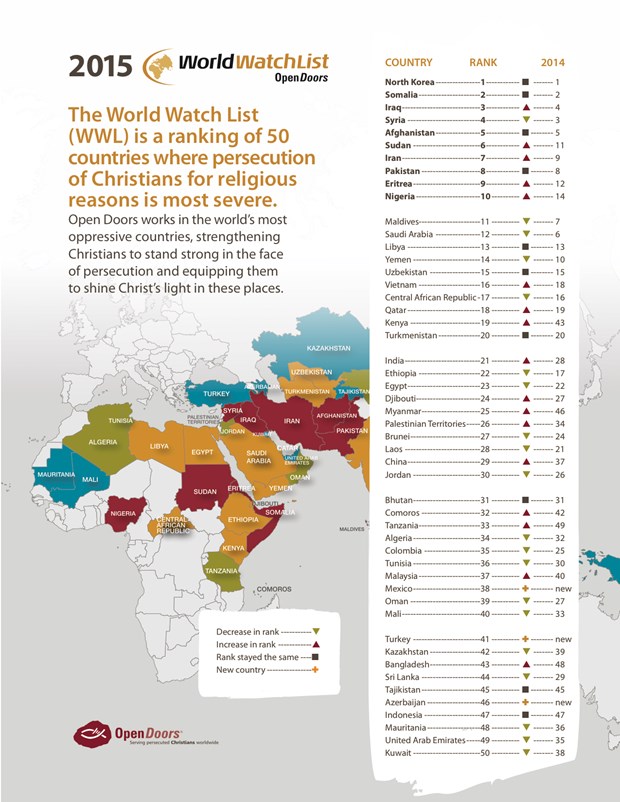 01/07/2015