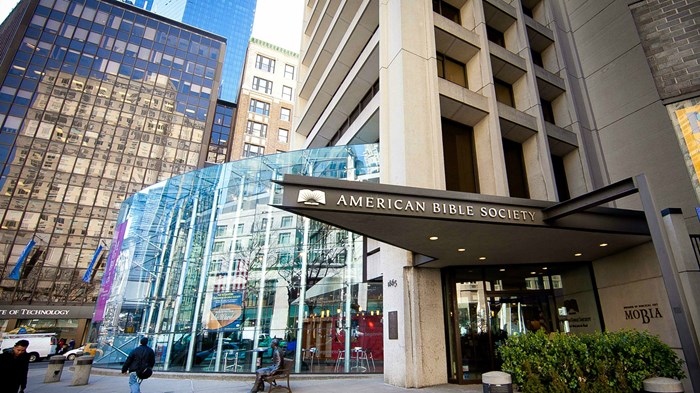 Image: American Bible Society
Update (Feb. 13): World examines how the sale of the American Bible Society's Manhattan building will displace other Christian groups, including Young Life, Eric Metaxas, and the Museum of Biblical Art.
Former president Doug Birdsall, who had a different vision for what to do with the building (as CT notes below), told World that the sale is "the worst Christian real estate transaction in the history of our young republic." ABS said it will help displaced ministries relocate.
-----
After nearly 200 years in New York City, the American Bible Society (ABS) is departing for Philadelphia, one of an increasing number of religious institutions selling once iconic urban properties.
A 12-story building located blocks away from Central Park, ABS' headquarters have also housed other evangelical ministries, including Q Ideas, Redeemer Presbyterian Church's Center for Faith & Work, the Museum of Biblical Art, and Young Life.
American Bible Society president and CEO Roy Peterson announced the move in a joint press conference with Philadelphia mayor Michael Nutter on Wednesday morning. "On behalf of the City of Philadelphia, we're honored to welcome American Bible Society to its new home," Nutter said.
Peterson cited strategic collaboration opportunities, affordability and livability as reasons behind ABS' relocation to downtown Philadelphia, though he called the decision to leave New York "heart-wrenching."
"People can afford to live here [in Philadelphia], it's walkable, there's public transportation," Peterson told The Philadelphia Inquirer. "Our staff commutes an hour or two...from Long Island, the Bronx."
ABS also revealed plans to create a Bible Discovery Center, Scriptures Depository and scholarly working library in its new home, which will be located several blocks away from Independence Mall. The organization hopes to be fully moved in by the end of the summer, just ahead of Pope Francis' Philadelphia visit in September.
ABS hired Peterson, who formerly led The Seed Company and Wycliffe USA, as its new CEO last January. In March, ABS broke the news that it would be selling its Upper West Side property after several years of sustained financial struggles. During that announcement, board chairman Pieter Dearolf pledged that ABS would "always remain a presence" in New York, where it was founded, calling it "the epicenter of American culture and commerce." ABS' existing religious partnerships will be maintained by the several employees who will remain in New York, Peterson said.
When previous ABS president, Doug Birdsall, assumed leadership in 2013, the ministry had overspent its budget by $250 million since 2002 and would need to spend at least $20 million to bring buildings into compliance with city codes, World reported.
As CEO, Birdsall proposed that ABS replace its 1865 Broadway building with a $300 million, 30-story building that could house a hotel and host events and other ministries. RNS also noted Birdsall's plans to relocate to a tower that could "host like-minded organizations."
"Many ministries have left major cities for lower cost in other areas but often at the expense of ministry impact," Birdsall said.
However, weeks before Birdsall's official inauguration, he was dismissed from his role as CEO over "significant differences of how to move the organization towards that goal" of engaging with God's Word. Birdsall said "things did not develop as we had hoped," and that his vision and style did not mesh with that of other leadership. Birdsall's building plans were one factor in his firing, as the board saw the plans as showing a "lack of transparency" and "insubordination."
Across denominations, religious institutions are selling properties they have amassed over the years of influence. Last year, The New York Times (NYT) noted the trend among the Unitarian Universalist Association, the Jehovah's Witnesses, the United Methodists, the Reform Jewish movement, and the American Baptist Churches.
While some denominations are downsizing buildings based on financial need, some have cited other reasons, like the need for more "contemporary office space" outside old, expensive neighborhoods.
The moves are an indication of increasing secularization in U.S. society, as well as the financial hardships facing denominations, the NYT reports.
"They're finding themselves pressed for finances, and making some hard choices about property, and so we're seeing more sales in the last decade than we had for the last century," James Hudnut-Beumler, a professor of American religious history at Vanderbilt University, told the NYT. "The first things to go were camps and conference centers, and now there is some downsizing of prime-location land, churches and facilities."
Among ABS' work includes a recent report on the US' most "Bible-minded cities" and its efforts to create a .bible domain for websites.
CT previously noted how the world's three largest Bible translators—ABS, Wycliffe, and Biblica—joined forces (with Hobby Lobby funding) to "catapult Bible ministry into a new digital age."
CT regularly reports on Bible translation, including the recent seizure of "Allah" Bibles in Malaysia, as well as Wycliffe Bible Translators, including whether new guidelines will solve Wycliffe's translation controversy over ministry to Muslims.