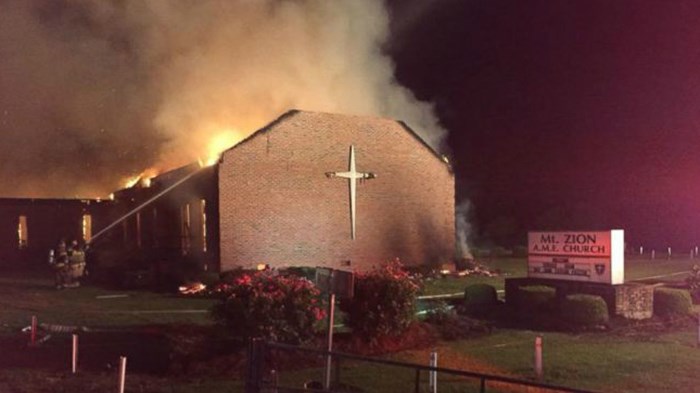 Image: Clarendon County Fire Department
At least half of all fires at churches or houses of worship in the last 20 years were arson, including 29 so far this year, according to Pew Research.
While the number of church fires has declined in recent years, many are still intentionally set. That sets church fires aside from other kinds of blazes.
For example, in 2013, only about one in ten nonresidential fires—and one in twenty residential fires—were caused by arson.
Church arson is more common. From 2010 to 2014, there were about 74 church arson per year or "48% of all church fires," reported Pew. So far in 2015, there have been 79 fires at house of worship—29 arsons, 21 accidental, and 29 of undetermined cause.
"Anytime there is a house of worship involved in a fire, ATF is automatically assigned to look into the cause," said agency Special Agent Tom Mangan with Bureau of Alcohol, Tobacco, Firearms, and Explosives in news reports concerning a major fire at Mount Zion African ...
1