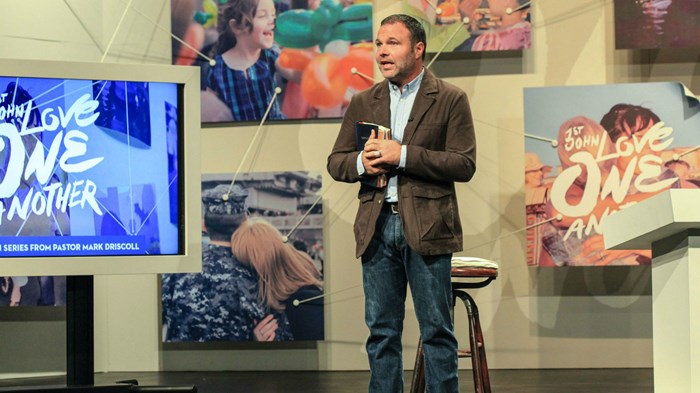 Image: Mars Hill Church
Update (June 30): Earlier this month, Brian Houston announced that Mark Driscoll would no longer attend the Hillsong Conference. [See previous report below.]
Today, Driscoll showed up with his wife Grace—in a pre-recorded video interview with the Australian megachurch's lead pastor.
"I think for the pastors and leaders here today, there's a lot to be learned from watching this interview, in terms of our own lives and the way we conduct ourselves," said Houston. "I hope it'll be helpful for everyone. There's certainly a level of interest. But I'll leave this to you to come up with your own conclusions."
Criticized by some Mars Hill leaders for his "domineering manner," Driscoll said he regretted his "combativeness."
"I hope that in the future I can be a pastor who draws people and not drives people," he said, filmed sitting alongside his wife.
Driscoll, who planted Mars Hill at the age of 25, said he should have spent a longer time "under godly, spiritual authority" before serving as a lead pastor.
"I made a lot of mistakes...and one of them was going too fast...My character was not caught up with my gifting," he said. "I did start too young. I wouldn't look at any 25-year-old now and say, 'Yes, do what I did.'"
Driscoll also distanced himself from past crude and misogynistic remarks, calling "the perception of what I think about women...entirely my own fault.
"I want to have the heart for the women in the future who will allow me to be their pastor that I have for my daughters," he said, "and that is if they have spiritual gifts, and are called by God, and are godly, I want to help them achieve that intentionally and encourage that and be a support for that."
Hillsong's initial announcement that Driscoll would be included as a speaker had incurred pushback.
"I apologize that you were put in that position," Driscoll told Houston. "That was my doing. I hope there's a way in the future to be a person of peace and not a point of division. I appreciate this opportunity to make an effort at that."
One former member of Acts 29, the church planting organization Driscoll founded before he was removed last year, praised the interview as "remarkable" and "rich with applicable wisdom for church leaders." At Patheos, Warren Throckmorton gathered responses from Driscoll critics.
Driscoll's interview received a standing ovation, according to the Bible Society of Australia, which reports more details. Partial video and audio of his remarks is available here. It is unclear whether the video will be played at Hillsong's future conferences where Driscoll had been scheduled to speak.
-----
[Originally published on June 8 as "Distraction Down Under: Hillsong Drops Mark Driscoll from Conference"]
It's been 10 months since Mars Hill founder Mark Driscoll was removed from the Acts 29 network for arrogance and a quick temper. It's been eight months since he resigned as lead pastor of Mars Hill, describing himself as an "imperfect messenger" who has apologized for "past pride, anger and a domineering spirit."
But it hasn't been long enough, apparently.
This past weekend, amid media scrutiny, Driscoll was dropped from the lineup of Hillsong's upcoming conference.
Brian Houston, the lead pastor of the influential Australian megachurch, announced on Sunday that he made the decision reluctantly after speaking with Driscoll.
"The teachings of Christ are based on love and forgiveness, and I will not write off Mark as a person simply because of the things that people have said about him … for which he has since repeatedly apologized," wrote Houston on Hillsong's website.
"However, I do not want unnecessary distractions during our conference," he wrote. "... It was clear to me that Mark's attendance had the potential to divert attention from the real purpose of Hillsong Conference, which is to see people leave encouraged in their own spiritual journey."
A petition asking for Driscoll to be removed had garnered more than 3,000 signatures.
Earlier, Houston had explained why Driscoll was invited for an interview:
So why am I using our platform to interview Mark? We come from different backgrounds, theological positions, and church expressions. I genuinely want to know! Did he really say those things? Does he believe those things? Does he have any regrets? Has he been misrepresented? What has he learned and what can we all learn? And where to from here?
…
A lot has been said. There's lessons to be learned. I'm looking forward to asking the questions and hearing from Mark directly. Will we agree afterwards or agree to disagree? Time will tell. I doubt we will agree on everything, but everyone deserves an opportunity to be heard. … Let's see what he has to say.
In April, Hillsong spokesman Mark DeMoss told Warren Throckmorton, a critic who has tracked Driscoll's public appearances, why the interview was appropriate. "I don't think that is 'cheap grace,' but rather, a thoughtful approach to challenging circumstances," wrote DeMoss of the planned appearance. "I think it would be fair for the petitioners to judge this appearance after it takes place, but advance judgment seems premature and a bit unfair, in my view."
Faith leaders disagree on when, if ever, the doors of public ministry should be re-opened to a disgraced pastor.
"Gross sin among Christian leaders is a signal that something is seriously wrong with the church. But an even greater problem is the lowering of standards to accommodate a leader's sin," wrote pastor and author John MacArthur, assessing in the 1990s how to restore fallen pastors. "... Shouldn't we be eager to restore our fallen brethren? To fellowship, yes. But not to leadership. It is not an act of love to return a disqualified man to public ministry; it is an act of disobedience."
After Orlando pastor David Loveless resigned from his Discovery Church in 2013 due to a past extramarital affair, the church stated: "While we believe [he] can be restored to Christian fellowship and productive Christian service, we do not believe he can serve as a pastor."
However, most denominational leaders (but not all) say that a pastor who has fallen in that one prominent way—committing adultery—can be restored to the pulpit, according to the National Association of Evangelicals (NAE).
In some denominations, including the Evangelical Free Church of America, the Christian and Missionary Alliance, and the Assemblies of God, a two-year minimum rehabilitation process is required, stated the NAE.
Jim Bolin, founding pastor of Trinity Chapel Church of God in Powder Springs, Georgia, was restored five years after stepping down due to adultery.
Not everyone waits that long. Megachurch pastor Dino Rizzo returned to ministry—but at a different church—barely a year after resigning because of an extramarital affair. And Sam Hinn, brother of televangelist Benny Hinn, was reinstated as a pastor eight months after he admitted to a four-year extramarital affair. This prompted debate on the proper length of restoration.
Most restoration guidelines seem aimed at restoring adulterous pastors.
But Driscoll wasn't unfaithful to his wife, and the Mars Hill board investigation found that he "had not disqualified [himself] from ministry."
Driscoll didn't take a long break, speaking briefly at the Gateway Conference on October 20, less than a week after his resignation. Even though he wasn't listed as a speaker, Driscoll spoke at a California conference in April, then at a Missouri megachurch in June, prompting the Seattle Times to wonder if he's making a comeback.
The answer seems to be yes.
Earlier this year, Driscoll set up Mark Driscoll Ministries and an accompanying website. He offers a blog and past sermons, and says he's working on a new teaching series that will be posted along with questions for individuals or small groups.
Alongside the debate over how long a pastor's restoration should take is the question of what to do with their past teachings.
When Bob Coy, founder of the 18,500-member Calvary Chapel Fort Lauderdale, stepped down last year after unspecified "moral failings," his church removed his popular podcast (No. 12 on iTunes, between Joel Osteen and T. D. Jakes). The church explained it was protecting him from "those who would seize upon this time to misuse his content and use it negatively during this time in which he and his family need time and space to heal." (Coy's Active Word podcasts have since been returned to the church's site.)
"When leaders step away from ministry because of moral failure, their written and recorded teachings should be suspended for a season," Fuller Theological Seminary associate dean Kurt Fredrickson told CT last year in a roundup of reactions. "Once restored—changed and humbled—to ministry, their teachings can become available again, telling the story of God's goodness and restoration."
Others argue for a more accepting approach.
"We don't stop reading Luther despite his terrible statements regarding the Jews," Assemblies of God leader George Wood told CT. "Nor do we stop reading Calvin because he was responsible for the execution of Servetus. God's Word is true, independent of the vessel that proclaims it. Failure does not make teaching invalid."
For Driscoll's part, he's making no public plans.
"I'm still in the middle of it," Driscoll told a suburban Seattle church on May 17, according to the Seattle Times. "OK, Lord, what's next? What do you have for us? What are we doing? Where are we going? I don't know."
CT regularly reported on Mars Hill, including when the Seattle-based congregation announced it would shut down several weeks after Driscoll announced his resignation. Over the years, it had expanded to 15 sites across five states and enjoyed a large online platform. In 2010, more than 7 million sermons were downloaded from its website.
The outspoken Reformed pastor founded Acts 29 (which he led until March 2012) and the Resurgence, a well-known ministry website and conference. In 2013, Driscoll was accused of plagiarism after duplicate content was spotted in several of his books—claims which his publisher, Tyndale House, defended. In 2014, the pastor also admitted to paying a public relations company $200,000 to bump his books to The New York Times bestseller list, though Driscoll later apologized for the agreement and voluntarily retracted his bestseller status. Last August, Driscoll announced that he would temporarily step down before he resigned in October.