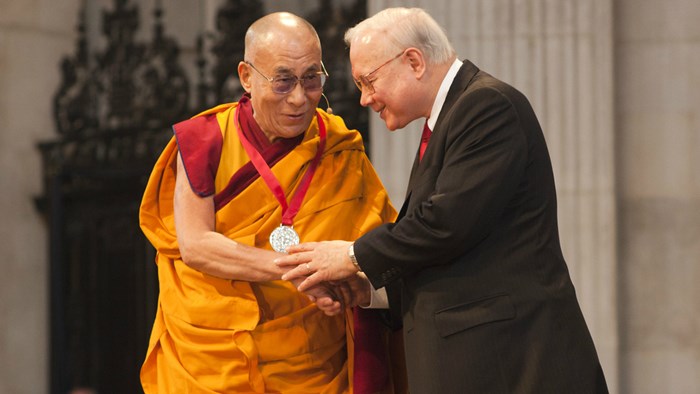 Image: Templeton Foundation
John "Jack" Templeton Jr., who took over the foundation that his wealthy investor father created in 1987, died on Saturday, May 16, at his home in Bryn Mawr, Pennsylvania. He was 75.
The cause of death was cancer, according to a family member. Templeton died two days before the Templeton Foundation awarded the $1.7 million Templeton Prize in London on Monday to Jean Vanier, founder of L'Arche, an international ministry to people with disabilities. The family withheld announcement of the death until after the award ceremony.
In 1995, Templeton retired as chief of pediatric surgery at Children's Hospital in Philadelphia. He then took on the role of chairman and president of the Templeton Foundation. His father, Sir John Marks Templeton, was one of the world's most successful investors who began his career during the depression-era 1930s. In 1954, Sir John Marks Templeton created the family of Templeton mutual funds; in 1992, he sold the funds to the Franklin Group and used the proceeds to fund the foundation.
The foundation supports research that connects science and religious faith. It explains: "[P]rimary funding areas include science and the big questions, character and virtue development, individual freedom and free enterprise, genetics, exceptional cognitive talent and genius, and the Templeton Prize. Recent grants have explored topics such as gratitude, beneficial purpose, exoplanets, and religious liberty."
Jack Templeton's lifelong career in medicine, specializing in treatment of conjoined twins, deeply shaped his worldview. "I'll always see him as a doctor," says his daughter, Jennifer Templeton Simpson, in comments on the foundation's website. "And though he no longer practices, his being a doctor influences everything—the way he views things, the way he handles problems, the way he asks a lot of questions before he says anything. He's basically an investigative person—one who never gives up when he doesn't have the answer."
John Schott, a foundation trustee, physician, and medical school classmate of Templeton, said in Templeton's online bio, "Jack never lost his compassion, never objectified the patient. You have to make life and death decisions within a short period of time and often without enough information. That's why medicine is a calling, and not just a job. And Jack's seeking nature, his interest in purpose, his grappling with the Big Questions—all made him a superb doctor and now make him the best possible head of the Foundation."
Like his father, Templeton was active in the Presbyterian church, but the two differed theologically. The elder Templeton had a reputation for being a universalist. But his son was evangelical and a member of the Presbyterian Church in America. In 2005, CT wrote about their relationship and the foundation in "The $1 Billion Handoff."
The annual Templeton Prize is one of the foundation's most renowned features. In 1973, the first prize was awarded with the intention to recognize "a living person who has made an exceptional contribution to affirming life's spiritual dimension, whether through insight, discovery, or practical works." Past recipients include Billy Graham, Chuck Colson, the Dalai Lama, and Mother Teresa.
It is the largest single prize of its kind. The amount is adjusted annually so that it exceeds the Nobel Prize. In March, Vanier was named this year's laureate for his work creating group homes worldwide where people with and without intellectual disabilities live and work together.
As of 2013, the foundation had assets of $3.34 billion. Grants and charitable activity totaled $966 million from 1987 to 2013. The average size of a grant is $1 million. The foundation is also an active publisher with 216 titles to its credit and two award-winning magazines.
During his tenure, Templeton in 2010 guided the foundation to refocus its philanthropy around five areas:
Science and the big questions.
Character development.
Freedom and free enterprise.
Exceptional cognitive talent and genius.
Genetics.
Within the scientific community, a few leaders criticized the foundation's underlying prospect of harmonizing science and religion. Peter Woit, a Columbia University physicist, wrote on his blog about foundation leaders: "They unambiguously are devoted to trying to bring science and religion together, and that's my main problem with them. Their encouragement of religion seems to be of a very ecumenical nature, not pushing especially the evangelical Christianity of Templeton Jr."
In 2010, Politics magazine (now known as Campaign and Elections) named Templeton as one of the most influential Republicans in Pennsylvania. He was a durable supporter of politically conservative causes. According to one news report, Templeton and his wife contributed $1 million to the campaign to defeat gay marriage in California.
According to a media release:
He was the recipient of numerous awards including the National Courage of Belief Award from the American Jewish Committee in 2010, the Heroes of Liberty Award (jointly with his wife) from the National Liberty Museum in 2006, and honorary doctorate degrees from Buena Vista University, Virginia Commonwealth University, and Alvernia College. He was a member of Proclamation Presbyterian Church in Bryn Mawr since its founding in 1989.... Templeton Jr. is survived by his wife, Pina, who retired from Children's Hospital in 1999, their daughters Heather Dill and Jennifer Simpson, sons-in-law Jeff Dill and Scott Simpson, six grandchildren, a brother, Christopher, and a brother-in-law, Gail Zimmerman. His sister, Anne Zimmerman, died in 2004.
Correction: An earlier version of this article incorrectly identified Jack Templeton as a billionaire. We apologize for the error.