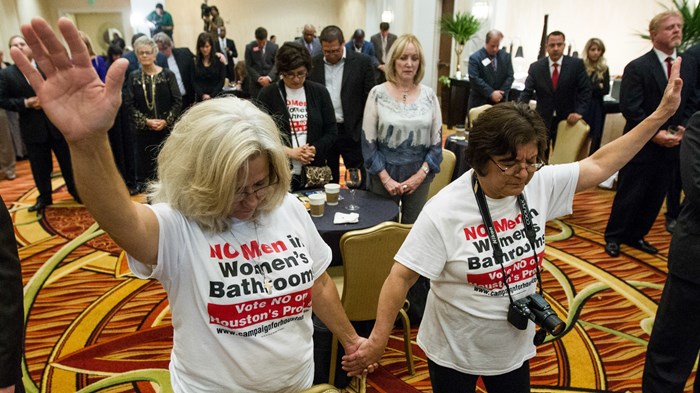 Image: Brett Coomer / Houston Chronicle / AP
By a 3 to 2 margin, Houston voters rejected an anti-discrimination law yesterday that would extend protections for LGBT residents among other groups.
The Houston Equal Rights Ordinance, or HERO, was branded the "bathroom bill" by opponents who feared accommodation of transgender individuals would give men, including sexual predators, the right to use women's restrooms in public.
After Mayor Annise Parker's failed attempt to subpoena sermons by pastors who attempted a petition drive to dismiss HERO, the Texas Supreme Court ordered that the ordinance be repealed or put to a popular vote.
Conservative Christian congregations in America's fourth-largest city rallied and prayed against HERO as a violation of their beliefs on gender identity.
"Biology and the Bible show us that there's a difference between men and women," said Gregg Matte, pastor of Houston's First Baptist Church. "In order to keep men out of women's locker rooms, I want to encourage you to vote 'no' to Proposition 1 (HERO)."
Ed Young, pastor of Second Baptist Church, called the ordinance "a very serious moral issue" that could potentially open the city up to godlessness. "It has been reported that we discriminate," he told his congregation. "If we open up our facilities so that someone can choose … those of us who believe that men should use men's facilities and women's facilities, we will be discriminated against."
Opponents raised nearly $3 million to campaign against the law, more than triple the funds raised by supporters, according to the Houston Chronicle. A popular commercial by one anti-HERO group, Campaign for Houston, depicted a man sneaking into a stall with a young girl, saying even registered sex offenders would be granted the right to follow women into bathrooms.
"They just kept spewing an ugly wad of lies from our TV screens and from our pulpits," said Parker, the city's first lesbian mayor and a proponent of LGBT rights, who proposed the bill. Leading up to the vote, political leaders including President Barack Obama and Hillary Clinton and major corporations such as Apple voiced their support.
HERO prohibited discrimination in employment, housing, and public accommodation based on several categories (including some that already have federal protection status): race, age, gender, pregnancy, religion, sexual orientation, gender identity, disability, or military status. The law would apply to private employers, businesses that serve the public, and city contractors, but not religious institutions.
Opponents initially petitioned to challenge the measure a year ago, but the city claimed they didn't collect enough valid signatures. In the legal fight, the mayor's office subpoenaed sermons from pastors involved, which drew national outcry.
Across the country, 72 percent of Americans support LGBT anti-discrimination laws, according to the latest poll (conducted two weeks ago) by Public Religion Research Institute.
The Chronicle reported that the recent decision "leaves Houston the only major city in Texas and one of the few nationwide without some form of a non-discrimination law. It also marks the third time Houston voters have rejected protections or benefits for gay residents, as they did in 1985 and 2001."
In addition to covering the Houston HERO debate, CT noted when nearby San Antonio amended a controversial "word and deed" portion of its own LGBT anti-discrimination bill.