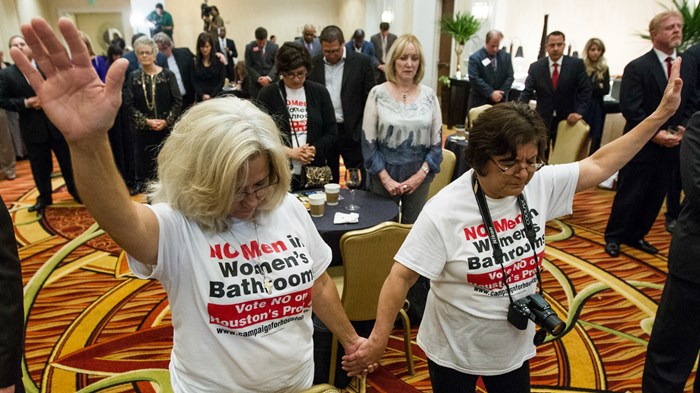 Image: Brett Coomer / Houston Chronicle / AP
By a 3 to 2 margin, Houston voters rejected an anti-discrimination law yesterday that would extend protections for LGBT residents among other groups.
The Houston Equal Rights Ordinance, or HERO, was branded the "bathroom bill" by opponents who feared accommodation of transgender individuals would give men, including sexual predators, the right to use women's restrooms in public.
After Mayor Annise Parker's failed attempt to subpoena sermons by pastors who attempted a petition drive to dismiss HERO, the Texas Supreme Court ordered that the ordinance be repealed or put to a popular vote.
Conservative Christian congregations in America's fourth-largest city rallied and prayed against HERO as a violation of their beliefs on gender identity.
"Biology and the Bible show us that there's a difference between men and women," said Gregg Matte, pastor of Houston's First Baptist Church. "In order to keep men out of women's locker ...
1