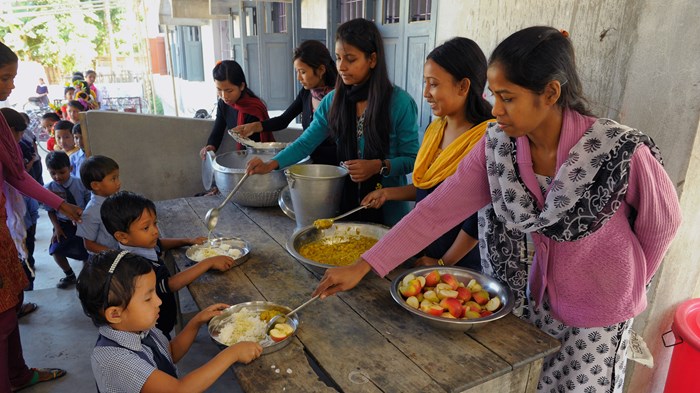 Image: Compassion International
Compassion International is "weeks away from permanently withdrawing" from India, according to its testimony this week to a Congressional committee.
"What we're experiencing is an unprecedented, highly coordinated, deliberate and systematic attack intended to drive us out," the Christian charity's lead attorney Stephen Oakley told the House Foreign Affairs Committee on Tuesday.
Compassion began working in 1968 in India, where today its 580 Indian-staffed development centers care for more than 145,000 children. That's about 8 percent of the 1.9 million children assisted by Compassion worldwide, but also more than any other of the 25 countries where it works.
"This is a huge turning point in Compassion's history," US communications director Tim Glenn told Mission Network News. "We're looking at a clear 8 to 9 percent of our ministry possibly being shut down all at once."
Compassion sends about $50 million per year in humanitarian aid to India. That makes it the "single largest contributor of aid for children living in extreme poverty" in India, said committee chairman Ed Royce.
Yet, he said, Compassion "could be shut down because of Indian government regulators" in mere weeks.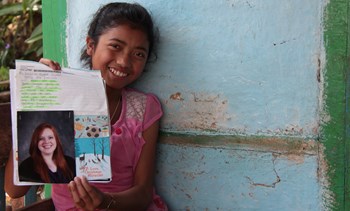 Image: Compassion International
The restrictions started in 2011, when India changed its Foreign Contribution Regulation Act (FCRA) so that it could regulate NGOs it disagrees with philosophically, according to the committee testimony. The move was seen by many as another step toward Hindu nationalism since 2014, when the country elected as its prime minister Narendra Modi—the only person once banned by the United States because of alleged religious freedom violations.
Since then, attacks on Christians and Muslims have increased. India is now No. 17 on Open Doors' list of countries where it's hardest to be a Christian, up from No. 31 in 2013.
Then "in a secret order issued in February, India's Ministry of Home Affairs [MHA] blocked Compassion from transferring funds to the development centers," wrote Compassion president and CEO Santiago "Jimmy" Mellado for The Hill this week.
The Indian government did this by mandating that certain NGOs—including Compassion—receive approval prior to accepting foreign funds. "[But] after months of unsuccessfully trying to obtain prior clearance, we have concluded that the clearance process is fiction," Compassaion stated on its website. "We have never been offered an explanation for this action in the nine months since the order was issued."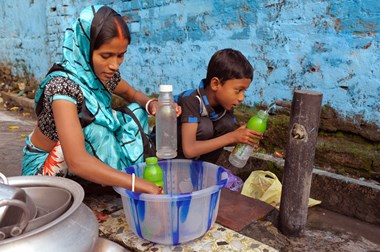 Image: Compassion International
India isn't the only country seeking to restrict foreign NGOs. In April, China passed new regulations that would require its more than 7,000 NGOs to register with local police and find an in-country partner. China also banned NGOs from engaging in religious activity.
Russia began cracking down on NGOs 10 years ago; since 2012, its NGO sector has shrunk by a third. In Ethiopia, foreign funding cannot be used for any efforts toward peace, human rights, advocacy, or conflict transformation. Peru and Brazil have further limited outside contact with people groups living in the Amazon jungle.
Unable to receive funds, Compassion cut back, limiting the hours of operation for its child development centers and serving snacks instead of full meals.
Then, last month, Compassion received two more blows. First, it ran out of money.
Second, "Indian bureaucrats refused to renew foreign funding licenses for Compassion and at least 24 other NGOs—severely disrupting our humanitarian work," Mellado wrote.
The official explanation is that Compassion's activities are "not conducive to national interest," reported the Times of India. The number of NGOs allowed to receive foreign funding was slashed by a third, from more than 33,000 to 20,000, reported the English-language newspaper based in New Delhi.
Amnesty International and Human Rights Watch objected, saying the action "violates [the NGOs'] rights to freedom of expression and association."
The "national interest" that the government has in mind seems to be strengthening the Hindu identity of the populous and pluralistic nation. About 80 percent of the country's 1.2 billion people are Hindu; less than 3 percent are Christian, according to the latest census.
"In Compassion's case, Prime Minister Modi's government has since April blocked roughly $3.5 million in monthly aid to India's most vulnerable children for, as far as we can tell, no other reason than that Compassion is founded on and demonstrates Christian values," Mellado wrote.
"MHA evidently views Christian values as a threat to the national interest, particularly if those values are taught to the poor," said Oakley.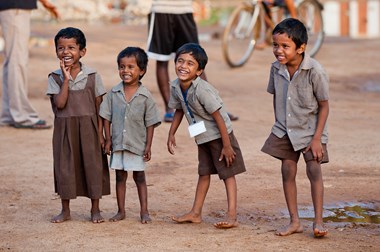 Image: Compassion International
It doesn't seem to matter that Compassion's focus is humanitarian, though it has faced accusations from Indian security agencies of funding conversions.
"Using the Indian government's own numbers, just 4 percent of Compassion's funds in India are used for moral and spiritual values education – values which transcend all religions," said Oakley. "The remaining 96 percent is the routine but essential provision of food, medicine, clothing, school fees and related humanitarian aid to support tens of thousands of at-risk infants, children and youth living in extreme poverty.
"Simply put," he said, "Compassion's primary mission is to release children from poverty, not convert them."
"We're there to help the community and the children, and to help those families be successful," Compassion spokesperson Becca Bishop told CT. "I hope they're able to see that we want to support their culture, and not to break it down and make it more Western."
Compassion's warning that it will be forced to pull out comes after three years of government harassment—an $18 million tax bill, investigations into its "anti-national activity," and intimidation of staff, Oakley told the House committee. If India does succeed in driving Compassion—and other NGOs it doesn't agree with—from the country, "no plan or provision at all has been made to care for these children when we depart."
So far, India's government has offered mixed reactions to Compassion's public hearings with the Congressional committee.
"We are ready to reconsider the case of Compassion International, the US donor, which was put under 'prior permission category' for alleged violation of [FCRA]," one senior Home Ministry official toldIndia Today, an English-language news magazine based near New Delhi.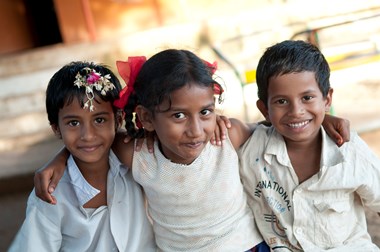 Image: Compassion International
But a spokesperson for the Ministry of External Affairs told India Today that the hearing "appears to be based on limited understanding of India, its society, constitution and laws.
"There is a well-established legal framework for NGOs to conduct their operations in India. This is borne out by the presence of over 3 million NGOs in the country, one of the largest NGO networks in the world," he told the news magazine. "India welcomes lawful operation of foreign NGOs in India."
The courts may offer some hope. Amnesty noted that when organizations have challenged the Indian government on its actions under FCRA, "the courts have generally ruled in their favor."
And four months ago, the Indian Supreme Court ruled that the Indian government's response to anti-Christian mob violence that killed 100 and displaced 50,000 Christians in 2008 was inadequate.
But that will take more time than Compassion has, Oakley said.
"MHA knows that they can use the inefficiency and massive delays of the Indian bureaucracy as a weapon—forcing charities like Compassion to either accept their determinations, or spend years seeking redress in a painfully slow and often corrupt legal system," he said. "In short, India's Home Ministry is using those aspects of India's bureaucracy, which are most in need of urgent reform, to systematically target NGOs with agendas and views that differ from its own."
Compassion's problems are "a symptom of a larger problem that is dragging India on a downward spiral," wrote the Federation of Indian American Christian Organizations in a statement. "Social enmity and witch-hunt promoted by the BJP government in power against Christian or any other group has the potential to destabilize a nation more than they realize."
But Compassion isn't giving up hope. The charity is urging American politicians to support its efforts to help children in India.
"It is my hope that by bringing attention to this issue, 145,000 children will not be tragically denied services they desperately need," said Royce during the House hearing. "And then, relations between the two countries will be even stronger."
Compassion also seeks to mobilize more than 500,000 of its supporters.
"We're asking people to pray," Bishop said. "Prayer is amazing, and works miracles."