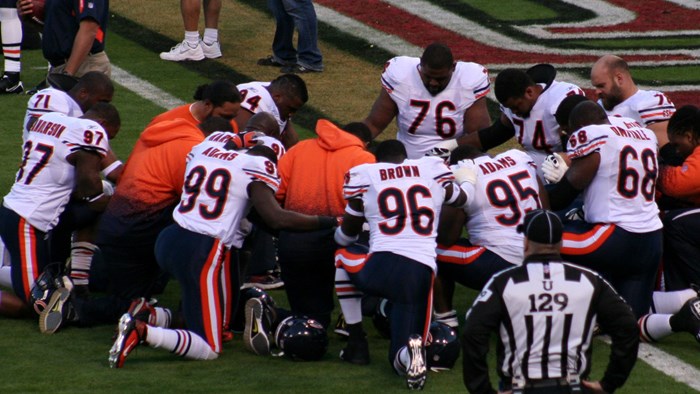 Image: John Martinez Pavliga / Flickr
American Christians apparently aren't Calvinists when it comes to football.
Approximately 4 in 5 US evangelicals believe God doesn't "determine" who wins and loses the Super Bowl. In fact, most think God doesn't even care, according to a new survey.
"Our previous research has shown most Americans think God is concerned with their day-to-day decisions," said Scott McConnell, vice president of LifeWay Research which conducted the survey of 1,000 Americans. "Yet this survey shows Americans do not see God as interested in their favorite sport."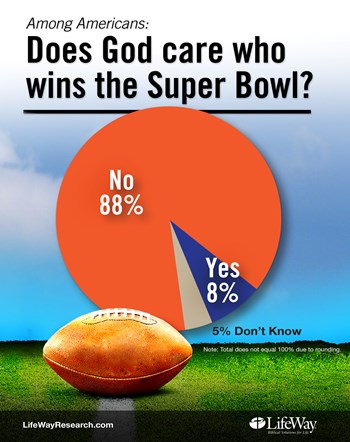 Americans with evangelical beliefs (16%), self-identified evangelicals (15%), and weekly worshipers (13%) are only slightly more likely than the general public (11%) to say that God determines who wins the Super Bowl. Members of non-Christian faiths (18%) and those with graduate degrees (15%) are similarly more likely to see God's hand at work in the big game.
Most think God has other things to think about (though apologist William Lane Craig strongly disagrees).
Among Americans with evangelical beliefs (defined by a new "research-based creed" developed by LifeWay and the National Association of Evangelicals), only 1 in 10 believe God cares about this weekend's matchup between the Denver Broncos and the Carolina Panthers, while 7 percent are unsure and 83 percent say it doesn't matter to God. Weekly worshipers are equally unlikely to think God cares about the game (only 10% say yes).
The findings reflect the low number of Americans who have ever prayed for their favorite team to win a game—just 13 percent, according to a previous LifeWay survey. Even then, Catholics are significantly more likely to pray for victory (20%) than Protestants (11%).
However, Americans are more certain that God favors players than teams.
Last year, a poll by Public Religion Research Institute (PRRI) found that most Americans (53%) and sports fans (56%) think God rewards faithful athletes with health and success, up from 48 percent in 2014. Among white evangelicals, 60 percent affirmed this echo of prosperity-gospel theology in 2015, a slight decrease from the 62 percent who said the same in 2014. By comparison, 65 percent of Catholics and 68 percent of minority Protestants said the same in 2015.
(By one estimate, 3 out of 4 NFL quarterbacks are Christians, including Carolina Panthers quarterback Cam Newton and Denver Broncos quarterback Peyton Manning.)
PRRI also found in 2015 that 26 percent of Americans and 32 percent of white evangelicals believed that God plays a role in determining which team wins a sporting event. In 2014, it found that 38 percent of white evangelicals, 29 percent of minority Protestants, and 33 percent of white mainline Protestants had prayed for their favorite team. PRRI also found that 22 percent of white evangelicals, 22 percent of minority Protestants, and 30 percent of white mainline Protestants believed their team has been cursed.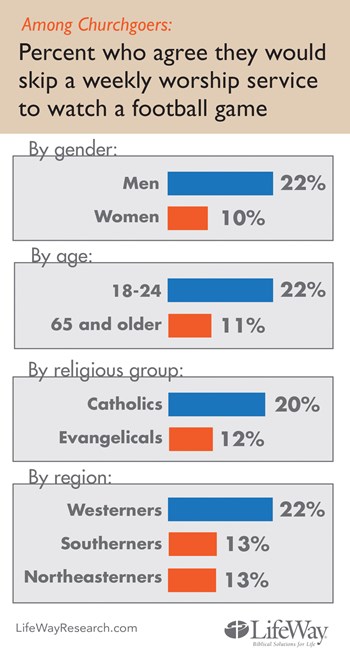 Evangelicals care about football a lot more than they think God does. A majority of white evangelicals (53%) said they'll watch the game this weekend, more than mainline Protestants (50%), Catholics (41%), and the unaffiliated (34%), according to PRRI's 2016 survey.
In 2014, PRRI noted:
Nearly half (46%) of white evangelical Protestants say they are more likely to be in church than watching football, while only 9% say the reverse—that they would be more likely to be watching football. Roughly one-third (31%) say they are likely to be doing both.

In contrast, white mainline Protestants are about twice as inclined to say they are more likely to be watching football on any given Sunday than spending time in church (27% vs. 15%). Nearly 4-in-10 (38%) say they are not likely to be doing either.

Catholics are about as likely to say they would be in church (25%) as to say they would be watching football (23%), while minority Protestants are more than six times more likely to say they would be in church (49%) than watching football (8%) on any given Sunday.
According to LifeWay, only about 1 in 7 churchgoers would skip services to watch their favorite team. Men are much more likely to schedule Sundays around the game; about 1 in 4 churchgoing men say they'd skip to watch football, but only 1 in 10 women.
CT's past Super Bowl coverage includes how Christian coaches faced off in the big game, preparing for Lent at a Super Bowl party, and whether Christians loved "God Made a Farmer" too much.
CT has previously covered how Christians can combat the "church of the NFL" by becoming members, and whether or not Christians should fight for prayer on the football field. CT also interviewed the Christian doctor featured in the movie "Concussion" and reviewed the film.
In his testimony, former NFL player Derwin Gray shared how professional football was his God. Her.meneutics explained what we can learn from the NFL's domestic violence problem.
Editor's note: To identify Americans with "evangelical beliefs," LifeWay asked respondents for their level of agreement with four separate statements using a four-point, forced-choice scale (strongly agree, somewhat agree, somewhat disagree, strongly disagree). The statements are:
The Bible is the highest authority for what I believe.
It is very important for me personally to encourage non-Christians to trust Jesus Christ as their Savior.
Jesus Christ's death on the cross is the only sacrifice that could remove the penalty of my sin.
Only those who trust in Jesus Christ alone as their Savior receive God's free gift of eternal salvation.
Those who strongly agree with all four statements are categorized as having "evangelical beliefs."
[Photo courtesy of John Martinez Pavliga - Flickr]