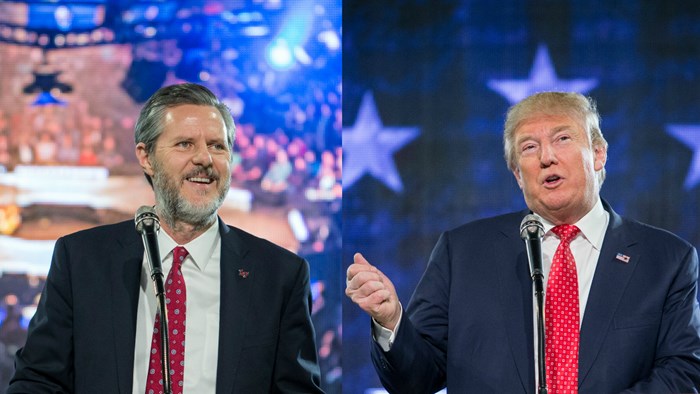 Image: Kevin Manguiob/Liberty University
Update (Jan. 29): A new survey of Protestant pastors found that evangelical pastors prefer Ted Cruz (18%), Ben Carson (8%), and Marco Rubio (8%) for president. Donald Trump was only favored by 5 percent of Republican pastors, LifeWay Research found. Nearly half of all pastors remain undecided.
-----
Update (Jan. 26): Jerry Falwell Jr. has officially endorsed Donald Trump for president, calling him "a successful executive and entrepreneur, a wonderful father, and a man who I believe can lead our country to greatness again." [On Wednesday, he added: "Jesus said 'Judge not, lest ye be judged.' Let's stop trying to choose the political leaders who we believe are the most godly because, in reality, only God knows people's hearts. You and I don't, and we are all sinners."]
Trump has also received high praise from Dallas megachurch pastor Robert Jeffress. The latest polls by NBC and CNN show Trump still solidly leading Ted Cruz among white evangelical voters at large.
Meanwhile, Marco Rubio has widened his lead as the top presidential pick among World magazine's panel of more than 100 "evangelical insiders." Nearly 50 percent of panelists picked Rubio, while 5 percent picked Trump.
Evangelicals who attended last week's March for Life in Washington, D.C., also expressed reservations about Trump, reports CNHI. The presidents of the Susan B. Anthony List and Concerned Women for America have joined Iowa pro-life activists in denouncing Trump.
Michael Farris, a former leader of Jerry Falwell Sr.'s Moral Majority, has criticized Falwell Jr. for comparing Trump to his father and Jesus.
On his CT blog today, Ed Stetzer interviews Ben Carson on his faith. CT previously interviewed Carson as well as Jeb Bush and Carly Fiorina, while Stetzer has interviewed Rubio and Bush. (CT and The Exchange queried all major candidates.)
World explores how evangelical leaders disagree over coalescing behind a single candidate. The New York Times Magazine profiles Cruz's "evangelical gamble," while The Washington Post explores why candidates are hiring millennial faith advisers.
CNN explores the seven types of evangelical voters and carries an op-ed on why Iowa evangelicals matter, while an RNS op-ed explores why the phrase "evangelical voter" doesn't mean anything.
-----
[First published on Jan. 18 at 3:42 p.m.]
At America's largest Christian college today, Donald Trump promised to protect Christians while Jerry Falwell Jr. praised the presidential candidate as a visionary whose "life has borne fruit" a la Matthew 7:16.
"In my opinion, Donald Trump lives a life of loving and helping others as Jesus taught in the Great Commandment," said the president of Liberty University during the school's thrice-weekly convocation.
Falwell also said that Trump's appearance was not an endorsement. (Other political candidates, including Jeb Bush and Bernie Sanders, have also spoken at Liberty, and Ted Cruz announced his candidacy there.)
According to many polls, Trump didn't need the endorsement. A January NBC poll reported that white evangelicals heavily favor Trump (33%) over Ted Cruz (21%), Ben Carson (12%), and Marco Rubio (10%). The same poll showed that a similar 35 percent of all Republican voters support Trump, a strong lead over his closest contenders.
Another sign of The Donald's popularity: He drew five times more admiration than Billy Graham on Gallup's latest list of the Most Admired Men in America.
Trump unexpectedly tied Pope Francis for the No. 2 slot, while Graham—who made the list for a record 59th year—tied Bill Clinton for No. 9 [more details at bottom].
"I think Trump reminds me so much of my father," Falwell told Fox News in December when listing Trump, Carson, and Cruz as his favorite candidates. "He says exactly what he thinks no matter what anybody cares."
But Republican front-runners Trump, Cruz, and Rubio represent different groups of evangelicals, according to Russell Moore, president of the Ethics and Religious Liberty Commission of the Southern Baptist Convention.
"I would say that Ted Cruz is leading in the 'Jerry Falwell' wing, Marco Rubio is leading the 'Billy Graham' wing, and Trump is leading the 'Jimmy Swaggart' wing," Moore recently toldRoll Call.
The Capitol Hill newspaper went on to explain:
Cruz has largely followed the classic Moral Majority model that was the face of the conservative movement—he has received endorsements from figures such as Focus on the Family founder James Dobson—while Trump 'tends to work most closely with the prosperity wing of Pentecostalism' which tends to believe that God would financially reward believers. As far as Rubio's outreach to the 'Billy Graham' wing, this week the presidential hopeful announced a religious liberty advisory board that includes Rick Warren, the founding pastor at the influential Saddleback Church.
Indeed, about 40 Pentecostal pastors laid hands on Trump and prayed for him in October.
"Part of it is the fire," explained Darrell Scott, an Ohio pastor who attended the meeting, to TheChristian Science Monitor. "Pentecostal preachers are probably the most fiery preachers, and we appreciate directness, we appreciate bluntness, we're more in-your-face."
Trump's popularity worries some evangelicals. His harsh rhetoric, string of marriages, and muddled stance on abortion make some wary. So does his scoffing at conversion and his trivialization of Communion.
Moore offered a running commentary on Twitter during Trump's speech at Liberty. "This would be hilarious if it weren't so counter to the mission of the gospel of Jesus Christ," he tweeted. (CNN rounds up the other "subtweets.")
While many polls show Trump receiving most of the evangelical vote, others that focus on religiosity or leaders are more nuanced. Breaking evangelicals out of national polls leaves surveyors with such small sample sizes that the result is "blurry snapshots," explained Tobin Grant, a political science professor at Southern Illinois University and blogger for Religion News Service (RNS).
Two weeks ahead of the Iowa caucuses, Trump (31%) and Cruz (29%) are virtually tied for Republican votes, according to Quinnnipiac University. The numbers widen when "born again evangelicals" are broken out: 34 percent support Cruz, followed by Trump with 27 percent.
However, poll numbers from Reuters show a close but fairly steady unfavorable view of Trump by those who attend religious services weekly. The latest numbers show that about 52 percent of those who attend worship services weekly disapprove of Trump, compared to 48 percent who view him favorably.
Meanwhile, 64 percent of weekly worshipers have a favorable view of Cruz, while 62 percent have a favorable view of Rubio.
Among Americans who identify as "born again," Reuters finds that 52 percent feel unfavorable toward Trump, while 60 percent feel favorable toward Cruz and 59 percent feel favorable toward Rubio.
Reuters also found that among born-again Christians who worship weekly or more:
If the choices were Trump, Rubio, and Carson, the vote would split 36 percent for Carson, 34 percent for Trump, and 25 percent for Rubio.
If the choices were Trump vs. Rubio, the vote would split evenly 46 percent for both Rubio and Trump.
If the choices were Trump vs. Cruz, the vote would split 54 percent for Cruz and 38 percent for Trump.
Reuters' sample size of weekly born-again worshipers is small, and it doesn't break out "evangelicals." But 84 out of about 100 "evangelical insiders" weighed in on a World magazine survey in December. The results: 38 percent chose Rubio, 30 percent picked Cruz, and 7 percent favored Jeb Bush. None picked Trump.
Seven months beforehand, about 19 percent of this pool of evangelical leaders told World that they would vote for Rubio, while 15 percent picked Bush and 14 percent chose Cruz. About 3 percent said they'd vote for Trump. (World offers a chart with the results of all six of its monthly surveys so far.)
Rubio also topped the National Association of Evangelical's (NAE) October survey of "CEOs of denominations and representatives of a broad array of evangelical organizations." In that survey, 26 percent chose Rubio, 21 percent were undecided, and Ben Carson and John Kasich each garnered 12 percent. Trump "received an insignificant number of votes," according to the NAE.
The gap between evangelicals in different polls can be baffling, given the difficulty of defining evangelicals for polling purposes. While 35 percent of American adults identify themselves as evangelical, just a quarter belong to an evangelical denomination and only 6 percent meet the Barna Group's definition based on nine questions about beliefs, noted NPR in a lengthy report. (The NAE and LifeWay Research recently offered a new-and-improved, research-based definition.)
Another difficulty in pinning down the evangelical vote is its breadth, Grant explained. The number of Republican candidates and lack of central authority in evangelicalism makes it hard for evangelicals to rally around a single candidate, he wrote.
Evangelical positions on political issues—from Syrian refugees to gun control to capital punishment—are also too widely spread to be easily pinned down, The Gospel Project's Trevin Wax wrote for RNS.
CT's past coverage of politics includes interviews (so far) with Marco Rubio, Jeb Bush, and Ben Carson on their faith. CT also noted why religious people should be the leading voices for political compromise and why all Christians are biased voters.
Editor's note: The top spot on Gallup's list went to Barack Obama, who received 17 percent of the vote, followed by Francis and Trump with 5 percent each. The polling is open-ended, and 9 percent of people chose a friend or relative as the person they admire most. About 28 percent chose "other," and 25 percent didn't name anyone.