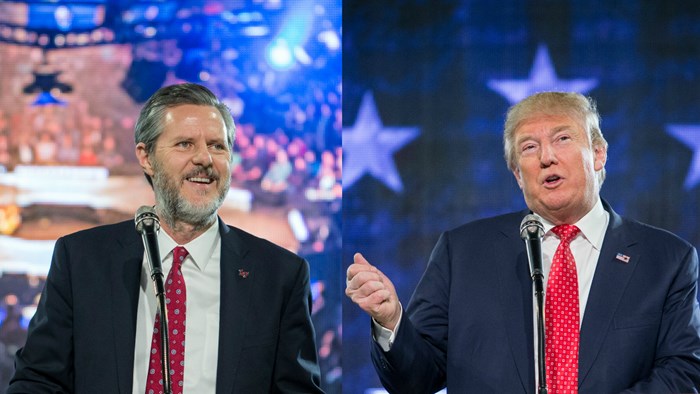 Image: Kevin Manguiob/Liberty University
Update (Jan. 29): A new survey of Protestant pastors found that evangelical pastors prefer Ted Cruz (18%), Ben Carson (8%), and Marco Rubio (8%) for president. Donald Trump was only favored by 5 percent of Republican pastors, LifeWay Research found. Nearly half of all pastors remain undecided.
-----
Update (Jan. 26): Jerry Falwell Jr. has officially endorsed Donald Trump for president, calling him "a successful executive and entrepreneur, a wonderful father, and a man who I believe can lead our country to greatness again." [On Wednesday, he added: "Jesus said 'Judge not, lest ye be judged.' Let's stop trying to choose the political leaders who we believe are the most godly because, in reality, only God knows people's hearts. You and I don't, and we are all sinners."]
Trump has also received high praise from Dallas megachurch pastor Robert Jeffress. The latest polls by NBC and CNN show Trump still solidly leading Ted Cruz among white evangelical ...
1